New Delhi:
Delhi is no stranger to protests. Being a capital city, every day tens of marches and sit-ins take place here. So much so that there is a designated place near Jantar Mantar where all kind of protesters are allowed to come and raise their voice. But the real challenge is to make those in the corridors of power, a few hundred meters away, listen to your demands.
Through their 40-day-long Satyagraha, a group of 200 farmers from Tamil Nadu managed to achieve what many powerful groups have failed to do. From holding dead rats in their mouth to conducting mock funerals, to threatening to drink their own urine, the drought-hit farmers put Delhi to shame before conditionally suspending their agitation after Chief Minister Edappadi K. Palaniswami visited the protest site and assured them of assistance within a few weeks.
In Pictures:
After skulls, saris and rats, protesting TN farmers pick up Modi masks
Tamil Nadu is facing its worst drought in 140 years, which has led to hundreds of farmer suicides. The 40-day protest in temperature of above 40 degrees Celsius has made its mark in the history. Here's a look back:
'We know what heat and lack of water feels like'
For the protesters, the day started with a hunt for toilets. Some found space in public toilets, but the queues were often so long that they had to wait for hours. Since most of these farmers were penniless, they depended on the generosity of Tamil migrants in Delhi for food. And yet, life on the street was preferable to the one in their villages.
Sivakumar, 56-year-old farmer from Nagapattinam said: "The heat was intense and we found it tough to get basic facilities like toilets, drinking water and food. But we are no strangers to gruelling conditions. It hasn't rained in my village for two years. We know what heat and lack of water feels like. We may be living on the street in Delhi, but this is nothing compared to the hardship our families are facing back home. We have no choice."
Nachiamma, 61, from Tiruchirappalli has seen her loan amount more than double from Rs 3 lakh to Rs 7 lakh in the past four years. She had tough 40 days but she can't restart her life without a loan waiver. Women, she says, had it harder at the protest. "Women faced all the hardship that men had, plus some additional ones. I am old so I could not walk long distances to get water or food. We don't have too many clothes and didn't feel safe walking the distance. As a result, we were forced to use the nearby toilets. The only time we got to take a bath was when the Delhi Jal Board (DJB) tanker came here. Even then, we could not always take bath because the same water had to be used for drinking also."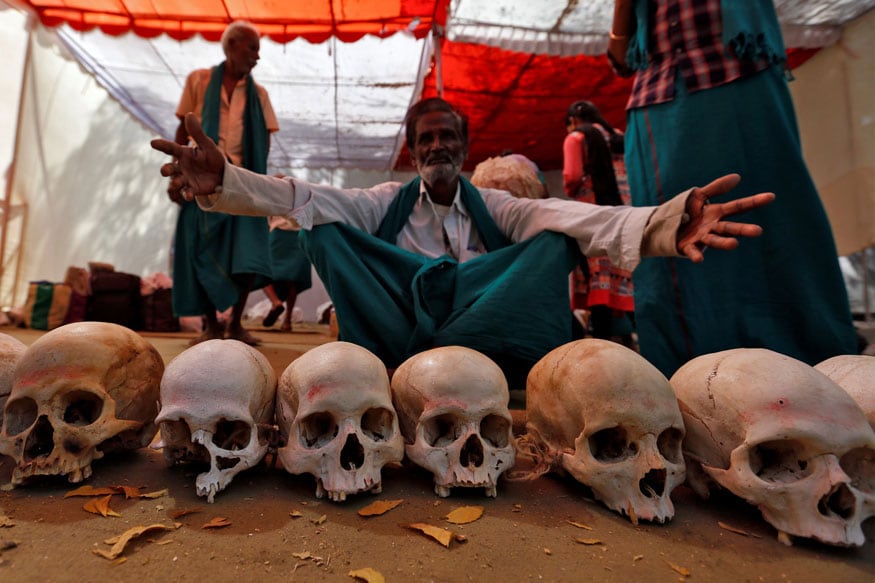 Farmers from Tamil Nadu display skulls, who they claim are the remains of Tamil farmers who have committed suicide, during a protest demanding a drought-relief package from the Centre, at Jantar Mantar in New Delhi (Photo:Reuters)
'We won't have to drink urine if Modi gives us water'
The farmers had to resort to mortifying means to grab the attention of the political masters.They held dead rats in their mouths, shaved half their heads and moustaches, mean worn women's clothing, some even slashed their hands and conducted mock funerals. Despite all this, no minister or senior bureaucrat visited them for more than five weeks. On Saturday, farmers announced that they will drink their own urine. P Ayyakkannu, the state president of the National South-Indian Rivers Linking Farmers' Association said, "There is a reason farmers decided to adopt this means of protest. We wanted to show the authorities the real condition of Tamil Nadu farmers. The government needs to know our condition. We have no water. If Modi gives us water, we will not have to drink urine."
'Bangla Sahib Gurudwara, a godsend for us'
In these bleak times, the farmers found an unexpected ally — the Bangla Sahib Gurudwara. "In the first ten days of the protest, we would have died of starvation had it not been for the kind people at Bangla Sahib Gurudwara. We found out that the Gurudwara was just about a kilometre away from the protest site. When public toilets were getting overcrowded, some of us walked for 15 minutes to the Gurudwara and used the toilets there. When there was no food, we would eat at the langar. It was godsend for us. It kept us alive in those days," said 63-year-old S Jayaraman, who has a loan of Rs 8 lakh to repay.
"Later, however, most of us stopped eating at the Gurudwara. We are rice-eating people. There are some pro-Jallikattu activists in Delhi who also sympathised with our cause. They started supplying us rice. Even the Sarvana Bhawan restaurant gave us free food," he said. "But we will never forget the generosity of the Gurudwara."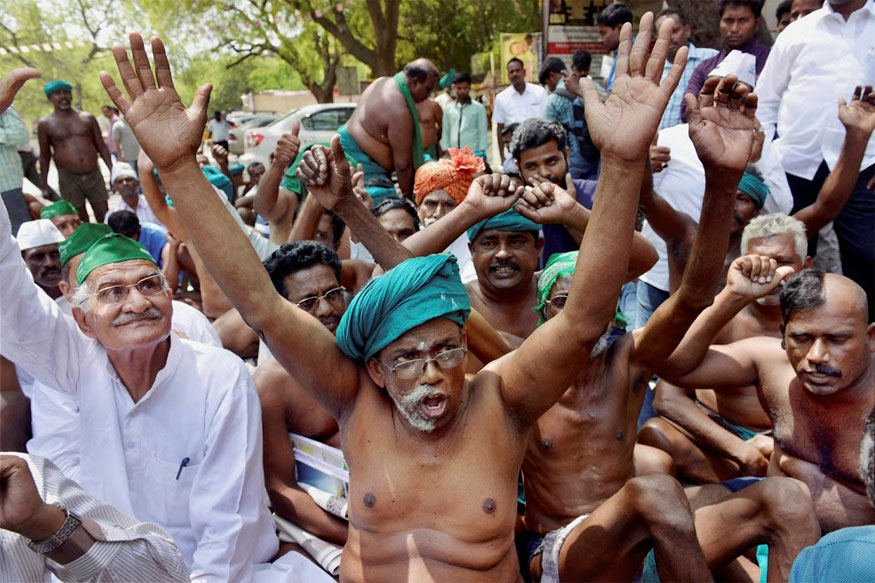 TN farmers celebrate at Jantar Mantar on Tuesday as the Madras High Court has directed the State government to waive loans of all farmers in cooperative banks. (PTI Photo)
'Our demands are still very clear'
According to Ayyakkannu, 72-year-old leader of the movement, the demands are "fairly simple". "First, we want the government to comply with the 2016 Supreme Court order on the Cauvery River, asking Karnataka to share water with Tamil Nadu. Second, we want the government to implement its river-linking project quickly. We also want them to set up a pension for Tamil Nadu farmers, pass a farm loan waiver and give drought-relief funds to the farmers. We also want the government to implement the recommendations of the MS Swaminathan Commission. The returns should at least double the cost of farmers' inputs. If UP can get a farm loan waiver, then why can't Tamil Nadu? Do we have to wait for elections? Last year, we met Finance Minister Arun Jaitely, who assured us that he would do something. But the government has not reached out to us yet."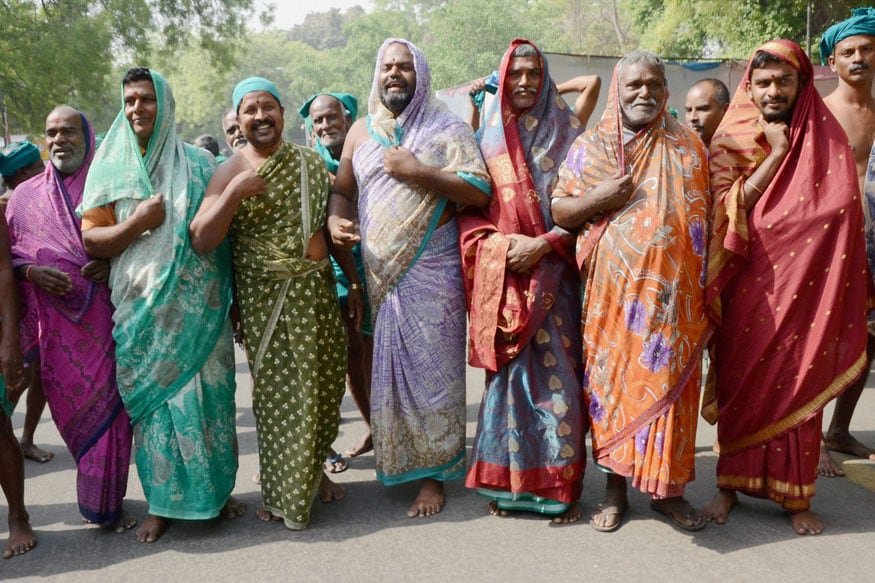 Tamil farmers dressed up as women during their protest at Jantar Mantar. (PTI Photo)
He explained: "In 1970, 60 kg rice used to cost Rs 40 and a bank manager's salary was Rs. 150. Today, the same amount of rice costs Rs. 880 but a bank manager earns Rs. 66,000. Somewhere, farmers have been left behind."
The legal battle
Swaraj Abhiyan, led by Yogendra Yadav and Prashant Bhushan, has been waging a legal battle in the Supreme Court for the rights of drought-hit farmers across the country. Earlier this month, after Yadav's visit to Jantar Mantar, the outfit decided to add Tamil Nadu to their drought relief public interest litigation in the apex court.
Anupam, Swaraj Abhiyan spokesperson said, "It is deeply disturbing to see the distress of Tamil Nadu farmers. We have resolved to fight for their rights and justice. We are trying to get orders of relief from Supreme Court and have filed a petition through Prashant Bhushan. We have planned a Yatra led by Yogendra Yadav in the beginning of next month in the seven drought affected districts of Tamil Nadu. We are also rolling out drought duty in Tamil Nadu for 45 days in May-June 2017. Drought duty is a youth internship program by Y4S, our youth wing, where we intend to fill the gap between rural and urban India, youth and farmers."