1000 Points For Death Penalty, 500 For Lifer: How 'Role Model' MP is Cracking Down on Rape
Additionally, the government introduced 'eProsecution' App that enables administrators to monitor around 1000 public prosecutors in MP on a daily basis.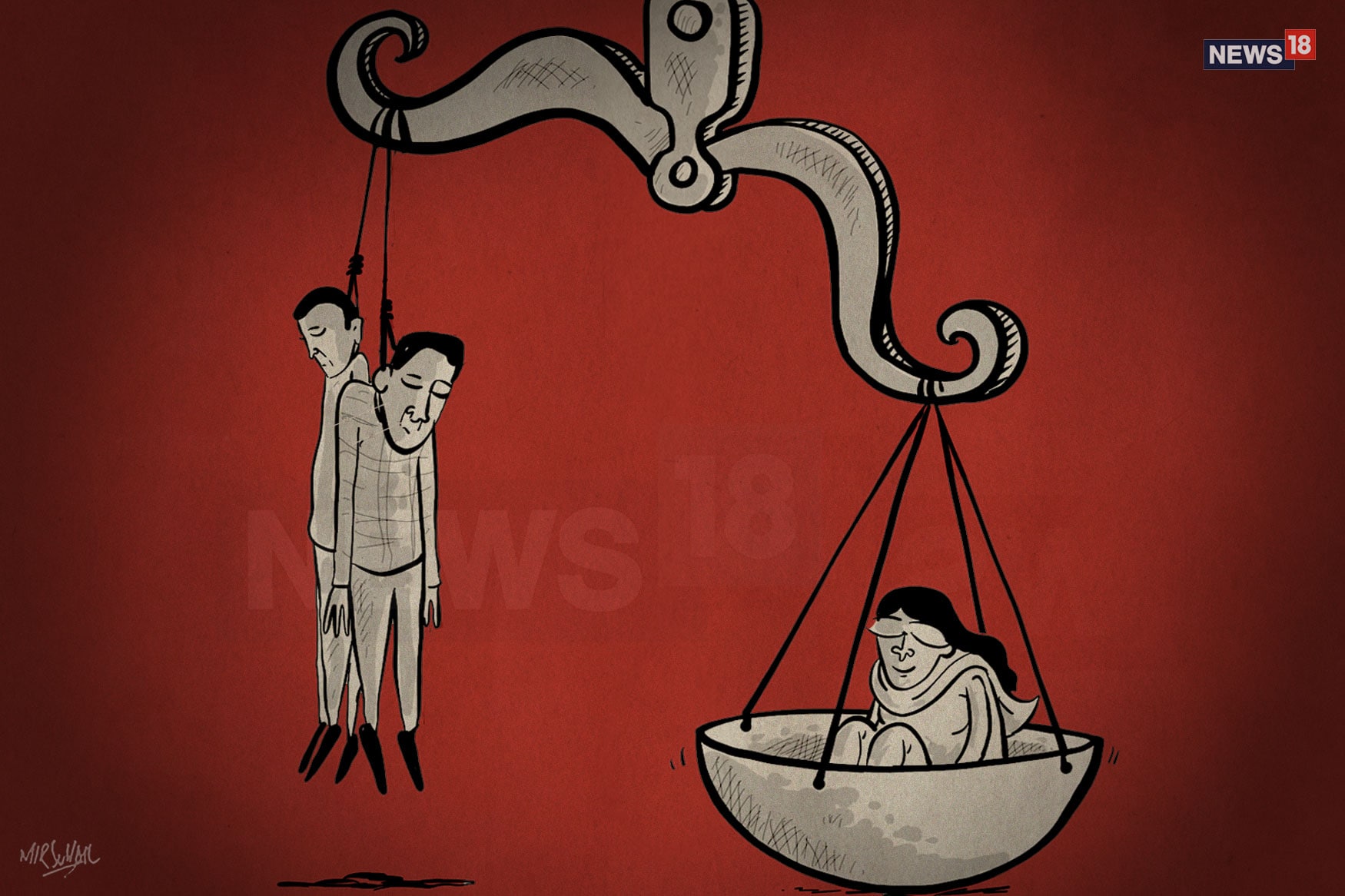 Illustration by Mir Suhail/News18.
Bhopal: Over the last eight months, different courts across the state of Madhya Pradesh have handed 13 death sentences to those convicted of raping, and in some cases murdering, minor victims. The high court has confirmed one death sentence so far.
In the series of speedy trials, yet another case was disposed on Tuesday when a special court in Mandsaur handed death to two men for brutally raping and attempting to kill a seven-year-old in the city in June this year.
The speedy trials which are bringing death and life sentences to the rapists are powered by a reward system introduced by the state government for prosecutors. The prosecutors get 1000 points for ensuring death penalty, 500 for securing life sentences and 100-200 points for getting a verdict of maximum sentence to the rapists, said an officer from the Directorate of Public Prosecution. Those with less than 500 points per month are also issued caution.
Additionally, the government introduced 'eProsecution' App that enables administrators to monitor around 1000 public prosecutors in MP on a daily basis.
An officer from the Directorate of Public prosecution said the system has helped check lethargy among prosecutors. The officer also said that to check negligence, senior officers go through the documents before they are presented in the courts.
In case of capital punishments, the system acknowledges 'achievement' only when the High Court confirms the sentence.
A sort of record was created when a juvenile court in Ujjain handed two-year captivation to a 14-year-old for raping a minor (4) within seven hours of filing of chargesheet on Monday.
Madhya Pradesh accounted for the highest 4,882 rape cases out of 38,947 recorded across the country in 2016, as per the National Crime Record Bureau's last report.
The state recorded 2,479 rape cases of minor girls, followed by Maharashtra and UP with 2,310 and 2,115 such cases respectively, the NCRB report said.
MP recorded the highest number of rape cases (4,391) in 2015 too, according to the report.
It became the first Indian state to propose a law provisioning death sentence to the rapists of girls below 12 years of age in November last year.
CM Shivraj, known for battery of women empowerment schemes, has been seeking death for the rapists for long. On several instances, he has issued orders to fast track rape cases to address public outrage over such incidents.
In his Independence day address, Chouhan said the state has become a "role model" in dealing with rape cases of minors.
On numerous occasions, he had gone public to mention that those 'demons' guilty of sexually assaulting minor girls don't deserve to live on this earth and should be hanged.
"I express gratitude towards the judiciary for handing capital punishments to those with distorted mentality and this is brining positive changes in the society," CM reacted in a tweet to speedy trials in rape cases on Tuesday.
The social activists, however, aren't too enthused. Speedy trials and death sentences seem more a populist measure, said city-based social activist Prashant Dubey. He also added that had it been a deterrent, such cases should have gone down post November when child rape law was proposed by MP.
"Instead, the capital punishment poses threat to victim's life as the accused can choose to eliminate the victim to save themselves," said Dubey.
The activist also accused the state government of not doing anything for formulating Child Protection policy or bringing social awareness to alter mentality towards women.
Former DGP SC Tripathi contested that mere pronouncing of death sentence does not mean an immediate hanging as there is a lengthy legal course of appeals and mercy petitions.
"If death sentence has to work as a deterrent, accused should actually be hanged. Nirbhaya rapists are yet to be hanged," Tripathi pointed out.
The former cop also blamed free society concept for growing cases of reported rapes. He also wanted society to act as guardians so as to ensure safety of kids against sexual assaults.
Opposition too wants much more to be done.
"Court verdicts and speedy trials are welcome but where are the efforts to raise awareness in society and bring in reformative measures," said Congress spokesperson Pankaj Chaturvedi.
Chaturvedi also accused the Shivraj government of gaining popularity by merely hyping death sentences in rape cases.
| Edited by: Ashutosh Tripathi
Read full article
Countdown To
Elections Results
To Assembly Elections 2018 Results