12 Deaths, 159 Cases in 3 Days: What Kerala Should Learn from 1st Leptospirosis Outbreak 20 Years Ago
So far, the cases have been concentrated in five districts — Thrissur, Palakkad, Kozhikode, Malappuram and Kannur. An official of Directorate of Health Services said that the key problem with leptospirosis is that the symptoms are hard to identify.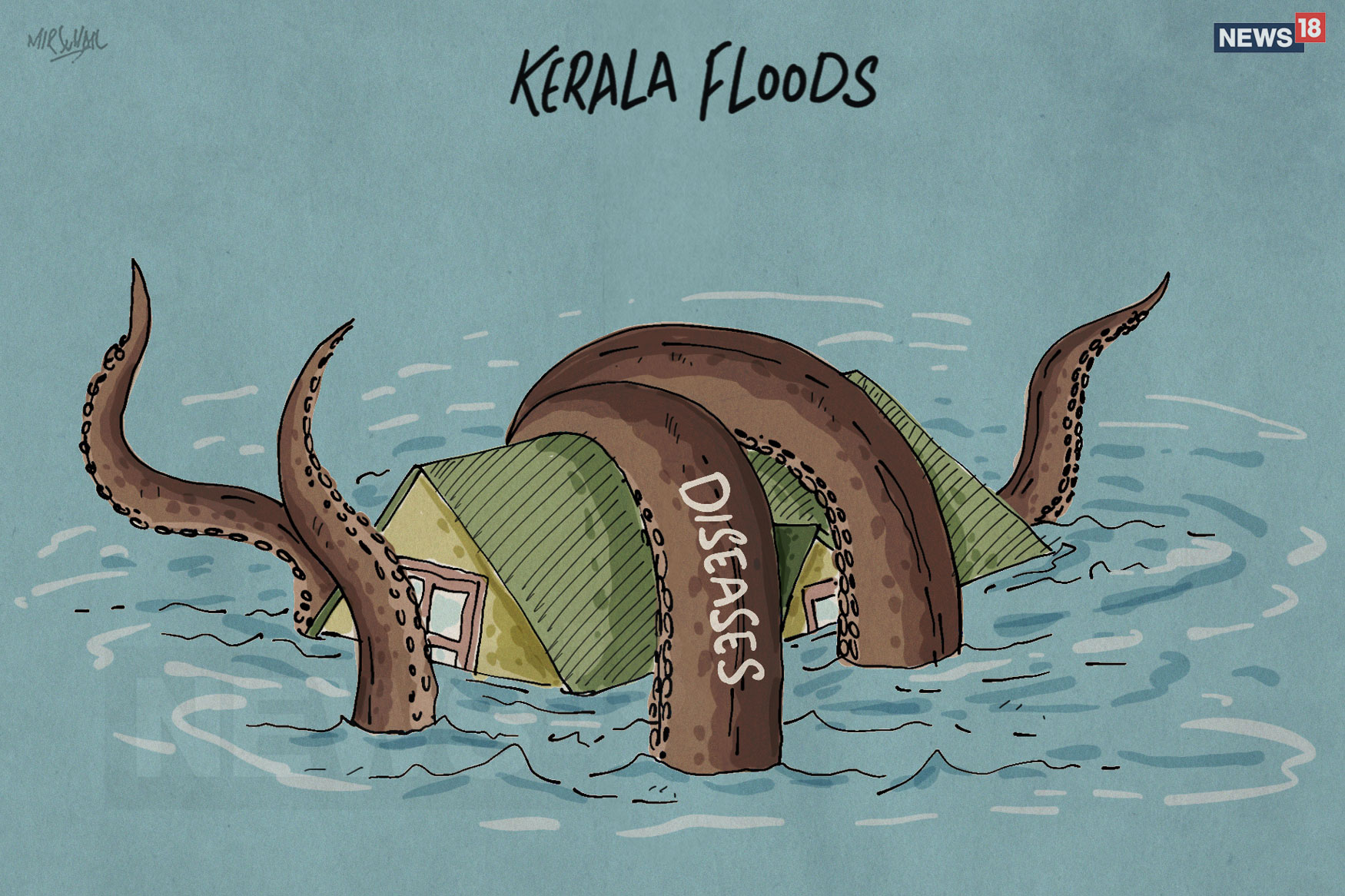 Representative Image (Illustration by Mir Suhail)
In 1999, when leptospirosis epidemic broke out for the first time, the World Health Organisation (WHO) had issued a warning: "environmental changes" in the future would lead to the disease "emerging or re-emerging". Nearly two decades later, Kerala has seen 12 deaths and 159 cases in just three days due to the disease.

When the Kerala government had alerted the doctors on August 28, Kerala had been averaging 12.5 cases daily that month. In the next three days, 159 cases — 115 suspected and 44 confirmed — were recorded along with 12 deaths — 11 suspected, 1 confirmed. In comparison, from January to May, the state had seen 225 cases and 11 deaths. The cases, so far, have been concentrated in five districts: Thrissur, Palakkad, Kozhikode, Malappuram and Kannur.

The WHO notes that the disease is the "only epidemic-prone infection which can be transmitted directly from contaminated water".

In 1999, after floods and a cyclone in Odisha, the doctors were unable to identify the disease initially and had mistaken the deaths caused by "massive haemoptysis and other internal bleedings" for dengue.

Kerala has not made that mistake and in its alert, the Directorate of Health Services (DHS) asked doctors to ensure that "any fever with myalgia (muscle pain) be taken as leptospirosis and treated accordingly until further orders."

Doctors in Kerala are not worried without reason. In 1999, the WHO had spelled out what the core issue was. Although rodents existed as carriers, transmission usually remained low. But with floods and most of the land underwater, "the human and animal populations gathered in dry places, resulting in closer interaction between them" and this "facilitated the transmission of infection by enhancing the survival of the bacteria".

With global climate change leading to extreme weather events like cyclone and floods across the world, studies have repeatedly pointed out how urbanisation and poor waste disposal exponentially increase the possibility of such outbreaks.

In Kerala, from 2001-2011, the urban population increased by an incredible 92.7% as its towns increased from 159 to 520, as per the 2011 census. Inevitably, the management of solid waste has been a constant problem with the Kerala High Court hearing the matter now.

"The problem is that the disease is transmitted very easily. When skin or mucuous membrane comes into contact with water, damp soil or even mud that has been contaminated, the person can get infected," said an official of the DHS. The official added that presently the priority was to ensure speedy diagnosis and treatment. "The key problem with the disease is that the symptoms are hard to identify. Its symptoms can seem like a simple flu to something much more fatal. So everyone has to screened very carefully."

Earlier, health minister KK Shailaja had told News18, "We always have this fear of leptospirosis during monsoons every year. And every year, we take due notice of it. The only difference is that this year there has to be a more intensified approach."

Dr Arshad Khan, chief coordinator, for the team of 89 doctors from Maharashtra, who were engaged in relief work in the state, said, "There is a definite fear of an outbreak of water-borne infections. With leptospirosis, the viral load in the blood has to be tested. But the symptoms are often vague. In fact, you can get atypical cases also and as a result laboratory investigations are a must."

He added, "When we were there, we knew that there was a threat of an epidemic and as a result, we had administered around 15,000-20,000 capsules of doxycycline. But proper counselling is also required, so that people know what they should or should not do."
Read full article
Countdown To
Elections Results
To Assembly Elections 2018 Results