GET Stock

Quotes


2 Dead, 117 Injured in Dahi Handi-related Incidents
In Palghar, 21-year-old Rohan Kini died due to an epileptic attack during the celebrations, while in Airoli in Navi Mumbai, a 34-year-old died of electrocution.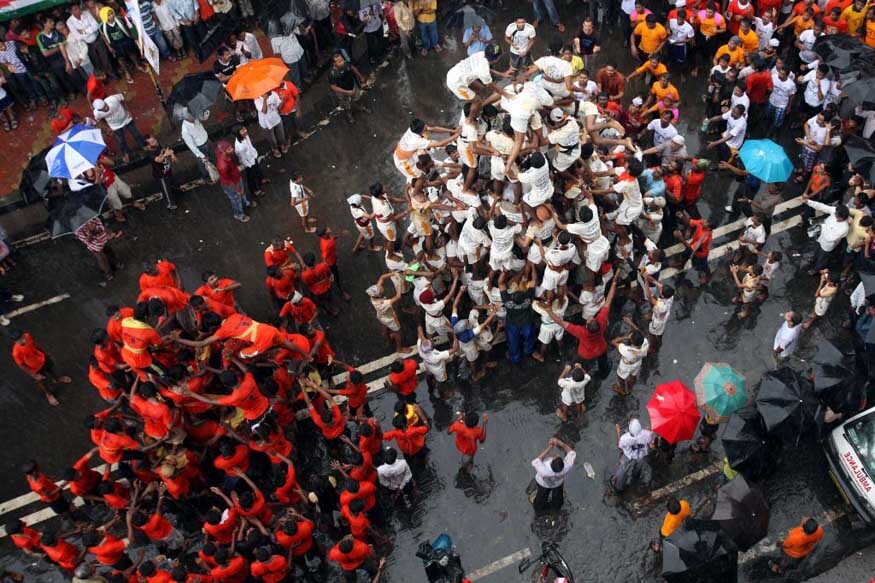 A Dahi Handi event in Mumbai (Getty Images)
Mumbai:
Janmashtami celebrations in Mumbai turned fatal for two govindas at two different dahi handi events in Palghar and Airoli. In similar incidents, 117 others were injured during Sunday's celebrations while they were forming human pyramids as part of the festival.
In Palghar, 21-year-old Rohan Kini died due to an epileptic attack during the celebrations, while in Airoli in Navi Mumbai, a 34-year-old man died of electrocution.
Police said, "He was part of a human pyramid. He climbed down after breaking the handi and suffered an epileptic attack soon afterwards. He died while being taken to a hospital in Palghar around 6.30 pm."
The victim in Airoli, who was identified as Jayesh Sarle, died of electrocution. "The death took place at a dahi handi event at a school in Airoli around 6.30 pm. Jayesh was standing near the gate when he touched a live wire," a senior official at the Rabale police station said.
The victim was taken to a hospital, where doctors declared him brought dead.
In Mumbai, as many as 117 people suffered injuries during the celebrations, civic officials said.
A statement issued by the Brihanmumbai Municipal Corporation (BMC) said, "By 9 pm, as many as 117 govindas were reported to have received injuries while celebrating dahi handi at different locations in the city."
"The injured are receiving treatment in different hospitals, including KEM, Nair, Siddharth, GT and Sion hospital. All were reported to be stable," it said.
Across Maharashtra, 'govinda' troupes compete to form multi-tier pyramids and break pitchers of curd and buttermilk tied high above the ground.
Rain and fear of injuries have failed to dampen the spirit of the 'govindas' as hundreds of them were seen moving around in trucks and tempos, travelling from one 'handi' venue to another in Mumbai. The festival, which marks the birth of Lord Krishna, was celebrated with much enthusiasm across the city, including in areas like Ghatkopar, Dadar, Lalbaug and Bhandup.
Organisers of dahi handi competitions, however, said this year the celebrations were relatively low-key in view of the implementation of the Goods and Services Tax (GST), income tax woes and demonetisation.
Member of a mandal said, "After the demonetisation, several mandals substantially reduced the prize money offered to the Govinda troupes." Another member said, "While demonetisation has slightly hit the cash flow, the implementation of GST, has made the people doubly cautious as they fear that the Income Tax department may come knocking any time. Therefore, many have decided to reduce the prize money."
Last week, the state government had assured the Bombay High Court during the hearing on a PIL that it would ensure that children below 14 years of age would not participate in formation of dahi handi pyramids. The HC, however, had refused to impose any restriction on the height of human pyramid formations.
Also Watch
Read full article