'2 States' stereotyping of North and South India: I am from Karnataka and I find nothing wrong in laughing at myself once in a while
Cross-cultural stereotypes portrayed in Bollywood films can be offensive at worst, and hilarious at best.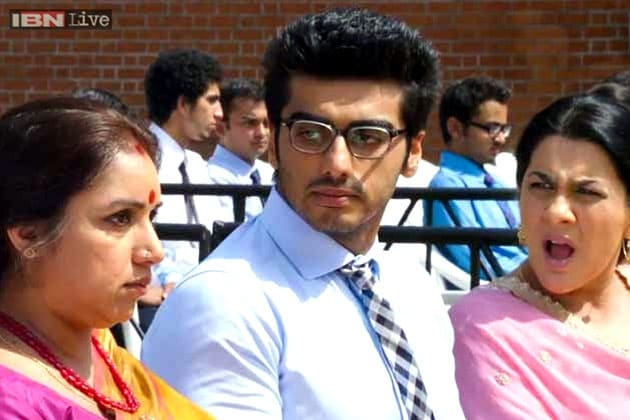 Cross-cultural stereotypes portrayed in Bollywood films can be offensive at worst, and hilarious at best.
New Delhi: There are many pointers by which you can tell whether a person is from northern, or the southern part of the country. By the amount of butter he/she slaps on her paranthas or the dexterity with which a person can eat rice with bare hands. Lungis, kurtas, turbans, tolerance for Carnatic music, the stamina for dancing at weddings, etc, are also helpful sometimes.
Balderdash.
Cross-cultural references and stereotypes portrayed in Bollywood films can be offensive at worst, and hilarious at best. Not all south Indians are coconut water-drinking, lungi wearing dudes, and not all north Indians slap people on the back and slurp lassi all the time.
But by definition itself, the word 'stereotype' implies a widely held but "oversimplified image or idea" of a particular type of person or thing.
So is it so wrong in generalising a bit?
Take the film '2 States', for example. Many cross cultural stereotypes like the ones mentioned above, are the chocolate filling in a warm, light croissant that is Alia Bhatt and Arjun Kapoor's dramedy '2 States'.
Sure it borders on a cliche at times, but as a proud Kannadiga, who has lived all her life in Maharashtra, and now working in Delhi, I can totally relate to Krish's surprise as he is asked to remove his footwear outside his girlfriend's house in Chennai. Like Krish, I had also stared at the giant green banana leaf in alarm, and wondered how on earth I was going to eat out of it. (FYI, it is easy. Just make a volcano-shaped mountain out of your rice, pour sambar/rasam in the middle, and work your way from inside to outside.)
I, like Ananya's parents have raised my eyebrows at a the opulence of a north Indian wedding, and wondered how much it would cost. I had similarly felt supremely under-dressed, when I walked into a Punjabi wedding, wearing a deep blue skirt and a black kurta. But that was my own mistake, I suppose. The wedding venue -- a race-course -- should have tipped me off.
As a Kannadiga/Marathi Manoos myself, I have come across several funny stereotypes. A former colleague had once said to me jokingly that Marathi people are 'sanki' (temperamental). When I pointed out that I was from Karnataka, he said, "Makes sense. 'Diggas' are famous for being violent."
I HAD to roll my eyes at that.
The director of the film, Abhishek Varman, on whose shoulders lay the task of adapting Chetan Bhagat's bestseller, has done a decent job in staying true to the story, as well as infusing pretty visuals on the big screen. But even with all the spurious cultural warfare, nowhere does the film get on the offensive, or even the uncomfortable side.
I know that not all south Indians are 'Madrasis' -- hell, there IS no Madras anymore. There is a world of difference between the 'Diggas', the 'Gultis', the 'Mallus' and the 'Tamilians'. Having said that, all the south Indians have one thing in common -- we can laugh at ourselves.
That, and banana chips and coconut oil, of course.
Get the best of News18 delivered to your inbox - subscribe to News18 Daybreak. Follow News18.com on Twitter, Instagram, Facebook, Telegram, TikTok and on YouTube, and stay in the know with what's happening in the world around you – in real time.
Read full article