22 Sailors Rescued as Cargo Ship Catches Fire While Approaching Kolkata
With 22 crew member on board, a cargo vessel caught fire near West Bengal's Haldia, though no casualties were reported.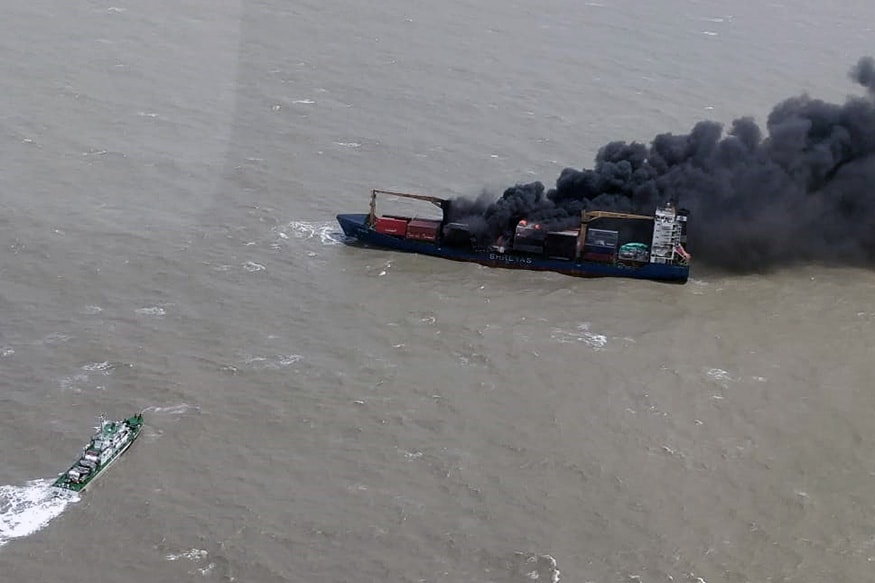 Whilst on passage the fire broke out due to explosion in one of the container and gradually the fire spread over to 60 containers and became out of control despite efforts by ship's crew. (Image: Special Arrangement)
Kolkata: A cargo vessel identified as MV SSL Kolkata caught fire mid-sea, nearly 55 nautical miles away from Sand Heads near Bengal's Haldia early morning on Thursday.
At time time of the accident, 22 crew members were on board. Coast Guard officials said that 11 out of the 22 were rescued initially. The turbulent sea caused a delay in the operation but the rest too were rescued after some delay, they said.
The rescued were taken to Haldia, where their condition is said to be stable."Due to rough sea and strong winds, the fire spread quickly. But all the crew members were rescued," a statement issued by the Coast Guard reads.
Soon after the fire incident, a coast guard ship, Rajkiran, from Haldia and a Dornier aircraft were pressed into action.
During an aerial survey, it was found that nearly 70% of the ship was on fire and the captain of the ship, along with others, decided to leave in an inflated rubber boat.
Eastern Command spokesperson, Wing Commander S.S. Birdi, said: "The fire on board was of such magnitude that the naval air assets from Visakhapatnam had to be launched in the morning in co-ordination with the Coast Guard. One Sea King 42C helicopter was also launched from Visakhapatnam to assist the search and rescue operation."
The cause of the fire is yet to be ascertained, but the rescued crew members told the officers that there was an explosion near the deck, after which one of the containers caught fire.
Police sources said the vessel belonged to Shreyas Shipping & Logistics based in Mumbai and the incident took place while the ship was on her voyage from Krishnapatnam to Kolkata. The ship had started from Krishnapatnam on June 13 around 10 pm.
Abhijeet De, a senior official of Shreyas Shipping & Logistics in Kolkata, could not be contacted for his comment.
Read full article