GET Stock

Quotes



30th year of assassination: Memories of Indira Gandhi
Another childhood memory is when she hosted a reception for the Indian cricket team which had returned from a victorious tour of England in 1971.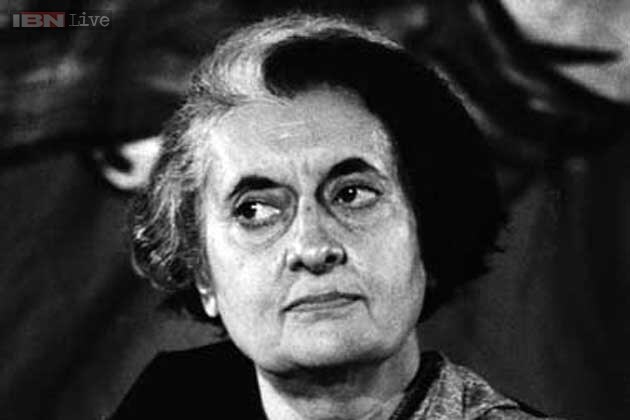 Another childhood memory is when she hosted a reception for the Indian cricket team which had returned from a victorious tour of England in 1971.
New Delhi: My earliest memories of Shrimati Indira Gandhi were as a five year old when she had just taken over as prime minister in January 1966. My father, HY Sharada Prasad, had joined the Prime Minister's Secretariat as Deputy Information Advisor. He had earlier worked closely with her on the exhibitions on Jawaharlal Nehru. She hosted a get together for the families of the members of her staff on the lawns of Teen Murthi House. My mother took my two and a half year old brother and me. My brother was bundled up against the January cold in a series of parkas and windsheeters. Indira Gandhi walked up to him while he was crawling on the lawns, bent down, and asked: "How is the little mountaineer?", and played with him for a couple of minutes. Then she challenged some of the children of my age group to a race, and outran all of us. I then chased her and grabbed her by the hand, and she asked me all about the games I played and my school.
My father recounted later that when they drove back to her residence from Rashtrapati Bhavan after her swearing in as prime minister in January 1966, she was feeling very thirsty. But they found 1 Safdarjung Road locked. Her sole security officer went off to find the servant who had the key. Mrs Gandhi had to walk to a neighbour's house and ask for a glass of water. She expressed her displeasure to her old family retainer, who turned around and berated her for losing her temper: "Khaamosh Ho Jao, Beti. Pradhaan Mantriyon ko Chillanah Nahin Chahiye" (Calm down and be quiet, my little girl. Prime Ministers should not shout.).
Another childhood memory is when she hosted a reception for the Indian cricket team which had returned from a victorious tour of England in 1971. She had invited the children of her staff members to the reception, knowing how cricket mad we all were. She complimented in great detail BS Chandrashekhar on his bowling, Eknath Solkar on his fielding, and Ajit Wadekar on his captaincy. In particular, she congratulated Solkar on the catch he took of Alan Knott off the bowling of Venkataraghavan. She remarked that when she wanted to congratulate Pataudi's team on their victory over Bill Lawry's Australians at the Ferozeshah Kotla in 1969, she was not allowed into the pavilion since women were not permitted to enter the pavilion. She said that one of the officers in her Secretariat had earlier been an ADC to Douglas Jardine. She then encouraged all of us children to take the autographs of the cricketers. Only after all of them had signed my autograph book did she also sign mine, saying that they were the stars. She then went through my thick autograph book and remarked on the various dignitaries who had signed there over the years. She had made a ten year old feel that I was very important. She also invited us children whenever she hosted receptions for the Indian hockey team. She told the national hockey teams, which had started their downward spiral in the early 1970s, to live up to the glorious records of the teams led by Dhyan Chand and other giants of the past. She told them she realized that they were under tremendous pressure whenever they played against Pakistan.
Another childhood memory is a few months after the Bangladesh war when various film stars had raised funds for the nation and came to present it to her. Knowing how film crazy the children of her staff members were, she had invited us for the performances by Sunil Dutt, Nargis, Lata Mangeshkar, and other film stars. She danced gamely with them on stage, and they then cajoled her to sing along with them, which she sportingly did. She then remarked that one of the things she longed for but was not blessed with by nature was a melodious and musical voice. She felt that her voice was too high pitched. She added that the Nehrus were a most unmusical clan and that none of them had an ear for music. But she greatly appreciated Feroze Gandhi's knowledge and interest in music. The king of Afghanistan had presented her with an Afghan Hound which she had named Zabul which was lounging nearby. Its magnificent coat had been closely shorn to enable it to bear the Delhi heat. I went forward to play with it but it was too timid and backed off towards her. Rajiv Gandhi then came over and started remonstrating with her over her refusal to allow him to adopt a Golden Retriever puppy which he had set his heart on. She told him that he would not be able to afford to maintain it on his salary, especially since he had just started a family. She added that she herself wanted to adopt Great Danes, and described the magnificent pack of Great Danes owned by Mohan Lal Sukhadia (governor of Karnataka). She coveted them and envied Sukhadia. She said that she felt tempted to ask Sukhadia to present one of them to her but restrained herself, for its food would take up all her income.
Another memory is when she invited the children of her staff members to view the Peter Sellers - Blake Edwards comedy film, "The Party". She enjoyed it greatly, and often repeated Sellers' memorable line: "In India we do not think who we are; we know who we are". She also invited the families of her staff to watch the film "Cromwell" starring Alec Guinness, and discussed the parallels with Indian politics with some of her aides.
When she was campaigning in Orissa someone threw a stone at her which broke her nose. She bravely continued her speech even though blood was spurting from her nose. Only after she completed her speech did she allow first aid to be given to her. She was flown back to Delhi for surgery. She was a great doodler and caricaturist, and she drew some illustrations of herself with the plaster cast on her nose, and remarked to my father: "Don't I look like Batman?" She told him that she always thought her nose was too long, and that she longed for a shorter nose.
In those days, security at her South Block office was minimal. Once the lone security guard there had a sudden attack of diarrhea, and told a trainee constable to not to let anybody enter until he returned. A few minutes later, Mrs Gandhi and my father returned to South Block from Parliament House, but the trainee constable refused to let them enter, citing orders from his 'Badaa Saheb'. Mrs Gandhi told my father: "Let us not get this young boy who is just starting his career into trouble with his superiors", and they strolled on the lawn in front of South Block discussing her next speech until the guard returned.
She was a constant doodler and illustrator, and the several handwritten notes she sent to my father on demi-official matters would invariably have doodles of various people, animals and flowers. She would pass on the foreign magazines that she received on to us after she had finished reading them, and we would see that she had solved all the crossword puzzles and other puzzles in them. She probably solved four to five difficult cryptic crosswords every day.
My father was a strict vegetarian, and Mrs Gandhi was keenly aware of how he suffered whenever he accompanied her on her foreign trips. At a state banquet in Europe, she found that the vegetable entrée which she had just been served was in fact cooked in meat broth. She interrupted her conversation with the host prime minister and whispered to the waiter that he should not serve the vegetable entrée to my father, but instead to serve him fruit salad and yoghurt.
Mrs Gandhi often discussed her childhood with my father, probably because he had the shared experience of the Freedom Struggle. She would recount how her mother would be insulted and humiliated by Jawaharlal Nehru's sisters for not being westernized enough. She resented her father not standing up for her mother against his sisters, and in fact for neglecting her mother during her long illnesses. She recounted that just after her parents were arrested; she ran to their empty bedroom and threw herself on their bed sobbing. Nehru's sisters shooed her off their bed and scolded her harshly for even daring to climb on to Bhai's (Jawaharlal's) bed. This was the start of her antipathy towards her paternal aunts, who often taunted her for being gawky. When she wanted to marry Feroze Gandhi, Jawaharlal asked her to consult his sisters. "How little my father understood me", she remarked to my father.
The botanist BP Pal was a great raconteur with a fund of risqué jokes and anecdotes. At a reception of the Indian Society of Genetics he was recounting these to his acolytes, when he discovered to his horror that Indira Gandhi had been standing behind him and had heard every word he had said. Deeply embarrassed, he attempted to stammer out an apology. "Don't worry, Dr Pal", she replied. "I have two sons and am conversant with the activities which you have described so vividly and colourfully."
She was once to deliver a speech at Al Azhar University in Cairo. She intended to make major policy announcements about India's relations with the Arab world. She worked hard on her speech for several weeks together with my father. As her interpreter, she took along a renowned scholar of Arabic from Dar ul Uloom in Deoband. But her speech was met with blank looks of bewilderment by the Arab intellectuals in the audience. It was clear that none of them understood a word uttered by the scholarly interpreter. The rector of Al Azhar then remarked tactfully: "The last time this campus was privileged to hear such pure classical Arabic was during the time of Saladin."
Charles de Gaulle was once to host a banquet for her. The French side insisted that it would be a small cozy dinner, and that there would be no speeches, nor any media persons present. The Indian delegation grew wary about the repeated insistence of the French government that there would be no speeches. Indira Gandhi then said that since de Gaulle had an insatiable urge for publicity, there were bound to be media persons present, and that de Gaulle would lure her into a surprise press conference. Mrs Gandhi and her aides then rehearsed possible questions. Sure enough, there were several media persons present at the banquet who asked her tough questions. She replied to all of them in flawless French. De Gaulle was reported to have remarked to an aide later that she would go very far in politics.
My father was present when she was on the telephone with Lyndon Johnson regarding the food shipments when India was living from ship to mouth. She was clenching her fists in anger while she was all sweetness over the phone with Johnson in a gentle voice at her persuasive best. She then vowed in fierce determination that she would see to it that India became self sufficient in food, and that no Indian leader would ever have to beg for aid again.
Soon after her reelection in 1971, she told my father in a tone of triumph: "I have managed to achieve something which my father tried very hard to do but did not succeed". She was referring to the objective of getting a Muslim elected as chief minister, which had not been attained in Nehru's time. Even though Muslims formed a tiny fraction of Rajasthan's population, she had succeeded against great odds in getting Barkatullah Khan elevated to the chief minister's chair. In later years, she elevated Abdul Gafoor, Anwara Taimur, and AR Antulay in their respective states over vehement opposition.
The period from early 1974 onwards was a trying time for my father. Although he never discussed his official work with my mother or me, we could feel the tension he was under. More than once he offered Mrs Gandhi his resignation, but she refused to accept it. PN Dhar, Gopalaswami Parthasarathi, and NK Seshan were under similar tension and wanted to quit. They all went to PN Haksar, who told them not to resign under any circumstances, adding: "We must all stay within the system and fight further deterioration. If we are not there, there will be no one left to counter the influence of the people at her residence. We will all feel morally superior and assuage our consciences if we resign, but outside the system we will count for nothing, and there will be no one left to stem the rot".
NK Seshan had been a highly trusted aide to Jawaharlal Nehru since 1943, and was one of the few persons who had the courage to scold Indira Gandhi whenever he disapproved of her actions. Sanjay Gandhi went out of his way to create numerous problems for Seshan. Seshan had seen Sanjay from the day of his birth and wanted to resign rather than be humiliated. But PN Haksar and PN Dhar told Seshan to stay put in the Prime Ministers House no matter what the provocations and insults because he was the only one who had the courage and the ability to keep Sanjay and his cohorts in check. Haksar told Seshan that he was the only person who could prevent the legacy of Jawaharlal Nehru from being destroyed by his grandson. But NK Seshan was forced to move out of his government accommodation. Haksar was kicked upstairs and his relatives were roughed up. The excesses of Sanjay Gandhi and his associates during the Emergency would have been far worse but for the courageous actions of NK Seshan, for which he suffered considerable harassment.
Austerity measures have been much in the news in the past few weeks, and Iftar parties have been hosted in five star hotels by Cabinet ministers. But following the drought of 1974 and the oil shock simultaneously, Indira Gandhi initiated severe austerity measures. She led by example, cutting her own salary and perquisites drastically. She curtailed all official entertainment to the barest minimum, gave up her foreign made car, and traveled by train instead of air. When she wanted to host some Iftar parties, NK Seshan told her that there was no governmental money available. She replied that it was politically important for her to keep some prominent politicians from Kashmir in good humour since the negotiations with Sheikh Abdullah were at a critical stage and she did not want needless opposition from disgruntled persons who thought that she was overlooking them. Seshan thundered at her that she should then host the Iftar parties out of Congress party funds, or out of her own limited salary. She tried to find a way out by suggesting that she could host Iftar receptions for the ambassadors of Islamic countries to which she could invite the Kashmiri politicians whom she wanted to influence. Seshan shouted at her that the Ministry of External Affairs had already hosted Iftar receptions for ambassadors, and if she wanted to do so, she should first get sanction from the Finance Ministry.
At the declaration of the Emergency, the only government officials present were BN Pande (then cabinet secretary), PN Dhar, and my father. PN Dhar and my father remarked to each other that they had been witness to an evil act. My father again offered his resignation to Mrs Gandhi in protest against censorship of the press, but she refused to accept it, adding that she had several cogent reasons for imposing the Emergency. To overcome his vehement objections, she showed him some intelligence reports and transcripts of intercepted communications. Some of these related to Jayaprakash Narayan exhorting the armed forces to revolt and to the sources funding George Fernandes. Then when Sheikh Mujibur Rehman was assassinated on 15 August 1975, she told my father: "Now you know why I was compelled to impose the Emergency. India was next". She had had a plane flown to Dhaka to evacuate Mujib a few days earlier, but the latter had insisted that all his countrymen loved him.
The Emergency was a tense time for us especially since my maternal uncle, KS Radhakrishna, who was a key aide of Jayaprakash Narayan, had been jailed. The key interlocutors for the negotiations between Indira Gandhi and Jayaprakash Narayan were PN Dhar and my father on behalf of Mrs Gandhi, and my maternal uncle, KS Radhakrishna on behalf of JP. PN Dhar had known JP long before he joined Mrs Gandhi's staff and had won the confidence and trust of JP. Some of the negotiating sessions took place in our residence, when my brother and I would be told to go out and play.
The differences between Indira Gandhi and Jayaprakash Narayan turned out to be trivial, even petty. JP thought of himself as a wise sage and as a worthy successor to Mahatma Gandhi. He wanted Indira Gandhi to constantly run to him to seek his advice, and was miffed when she did not consult him. Indira Gandhi felt that JP had let her father down. Jawaharlal Nehru had often asked JP to join his cabinet but JP always declined since he had the self image of himself as being above party politics in the mould of Mahatma Gandhi. Whenever Jawaharlal Nehru asked JP for his opinion, the latter provided only basic advice and not the detailed counsel that he was capable of. In addition, Indira Gandhi thought that JP changed his political views too often, from left wing to right wing, allowed political opportunists of all hues to exploit him, and was not too particular about the sources from which he received funds.
PN Haksar, PN Dhar, BN Tandon, and my father were especially concerned over amendments to the constitution and the undermining of the judiciary, which was principally done on the advice of Siddhartha Shankar Ray. The then Law Minister HR Gokhale had his qualms but acquiesced in the subversion of the judiciary. While hearing Indira Gandhi's election appeal, Justice Mirza Hameedullah Beg asked the Solicitor General Lal Narayan Sinha if he knew of any other instance where the Executive Branch of Government had arrogated to itself the powers of the Judicial and Legislative Branches. After thinking for a while, LN Sinha replied: "The Court of Jahangir". Justice Beg retorted that Indira Gandhi did not have the sense of justice and fair play of Jahangir, and asked Sinha if she wanted to regress the nation back to the seventeenth century. The Prime Minister's House and Vidya Charan Shukla exerted great pressure on newspapers to not carry the above exchange, nor indeed any of the arguments of Nani Palkhivala. Ironically, Justice Mirza Hameedullah Beg soon delivered a highly favourable judgement in Indira Gandhi's election appeal, and was rewarded by being promoted to Chief Justice, superseding Justice HR Khanna.
Indira Gandhi asked my father to help draft her speech for the Congress Party Session at Chandigarh in December 1975. My father retorted that this was party work rather than government work, and that he would rather resign. She heatedly replied that she intended to announce important government policies, to which my father replied that it was a Congress party function and not a government function. She backed down and later made amends for her unpleasant remarks, after PN Dhar told her that she was overstepping the line.
The well-known artist Mikhail Alexandrovich Werboff had been commissioned to paint her portrait. He was pleasantly surprised that she could sit still for a long time without twitching a muscle. Werboff remarked that she was the most cooperative subject among the dozens of celebrities he had painted, including Jiddu Krishnamurhti, Bernard Baruch, King Gustaf, and King Alfonso. Werboff jokingly told her: "If you ever lose your job and need a new one, then I will employ you as my model." Indira Gandhi responded: "I will need it sooner than you think. But please don't tell our voters or the Opposition." Sure enough, she was voted out of power a few weeks later. This incident should satisfy those of her critics who allege that she was confident of winning the elections in March 1977.
As soon as she lost the elections in March 1977, her dhobi was too scared to serve her any longer. All the other dhobis in the neighborhood were also too scared to offer their services to her. So she washed her bedsheets and sarees by hand, laid them out on the lawns to dry, and ironed them herself.
One of the senior IAS officers in the Prime Ministers Secretariat during the tenure of Morarji Desai was R Rajamani. He was well over six and a half feet tall. Morarji Desai, a tall man himself, used to introduce Rajamani to foreign dignitaries with the comment: "Here is one person on my staff who literally looks down upon me". Rajamani continued in the Secretariat when Mrs Gandhi returned to power in 1980. She would introduce him to foreign dignitaries with the comment: "Here is one person on my staff whom I literally look up to". My father commented that this showed the essential differences in the psychology between most Indian politicians and her.
My father, HY Sharada Prasad, was one of the people who accompanied her to the crash site of Sanjay Gandhi as soon as she got the news of the aircrash. He remarked on her remarkable self control and iron resolve in her not showing her grief publicly. After a short while, she went to visit the family of Sanjay's co-pilot in order to offer her condolences to them. Even while Sanjay's mangled body was being stitched up, she returned to her office to deal with the crisis in Assam.
The last time I saw Mrs Indira Gandhi was during her visit to New York in September - October 1983 to attend the United Nations session. I was then a student in USA and my father was part of her delegation. She hosted a reception for leading American scientists to which I was also invited. Mrs Gandhi noticed from the body posture of the Nobel Laureate Rosalyn Sussman Yalow that she wanted to leave the reception midway. Dr Yalow was standing all alone near the exit. Mrs Gandhi interrupted her discussions with other scientists to send a bearer across to me with whispered instructions to engage Dr Yalow in conversation until an Indian diplomat could break free and escort Dr Yalow to her car with proper protocol.
At her press conference in New York, a prominent American lady journalist asked a leading question: "Does India tilt? Which way?". Knowing of her closeness to the Reagan administration, Mrs Gandhi snapped back immediately: "We stand upright". The entire press corps erupted in loud applause at her quick repartee.
My father, HY Sharada Prasad, was one of the last people to see Mrs Gandhi alive. He briefed her on her television interview with Peter Ustinov, and then walked over to see the camera arrangements. As he was returning to escort her to the interview, her guards opened fire. As soon as she was lifted into a vehicle to rush her to hospital, he rushed to the nearest phone to inform the intelligence chiefs, as well as the Cabinet Secretary and her Principal Secretary, both of whom were in Bombay to attend a meeting of the Atomic Energy Commission.
(Ravi Visvesvaraya Prasad is a technocrat and a writer. His father the late legendary HY Sharadaprasad was media advisor to Indira Gandhi and Rajiv Gandhi)
Also Watch

News18 Reel Movie Awards: Ratna Pathak Shah Bags Best Actor (Female) Award
Read full article