GET Stock

Quotes


36 Men Injured in Jallikattu Event in Madurai's Avaniapuram
Jallikattu games begun in Avaniapuram on Sunday with over 950 bulls and 1,200 bull tamers participating in the mega event.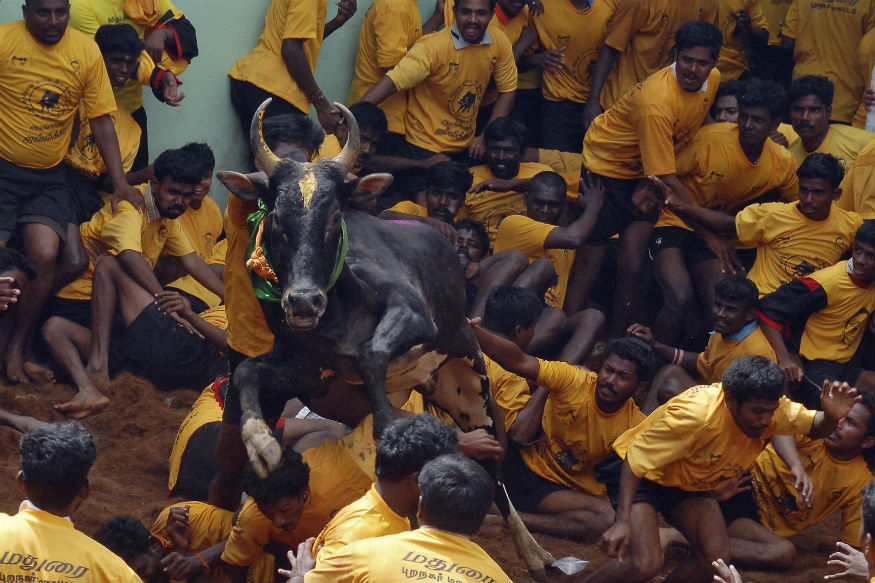 Villagers try to control a bull during the Jallikattu festival on the outskirts of Madurai town on January 17, 2011. The festival is celebrated as part of south India's harvest festival of Pongal. (Photo: Reuters)
Chennai: Thirty-six people were injured, one of them seriously, in a Jallikattu event held at Avanipuram in the district amid high-security on Sunday in which more than 900 bulls were used, police said.
All the injured were being treated at the medical camp put up near the venue, police said.
More than 700 bull-tamers participated in the events, which were witnessed by thousands of spectators.
Madurai(TN): #Jallikattu underway in Avaniapuram; 1200tamers,950bulls participating;15medical teams,20ambulances deployed fr safety&security

— ANI (@ANI_news) February 5, 2017
The bull-taming sport was formally inaugurated by Revenue Minister R B Udhayakumar and District Collector Veeraraghava Rao.
Top officials of the district and police administrations, including Superintendent of Police, were also present at the venue.
Police said all precautionary measures, including mandatory medical tests for bulls and participants as laid down by the state government, were taken before the conduct of the traditional rural sport.
Madurai (TN): Bull-taming sport #Jallikattu underway in Avaniapuram; 1200 tamers and 950 bulls participating. pic.twitter.com/mO6IJzbik7

— ANI (@ANI_news) February 5, 2017
Normally, Jallikattu is held as part of the Pongal festivities in Tamil Nadu. However, it was not held during Pongal this year due to a Supreme Court ban.
Amid continuing protests over Jallikattu ban across the state, the Tamil Nadu Assembly had on January 23 unanimously passed an amendment bill, clearing the path for conducting Jallikattu without any hindrance.
Also Watch
Read full article