4 Tiger Deaths in 45 Days, NTCA Slaps Notice on MP Forest Department
Madhya Pradesh houses 20% of the tiger population (308 as per 2014 wildlife census) of India in six tiger reserves –Panna, Kanha, Bandhavgarh, Satpura, Pench and Sanjay.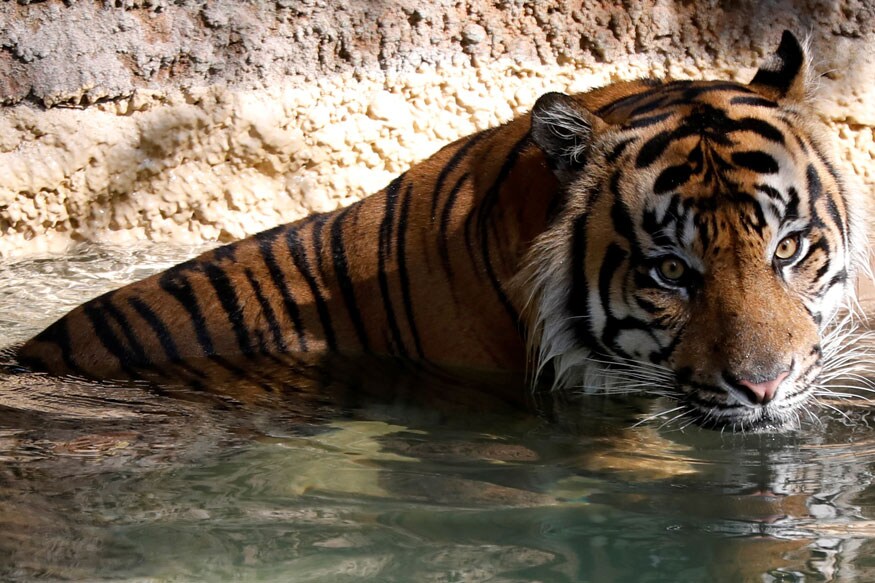 Representative image/ Reuters
Bhopal: The death of three tigers and a cub within a span of less than 45 days has jolted the Madhya Pradesh forest department with its conservation efforts under the scanner.
MP houses 20% of the tiger population (308 as per 2014 wildlife census) of India in six tiger reserves –Panna, Kanha, Bandhavgarh, Satpura, Pench and Sanjay.
Now the state holds a dubious distinction with 30 tiger deaths reported in 2016 and 24 already in 2017.
The Umaria-Shahdol region has reported death of three tigers and a cub since November first week. An adult was found dead close to habitation on November 3 in Shahdol. This was followed by another in Umaria's Ghunghuti area while the decayed body of a tigress was found in the nearby Kanchodar on December 11. One of its two cubs was also found dead the next day and second one is missing.
As many as 15 tiger deaths reported in Madhya Pradesh in 2017 have occurred outside protected forest areas. According to the date compiled by National Tiger Conservation Authority (NTCA), the state lost 21 tigers by November 30, 2017 and the tiger protection body has reportedly slapped a notice on MP forest department.
The botched up tiger management is evident from the fact that the area – Shahdol, Sidhi, Katni, Singrauli and Umaria – that has tigers in and outside protected areas alone accounted for 15 deaths of striped cats in 2017.
In the recent four mortalities, the forest staff hardly had any idea about the incidents, especially in the case of the tigress in Umaria which was seen on camera traps before being recovered on December 11, almost a week after it died.
According to the portal of the state forest department, the demarcation of buffer zone is yet to be completed in Bandhavgarh, Panpatha, Panna and nearby Gangau, Satpura, Bori and Pachmarhi, Sanjay and Sanjay Dubri.
"Fearing dominant males, cubs after being detached from mothers, tend to venture out of protected areas in search of their territory and often settle in dense forest areas including those between Shahdol-Umaria and Katni but tracing and monitoring usually remains amiss," said a volunteer working in wildlife conservation in MP.
"The tiger reserve staff and forest staff from unprotected areas keeps shifting the onus on each other leading to deaths of big cats," he added, claiming natural tiger corridors are never taken care of by the forest department, like the case with Ghunghuti forest which earlier was part of Bandhavgarh Tiger Reserve buffer area but was excluded in 2010 notification.
"Effective monitoring is the key as big cats like tigers can't be restricted with geographical boundaries," wildlife activist Ajay Dubey said.
Underlining revival of natural corridors for tigers and establishment of Special Tiger Protection Force like the one established by Karnataka, the number one state in terms of tiger population, Dubey accused authorities, especially the Chief Wildlife Warden, of remaining aloof to ground realities.
As the poaching has ebbed in Madhya Pradesh with sustained efforts from the forest department and NTCA, electrocution by illegally powered farm fences has emerged as major killer of big cats in MP.
"It has been a common phenomenon in last two decades in Madhya Pradesh that tigers keep getting electrocuted at farms in Rabi season," said Nitin Desai, Central India director of Wildlife Protection Society of India. The herbivores flock farmland in the season, carnivores like tigers follow them and get killed by illegally powered fences, he said.
In a state like Maharashtra, the forest department and electricity board have joined hands to caution farmers against these illegal power traps and also encourage them to use lesser harmful solar or battery-powered fences, he claimed.
A former field director of a tiger reserve wishing anonymity claimed that proposal of insulating 11KV lines hovering over farmlands was sent to Wildlife Board last year but a high cost entailing this project is causing problems. "Till last year, the cost of insulating 11KV power lines in affected areas was around Rs 1.25 crore per km," he said.
Read full article