55th National Awards
Prasoon Joshi bags award for best lyrics for Maa, Mahadevan for singing.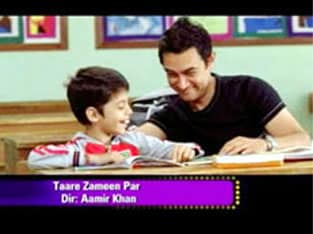 Prasoon Joshi bags award for best lyrics for Maa, Mahadevan for singing.
New Delhi: The 55th National Film Awards (for year 2007) were announced in New Delhi on Monday.
Bollywood star Aamir Khan's directorial debut Taare Zameen Par got the best family welfare award and Prasoon Joshi the award for the best lyrics for Maa from the same film about a dyslexic child. The song also got Shankar Mahadevan the National Award for best playback singer.
Director Priyadarshan's off-beat Tamil film Kanchivaram has won the best feature film award at the 55th National Film Awards 2007, while southern actor Prakash Raj has been adjudged best actor for his performance in the same film, it was announced in the national capital on Monday.
Set in the backdrop of Kanjeevaram's handloom silk industry from the 1920s to 1948, Kanchivaram is the story of a non-political weaver who leans towards communism and soon becomes a revolutionary leader and an advocate of the ideology, only to find himself caught between personal needs and his pursuit of social equality.
Renowned Malayalam film director Adoor Gopalakrishnan is best director for Naalu Pennungal while Kannada actress Uma Shri is best actress for Gulabi Talkies.
"It's a nice feeling, and I get the impression that I am on the right track, because I make films only once in a long while. Ofcourse I have the endorsements from audiences also because the film has been shown all across the world. It's one of my most popular films. In every festival the tickets were sold out, and this film is about women, and 80 per cent of the audience is always women" — Filmmaker, Adoor Gopalakrishnan to CNN-IBN
"My award is a big surprise because I am a commercial filmmaker and I make movies to make people laugh and this was my first attempt to make a realistic film and it's paid off. Actually I wasn't sure if it will pay off or not but it has. I knew Prakash will get it because his role was very strong and his performance was very realistic" — Filmmaker, Priyadarshan to CNN-IBN
Get the best of News18 delivered to your inbox - subscribe to News18 Daybreak. Follow News18.com on Twitter, Instagram, Facebook, Telegram, TikTok and on YouTube, and stay in the know with what's happening in the world around you – in real time.
Read full article