7 Months on, JNU Student Najeeb's Mother Searching for Him Like Day 1
Fatima was in Badaun, Uttar Pradesh, and her 27-year-old son had called her from Delhi in desperation.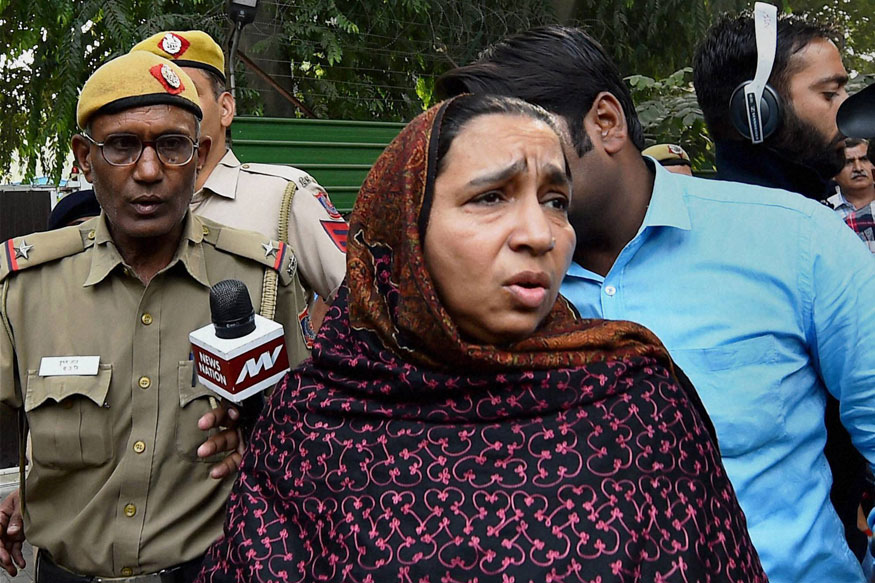 File photo of missing JNU student Najeeb's mother (PTI Photo)
New Delhi: "I am waiting for you, Ammi." These six words continue to haunt Fatima Nafees. In the wee hours of October 16 last year, Jawaharlal Nehru University (JNU) student Najeeb Ahmed called his mother, Fatima, and told her he was in trouble.
"I will never forget that night. He called me at 2 am and told me three ABVP members had attacked him on campus. Without giving me any further details, he hung up. I kept calling back," says a teary-eyed Fatima.
Fatima was in Badaun, Uttar Pradesh, and her 27-year-old son had called her from Delhi in desperation.
Fatima's repeated calls to Najeeb after that went unanswered till his friend, Qasim, called her to inform that Najeeb had sustained injuries and had been taken to Safdarjung Hospital.
"He also told me the doctors had wanted to admit Najeeb and wanted to register a police complaint, but he backed out and returned to campus," says Fatima. She immediately left Badaun and on her way to Delhi, she kept calling her son. Najeeb finally picked up and casually told her that he was in the washroom.
"He told me that he was missing me," says Fatima as tears roll down her cheeks.
That was the last time she spoke to her son and the last time the world heard from Najeeb.
When Fatima reached Najeeb's hostel room, everything was intact – his diary, clothes, shoes, furniture. Only he was missing.
The first year Masters student of Biotechnology at one of India's premier universities has been missing since that day. Since that fateful October night, there have been various theories about what could have happened to the young scholar. Some reports suggested he was being treated for depression, others said he was involved in a brawl, while a few went to the extent of speculating that he chose to disappear.
Fatima, however, is undeterred. Since October, the 61-year-old has been running pillar to post to find her son, asking even strangers if they'd seen her son.
"I have shifted to Delhi because it lets me stay in touch with those involved in the case, be it JNU authorities, policemen or politicians. I am not leaving the city without my son," she says.
Fatima has been in touch with top officials in government as well as the JNU administration, but the search has not made any headway so far.
Also Read | Delhi Police Now Ask Mosques to Make Announcements on Najeeb Ahmed
And then there are politicians and officials who have given up on the case. "A politician told me he didn't have a magic wand to turn time around and bring back my son," she says.
Her family, including Najeeb's siblings, have all had to face hardships because of her unwavering effort to locate her son.
Najeeb's father Nafees Ahmed, a heart patient, is confined within the four walls of their home in Badaun. His brother, Mujeeb could not accept a job as a geologist in Rajasthan as he continues to stand by Fatima. Haseeb, his second brother, was compelled to abandon his engineering studies and return home to take care of the ailing father and younger sister, Shifa Nafees.
Shifa appeared for her class XII exams without any help. We have exhausted everything we had; sold all our small property to find Najeeb. My family has seen the worst of times. My relatives have given up," Fatima says.
The 61-year-old was earlier staying with her relatives at Zakir Nagar but soon moved out, despite her deteriorating health.
Fatima says her fond memories of Najeeb have kept her going, and she will continue fighting.
You know Najeeb got through JNU without much help from outside. All my children are close to me, but he was the closest. I am very proud of him. I know he is alive somewhere and waiting to come home. I will fight till my last breath to bring him back," Fatima says with grit.
Get the best of News18 delivered to your inbox - subscribe to News18 Daybreak. Follow News18.com on Twitter, Instagram, Facebook, Telegram, TikTok and on YouTube, and stay in the know with what's happening in the world around you – in real time.
| Edited by: Puja Menon
Read full article