Despite a Certain Victory, Everyone at Kovind's Village Has Fingers Crossed
The village has big plans for July 20 when the presidential election 2017 results are declared. Ram Prakash who is Ram Nath Kovind's classmate is also hoping for an invite when India's second Dalit President after KR Narayanan is sworn in.
(Image: Network18)
New Delhi: The temple bells haven't stopped ringing in Paraukh for the last 72 hours. The compound that shares its wall with the village school is teeming with people who have come to listen to the Akhand Ramayan that is being recited non-stop by a motley group of men.
It will continue till July 25, the day when India's 14th President will be sworn in. Son of the soil, Ram Nath Kovind's elevation is a foregone conclusion. But no one in his village wants to take a chance. In his 26-year-career, Kovind has fought two elections and lost both.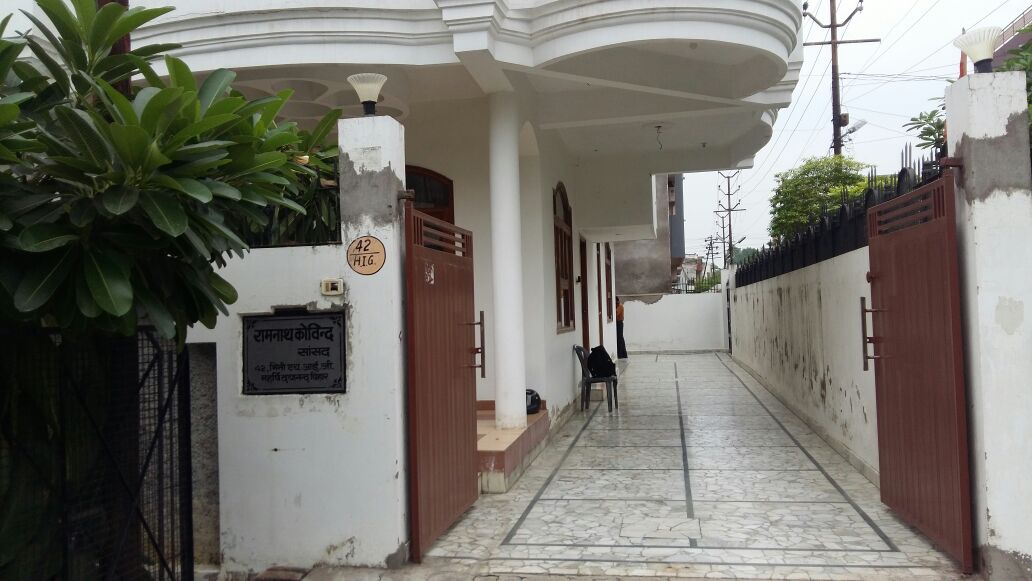 "We have great faith in Patthari Devi. We are appeasing her to ensure nothing goes wrong this time," says Sonu Chavan.
Sonu, 23-years-old and unemployed, is the lead singer in the bhajan mandali. His latest composition, which he belts out at the arrival of every visiting media team, is an ode to the Kovind and Prime Minister Narendra Modi.
Around 50 meters away at the ramshackle village madrassa, little girls in colourful abayas (veil) watch as men from the Hindu and Dalit community enter the mosque. Locals say duas are being read for the future president five times a day.
Zoya, 11, points to her grandfather and says, "My dada (grandfather) went to school with Kovindji and he was more intelligent. He says Modiji made Kovindji President".
Shabir Khan, 43, doesn't want to talk about identity politics or the BJP. He says Kovind is a son who has made the entire village proud.
"We don't have to ask Kovindji for anything. He himself will take care of the village. He got us an SBI branch and an inter-college. But it will be good if young people here can get jobs."
Ram Nath Kovind was born in Paraukh, a village of 12,000 people in Kanpur Dehat, on October 1, 1945. His father, Maikulal, was a landless Dalit from the weaver community who ran a small grocery to support his family of 10, including five sons and three daughters. The mud hut where Kovind was born has been donated to the village. In its place now stands a community centre. He doesn't own any land in the village.
Seventy-eight-year-old Ram Prakash, a retired school teacher, was Kovind's classmate. Their old school, under a peepal tree, is now a cowshed.
"Last time Kovindji came to the village after he became Bihar Governor, we wanted to weigh him in coins. But he said 'don't judge my value in money. All that you have collected should be used for marrying off poor girls'."
The village has big plans for July 20 when the presidential election results are declared. Ram Prakash is also hoping for an invite when India's second Dalit President after KR Narayanan is sworn in.
"What is this Dalit angle everyone is talking about? Kovind is an honest man and worked diligently. That is why he was rewarded. He was denied a ticket so many times by the party, yet he never defected. It pays to be patient."
There are 1,000 Dalits in Paraukh. Like in most villages in India, they are segregated to one side, often neglected but increasingly vocal. There is much anger here over an open sewer that runs right through the basti.
"All the money that comes to the village gets appropriated by the Thakur brains and Muslims. This is what is left for us. Baba is becoming President, but this is the reality we live with," fumes a man who goes by the name Darogajee.
Standing next to a statue of Baba Saheb Ambedkar, Ram Chandra Kovind, a father of three is a bit more optimistic.
"Let people call Dada's appointment symbolic. At least now I can tell my children if you study hard, work diligently and honestly, you too can become the President of India".
Get the best of News18 delivered to your inbox - subscribe to News18 Daybreak. Follow News18.com on Twitter, Instagram, Facebook, Telegram, TikTok and on YouTube, and stay in the know with what's happening in the world around you – in real time.
Read full article