GET Stock

Quotes


7620 Indians in Foreign Prisons; Half of Them in Saudi Arabia, UAE
The government data submitted in the House on Indian prisoners lodged in over 80 countries lacks details about them in all the cases.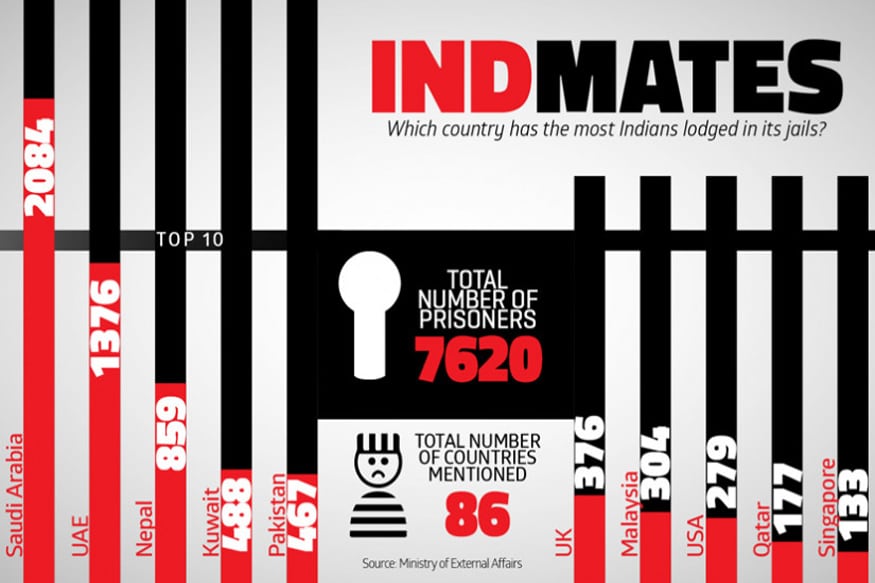 Human rights lawyers expressed grave concern over the issue.
New Delhi
: At least 7,620 Indians are languishing in different foreign jails for their alleged involvement in various criminal offences, the government said in Parliament on Friday.
However, the government data submitted in the House on Indian prisoners lodged in over 80 countries lack details about them in all the cases.
While Saudi Arabia has the highest numbers of Indian prisoners (2084), the United Arab Emirates has 1376 Indians in its jails.
Speaking on the issue, Minister of State for External Affairs M J Akbar said the offences for which Indians were jailed in Saudi Arabia include drinking alcohol, bribery, financial fraud and burglary. The government, however, has no information on the gender of those imprisoned or the city or state in India they belong to.
"Due to strong privacy laws in many countries, the local authorities do not share information on prisoners unless the person concerned consents to disclosure of such information," said Akbar, in response to a question in the Lok Sabha on Wednesday.
Nepal has 859 Indians lodged in its prisons for offences like narcotics smuggling, theft and murder. Kuwait has close to 488 Indians in its jails on charges of murder and drug smuggling.
Pakistan has 467 Indians lodged in its prisons on various offences under the Pakistan Army Act, Official Secret Act, Foreigners Act, Entry Pakistan Act, among others. The minister said that 416 of these are believed to be fishermen to whom consular access has not been provided yet.
Pakistan has shared details of these prisoners. Close to 51 were civil prisoners from various parts of India, including 3 from Gujarat, 2 from Punjab, 6 from Jammu & Kashmir, 3 from Uttar Pradesh, 4 from Delhi, 5 from Bihar and 5 from West Bengal.
United Kingdom has jailed 376 Indians, whose details have not been shared.
Malaysia and United States of America have 304 and 279 Indians in their prisons, respectively. Akbar added that Qatar had 177 Indians in its prisons, Singapore had 133 and Germany jailed 114 Indians.
Countries like Vietnam, Uzbekistan, Senegal, Peru, Zambia, Libya and Kyrgyzstan have only one Indian prisoner each.
Human rights lawyers expressed grave concern over the government not even having details of all Indians in foreign prisons. Asim Sarode, advocate and human rights activist said, "This is ignorance on the part of the government... this amounts to gross violation of human rights," said Sarode.
Commenting on the government's statement on the privacy laws in other countries, Sarode said information on prisoners is exchanged at the highest possible level. "Common man cannot just get this information. It is solely the government's responsibility to make sure the citizens get due justice," the activist added.
Sarode added many of people who are languishing in foreign jails have little access to legal means to get in touch with India. "For example, all these fishermen who are arrested for 'crossing over' to the other side are actually there because of bad weather, tides, etc. Then their families go to the coastal guards to file a complaint, from where they are turned away saying that they should contact the home ministry. It's more or less shirking of responsibilities," he added.
Also Watch
| Edited by: Bijaya Das
Read full article