Gorakhpur Hospital Tragedy: Dr Kafeel Khan Out, But 7 Others Still Languish in Jail Without Bail
In one of the biggest tragedies of last year, more than 30 children died in Gorakhpur's BRD Medical College on August 10 night. Following a huge public outrage, a committee was formed to fix accountability — it held nine people, including Dr Kafeel Khan, guilty.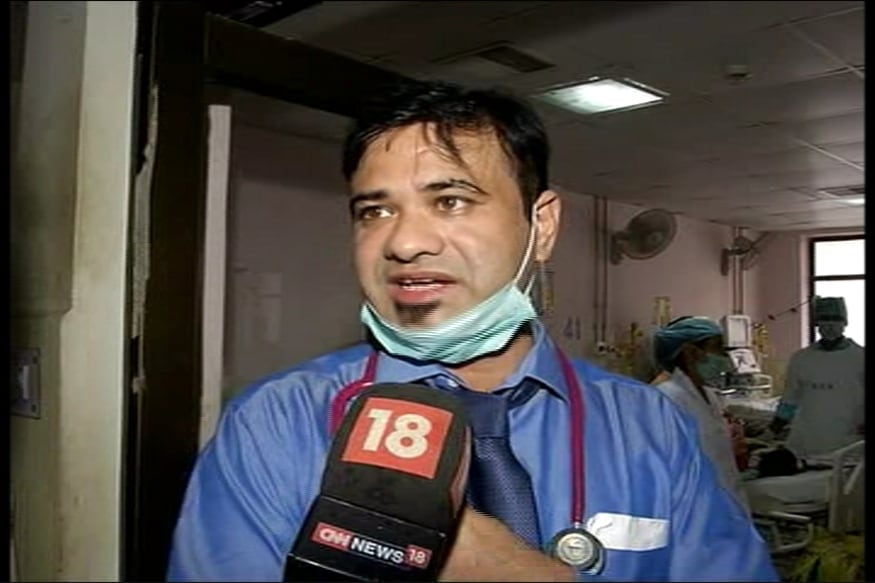 File photo of Dr Kafeel Khan.
Gorakhpur: On April 21, family of the Gorakhpur BRD Medical College's Dr Kafeel Khan held a press conference. Khan's wife Dr Shabista could not hold back her tears as she recalled the last eight months of her life.
"Eight months have passed since Dr Kafeel and three other doctors were arrested. It seems most people have forgotten that these people are in jail for no fault of theirs. All of this, despite police having filed the charge-sheet and the state admitting that the children did not die due to lack of oxygen," said Dr Shabista.
Four days after their press conference Dr Kafeel Khan was granted bail, but seven others — three doctors, one pharmacist and three clerks — continue to remain behind bars. Bail hearings of some of them have been pending, while others have had their applications rejected.
In one of the biggest tragedies of last year, more than 30 children died in Gorakhpur's BRD Medical College on August 10 night. Following a huge public outrage, a committee was formed to fix accountability — it held nine people, including Dr Kafeel Khan, guilty. The oxygen supplier to the hospital was the first to secure bail in the case.
Several investigations carried out by media outlets have since found out that non-payment of pending dues and limited supply of life-saving equipment and drugs, that have claimed thousands of lives in BRD College over the last decade, continue to plague the biggest medical facility in chief minister Yogi Adityanath's own constituency.
Just days after the government-appointed committee delivered their findings, state health minister Siddharth Nath Singh, in a press conference said, "After the first level of investigation, we can claim that the deaths did not take place due to disruption of oxygen supply."
News18 decided to revisit the case by taking stock of those who were found guilty:
Dr Kafeel Khan
Hundreds of people, including the medical practitioner's wife, brother, other family members and friends, welcomed him as he walked out of jail on April 25.
There is an atmosphere of jubilation at Basantpur Mohalla, where Dr Khan lives. Numerous visitors, including journalists, are still visiting the residence, weeks after his release.
"I can never forget these seven months. It was a disaster for my entire family. All this did not just affect my wife and my child. The businesses of both my brothers were ruined after my arrest. They are still running around — from Gorakhpur to Lucknow, Allahabad and Delhi — to make ends meet," said Dr Khan.
He added that his daughter Jarina was 11-months-old when he went to prison. "Now she's 18 months old. It was my dream to see her first steps but I missed it. What pained me most was that she could not recognise me when I returned home. It was as if I were a complete stranger to her," said Khan.
"I'm still in trauma. Someday, when all this madness ends, I would like to work at BRD Medical College again," he said, adding that he spends all his time with the family now.
Dr Rajiv Mishra and Dr Purnima Shukla
Both husband and wife were arrested from Kanpur on August 29. Dr Rajiv Mishra was charged with attempt to conspiracy and culpable homicide, among other sections. His wife was charged under prevention of corruption act and with criminal conspiracy, among others. Both of them are about 60-years-old.
Dr Mishra, who is originally from Bareilly, came to BRD medical college four decades ago to study. After completing his studies, he joined the college's Pathology department and went on to head it. In January 2016, he was appointed the Medical College's principal.
Dr Purnima Shukla was posted in the Homeopathic Research Centre at BRD Medical College. Both of them are now suffering from various ailments.
"It is not just Dr Kafeel. There is nobody to take care of Dr Purnima Shukla who is suffering from several ailments in her advanced age. She recently slipped in her ward in jail and injured herself badly. There was nobody who could hear her cries," Dr Kafeel Khan's brother, Adeel, said in the press conference.
Their only son Dr Purak Mishra, who also studied medicine and secured a job at Indraprastha Apollo hospital as a general surgeon, lost his job after having to make frequent trips between Lucknow and Gorakhpur, trying to get his parents out of jail.
"I hope something works out. My parents are old and are suffering inside jail. If the police has filed its charge-sheet what is preventing courts from releasing them on bail?" the concerned son asks.
Despite the failing health of his father, who suffers from liver cirrhosis, diabetes, spondylitis and cardiac ailments and his mother, who suffers from respiratory disorders, they continue to languish in jail. The reason for his parents' misery, Dr Purak Mishra thinks, is because they were made scapegoats just when the media was asking for immediate punishment of the guilty.
"My parents weren't even in the hospital when this tragedy occurred. Besides, the administration did not clear the pending dues of the oxygen supplier. Why are they still suffering?" Dr Purak asks.
Dr Satish Kumar
Tushar Kumar Rain has for the last seven months blamed himself for the misery that his 56-year-old father — Dr Satish Kumar — has been through all this while.
It was Tushar's convocation at IIT-Mumbai in August last year, when he nagged his parents to attend. All hell broke loose as soon as his father, the head of Anaesthesia department at Gorakhpur's BRD medical college, took leave.
As soon as Dr Kumar reached his son's college, he heard reports about the death of 34 children during the night of August 10 in the college. Dr Kumar rushed back to Gorakhpur with his wife and resumed work the very next day.
The five-member team headed by the DM alleged that Dr Satish was in-charge of maintaining liquid oxygen supply, therefore he was to be blamed for not discharging his duties.
At his house in Gorakhpur's Shahpur area, Dr Kumar's two daughters Manjari Rain and Pallavi Rain and his wife Anita Rain have been waiting anxiously for his release.
Dr Satish Kumar was born in Gorakhpur's Padaria village. He was associated as a MBBS student at BRD Medical College. After completing his studies he became a teacher in the Anaesthesia department and became its head in 2013.
"I was living alone in the house for some time before my daughters joined me. Pallavi and her elder sister Manjari are helping me cope with this crisis. They go and visit my husband in jail regularly. He has, over these last seven months, begun suffering from low blood pressure and depression," said Anita Rain.
Manjari, who recently visited Dr Kumar in jail, described how her distraught father kept appealing. "Do something! Get me out of here soon," he kept telling his daughter.
Anita added that Dr Kumar underwent a major intestinal surgery a few months ago and needed constant medical attention, which was being denied to him in jail.
Dr Kumar has also written to the Indian Medical Association, looking for support and describing his pain. His wife feels that the medical practitioners and other fellow doctors have been targeted only to protect the real culprits. "The state government has confined innocents in jail so that the real culprits are not exposed before the public."
Gajanand Jaiswal
Gajanand Jaiswal, the 58-year-old chief pharmacist of the hospital, is a local from Gorakhpur. He was charged by the police for conniving with Dr Purnima Shukla and indulging in financial misdemeanours.
In their house, Jaiswal's wife and son talk about the recent months. Vaibhav (26) was working in an IT firm in New Delhi when he heard about his father being sent to jail. As his family received no financial or emotional support, Vaibhav had to leave his job and is now working towards getting his father out of jail.
"My father was to retire in two years after having served the hospital with a flawless record. My father wasn't even supposed to take care of the oxygen supplies. They accused him of not keeping a logbook of supplies. This is grossly incorrect. My father kept account of every penny spent."
Vaibhav last saw his father on April 14, talking about the meeting, the 26-year-old says his father looked very desperate. "My father is suffering from diabetes and the levels have only shot up in jail. He isn't even being given medical attention. My father told me he didn't know how long he could survive like this"
News18 also met with the families of other accused in the case — the assistant clerks Sanjay Kumar Tripathi and Sudhir Kumar Pandey.
Tripathi's family is finding it difficult to support the two young children while their sole breadwinner is in jail and the spirits of Pandey's three children, who are trying to make this work, are broken every time they meet their father in jail and see him breaking down.
(The author is a freelance journalist)
Get the best of News18 delivered to your inbox - subscribe to News18 Daybreak. Follow News18.com on Twitter, Instagram, Facebook, Telegram, TikTok and on YouTube, and stay in the know with what's happening in the world around you – in real time.
| Edited by: Aditya Nair
Read full article