8 of the 28 Men Named in Bulandshahr FIR Belong to Right-Wing Outfits; None Have Regular Jobs
The men used to turn every Hindu festival or function into a major rally as a portion of the funds received for such events used to go to them.
Yogesh Raj had been working for the Bajrang Dal as well as the VHP for the past three years. (Photo from @yogeshRajvhp/Twitter)
Bulandshahr (UP): Of the 28 individuals named in the FIR prepared by Bulandshahr Police on Tuesday, eight belonged to Right-wing organisations such as the Bajrang Dal, Vishwa Hindu Parishad (VHP) and BJP Yuva Morcha. None of the above were employed in regular jobs.
The other 18 mostly consist of farmers and college students who were seen during the protest at Siyana police station. Their association with any ideological group could not be immediately established.
Yogesh Raj, 28, a resident of Nayabans village, the main accused in the case, had been working for the Bajrang Dal as well as the VHP for the past three years. "He had quit his job around four years ago and was a social worker in the village after that. He was also doing his graduation in law from a university in Bulandshahr," said Yogesh's mother. He used to work at a local shop in the district, which eventually closed down.
The 28-year-old's close association with Right-wing groups is apparent from the large flex outside his house which reads: "Akhand Bharat: Kab Kab Bharat Bata (Undivided India: History of When India was Divided)" with a Hindu deity's picture in the middle.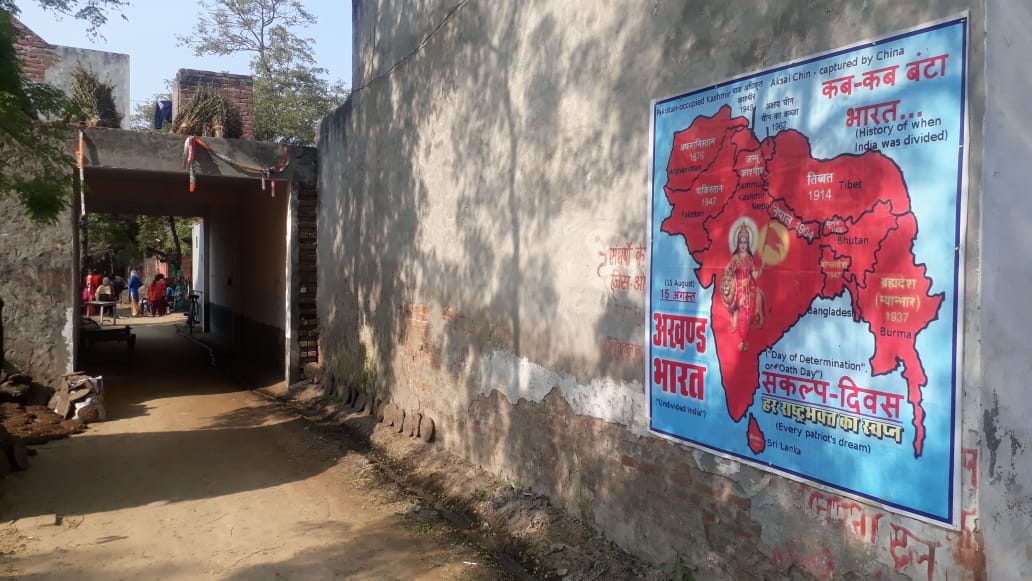 The flex outside Yogesh Raj's house in Bulandshahr. (Rounak Kumar Gunjan/News18.com)
In a six-month-old video accessed by News18, Yogesh is seen brandishing a gun with another Bajrang Dal member during a procession in the village. Several villagers confirmed that this was a regular for him.
"He used to get a big crowd for every small event in the village. Even if it was the ceremony of naming of a newborn, Yogesh would organise rallies with loudspeakers playing pro-Hindu songs. Guns during such rallies were a normal for him," said a villager who did not wish to be identified. Various other villagers also corroborated the claims.
Once a close confidant of Yogesh and a former member of the same organisation, Hemant explained where the money came from and how despite being jobless the associates enjoyed a decent lifestyle.
"There is no fixed salary. Money as funds would come whenever there was a function to be organised. Out of the total funds, a certain portion would go to the organisers. In this case, whenever Yogesh called for an event, a percentage of the corpus would be his," he said, explaining why every small occasion in the village would be turned into a rally with pro-Hindu songs.
Villagers added that Yogesh would socialise only with Hindu families and advised all others stay away from Muslims living in the same village.
In a tweet on August 19 this year, two days before Eid-ul-Adha, he warned against cow slaughter.
गौकशी हुई तो त्योहार बिगड़ जाएगा , ध्यान रहे।। #बजरंगदल pic.twitter.com/qRDIw2A0uI

— योगेश राज प्रवीण (@yogeshRajvhp) August 19, 2018
In another tweet dated August 24, the Bajrang Dal's district convenor told villagers to buy rakhis only from Hindus.
विशेष आग्रह हिन्दूओ से ही राखी खरीदे बहने @बजरंगदल

— योगेश राज प्रवीण (@yogeshRajvhp) August 24, 2018
Stories of the other seven associated with these groups is similar. Upendra Raghav and Shikhar Agarwal of nearby villages were known to be active members of the VHP and BJP Yuva Morcha, respectively.
Speaking to News18, Raghav's family members said that he, too, did not have a day job. The 27-year-old would regularly organise prayer meets and would help in grand celebrations of Hindu festivals. Swords were a regular at such events. "It is a symbol of strength. It is not meant to harm anybody," said Raghav's mother.
While on the outside they may seem to be polarising agents, all of them enjoy strong backing among Hindu families. "The police would not listen to us but Yogesh bhaiyya would. If he is preventing cow slaughter, what is wrong in that? Or are the police going after him for protecting women in the family which he always did?" said a woman from Yogesh's neighbourhood.
News18 gathered similar responses from Hindu families for all eight individuals associated with pro-Hindu organisations and named in the FIR. All of them have been missing ever since the attack.
According to Balraj Dungar, convenor of Bajrang Dal's Meerut province, Yogesh Raj has been associated with the outfit for several years and is the district coordinator of Bulandshahr. According to Dungar, he has also been active in the gau raksha or cow protection campaign. Also, while Vishwa Hindu Parishad's national spokesperson Vinod Bansal rejected all allegations against Raj, he confirmed his association with his organisation.
Not attributing the violence to any group, ADG (Law and Order) Anand Kumar, in a press conference on Tuesday, avoided naming Yogesh Raj's organisation.
The elders in the village, however, said that the religious divide is a recent phenomenon. They narrated stories of how Diwali and Eid used to be common festivals for the entire village.
"These organisations have recently come up in the past three-four years. Before that, the villagers hardly fought over matters of religion. Food was exchanged on a daily basis and marriage invites were sent irrespective of Hindu-Muslim," said 76-year-old Rajesh Singh, a resident of Nayabans village.
The recent rise of Right-wing forces comes at a time when unemployment has also been increasing in Uttar Pradesh. The unemployment rate in the state is higher than the national average.
The Labour Ministry in a Lok Sabha answer last year said that the national average of unemployment stood at 5.8 percent, while the average unemployment rate in Uttar Pradesh stands at 6.15 percent.
According to the Centre for Monitoring Indian Economy (CMIE), a private firm that monitors economic fluctuations in the country, unemployment rate in India doubled between July 2017 and April 2018, from 3.39 per cent to 6.23 per cent, whereas the number of jobs in 2017-18 fell to 406 million from 406.7 million in the previous financial year.
The Uttar Pradesh police has arrested four accused in the Bulandshahr case from among 27 named and 60 unidentified people in the FIR. In the attack on Monday, SHO Subodh Kumar of Siyana police station died while Sumit Kumar, a local youth, also succumbed to injuries. Last rites of both deceased were conducted on Tuesday in Etah and Siyana, respectively.
Get the best of News18 delivered to your inbox - subscribe to News18 Daybreak. Follow News18.com on Twitter, Instagram, Facebook, Telegram, TikTok and on YouTube, and stay in the know with what's happening in the world around you – in real time.
| Edited by: Nitya Thirumalai
Read full article