9 dead in political violence across Bangladesh, opposition protests
<p>Nine persons were killed in violence across Bangladesh as the opposition BNP on Tuesday enforced a 48-hour nationwide transport blockade to push its demand for postponing the general election scheduled for January 5.</p>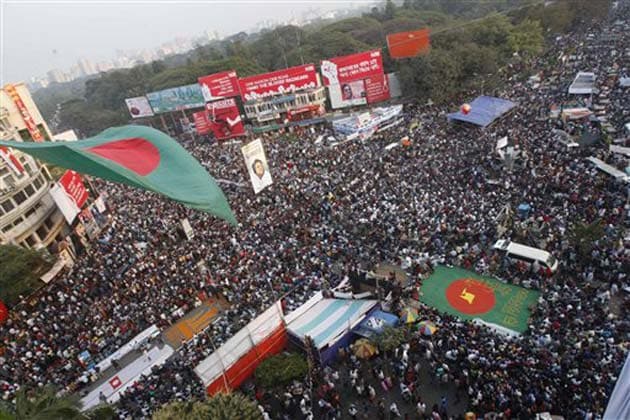 <p>Nine persons were killed in violence across Bangladesh as the opposition BNP on Tuesday enforced a 48-hour nationwide transport blockade to push its demand for postponing the general election scheduled for January 5.</p>
Nine persons were killed in violence across Bangladesh as the opposition BNP on Tuesday enforced a 48-hour nationwide transport blockade to push its demand for postponing the general election scheduled for January 5.
Amid a stand-off over the interim government that will conduct the polls, activists of the BNP and its fundamentalist ally Jamaat-e-Islami exploded crude bombs, uprooted railway tracks and torched buses, cars and trains after the opposition rejected the election schedule. A paramilitary soldier was among nine persons killed in violence that erupted soon after the Election Commission announced the poll schedule on Monday.
Over 100 people, including policemen, were injured across the country. The Awami League and BNP are at loggerheads over the system for conducting the polls. Prime Minister Sheikh Hasina has formed a multi-party interim set-up while the BNP wants elections under a non-party interim government.
The opposition demanded that the polls should be shelved until the dispute over the poll-time government is settled. Chief Election Commissioner Kazi Rakibuddin Ahmed told reporters that the poll plans could be revised if the political parties reached an understanding.
"There is scope for everything if an understanding is reached," he said. Legal and constitutional experts said a constitutional obligation to hold the polls by January 24, 2014 would allow the Election Commission to defer the date only by a few days. Two leaders of Awami League's youth and volunteers wings were lynched by suspected Jamaat activists in southwestern Satkhira.
A leader of BNP's student wing Jubodal was killed when police opened fire during clashes in northwestern Bogra. A rickshaw-puller died when he was caught in a crossfire at Laksham in Comilla district while an unidentified man died in clashes in Sirajganj.
A Border Guard Bangladesh (BGB) personnel was killed in Comilla when opposition activists clashed with paramilitary troopers trying to prevent them from enforcing the blockade. Another death was reported from southwestern Barisal. Two persons died in violence that occurred overnight in Comilla and Dhaka.
Meanwhile, the Communist Party of Bangladesh announced on Tuesday that it would boycott the polls. "Without consensus among political parties regarding the poll-time government, no election can be acceptable," CPB president Mujahidul Islam Selim said.
Get the best of News18 delivered to your inbox - subscribe to News18 Daybreak. Follow News18.com on Twitter, Instagram, Facebook, Telegram, TikTok and on YouTube, and stay in the know with what's happening in the world around you – in real time.
Read full article