A Thorn in the Flesh of Lalu: All You Need to Know About Fodder Scam
The then CAG TN Chaturvedi pointed that monthly accounts submission from Bihar treasury were always delayed though the amount in question was roughly Rs 100 crores.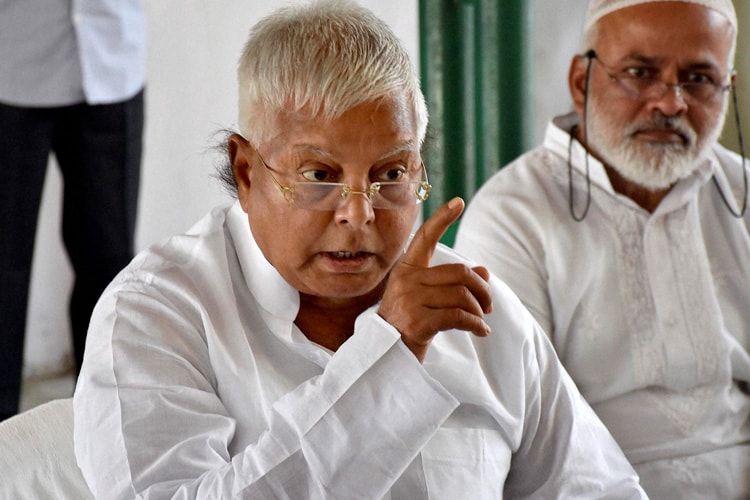 File photo of RJD chief Lalu Prasad Yadav
Patna: Like many other scams the flame of fodder also emanated from a report of Comptroller General of India (CAG) in 1985, though it went unnoticed at that point of time.
The then CAG TN Chaturvedi pointed that monthly accounts submission from Bihar treasury were always delayed though the amount in question was roughly Rs 100 crores.
When Lalu Prasad Yadav became the Chief Minister after his advent on big political screen in post 1989 Janata Dal surge and Mandal era, the animal husbandry department of Bihar government became synonymous with corruption.
BJP leaders Saryu Rai and Sushil Modi along with Shivanand Tiwari raised this issue in the Bihar Assembly in 1994. The trio made several submissions before the authorities. The then finance secretary Vijay Shankar Dubey ordered a probe in various district treasuries. Young IAS officer Amit Khare raided the Chaibasa office of animal husbandry department and the seizures resulted in unearthing of a 100 crore scam.
Fake bills and vouchers were seized from various other district treasuries. Money were withdrawn using fake bills and vouchers against procurement of cattle feed. More than 80 employees of the Animal Husbandry Department were found involved and later made accused. In one instance Shyam Bihar Sinha, regional director of AHD, withdrew Rs 50 lakh personally against a fake bill. His close association with Lalu Prasad Yadav created a political storm.
Involvement of Lalu Yadav
The BJP and Samata party, which was created by George Fernandes and Nitish Kumar after pulling out from Janata Dal, alleged Lalu's involvement in the scam and raised the issue of disproportionate income.
BJP state unit chief Sushil Modi filed a PIL in the Patna High Court in 1997 demanding a CBI inquiry in the case. The same year, the investigation was handed over to the CBI and hence started Lalu's worst nightmare and a longstanding episode with the CBI.
The CBI requested the governor office to allow prosecution of the CM Lalu Yadav. He had to resign under pressure. Lalu made his wife Rabri Devi as the next CM.
The CBI filed the chargesheet and Lalu was sent to jail. Rabri remained at the helm till 2005, barring 10-day stint of Nitish in 2000, but the fodder scam cases continued to haunt the Lalu family.
However, Rabri and Lalu were exonerated in the disproportionate assets case in 2010.
Conviction of Lalu
After creation of Jharkhand, fodder scam cases were transferred to Ranchi in 2001. In total 64 cases were filed related to fodder scam. But Lalu and former chief minister Jagannath Mishra were charge-sheeted in six cases.
The CBI court convicted Lalu and Mishra in 2013 in a case related to fraudulent withdrawal from Chaibasa treasury. Lalu and Mishra were sentenced to five and four years of imprisonment which ended their political career. Lalu was arrested and got bail from the Supreme Court in December, 2013.
Former Jharkhand chief secretary Sajal Chakraborty was also sentenced to jail in this case.
Now, the CBI court in Ranchi has convicted Lalu in the Deogarh treasury case RC 64A/96 on Saturday.
After the Supreme court judgment of May 8 this year, Lalu is being tried in three other cases and as per the SC directives hearing will have to be completed by February, 2018.
Get the best of News18 delivered to your inbox - subscribe to News18 Daybreak. Follow News18.com on Twitter, Instagram, Facebook, Telegram, TikTok and on YouTube, and stay in the know with what's happening in the world around you – in real time.
| Edited by: Bijaya Das
Read full article