AAP's Bihar leader Parveen Amanullah campaigns in Delhi's Muslim-dominated seats, says shouldn't be compared with Shazia Ilmi
AAP leader and former Bihar minister Parveen Amanullah campaigning in Delhi Assembly elections.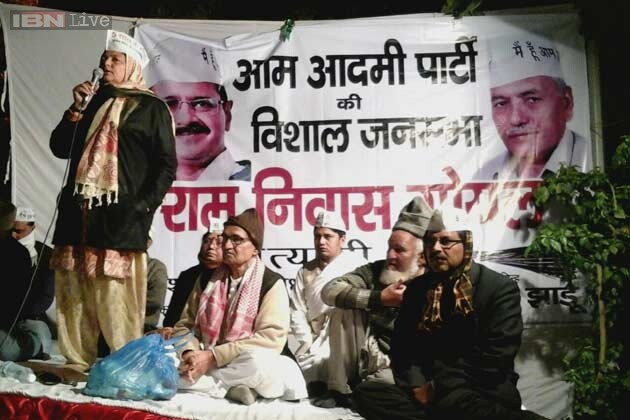 AAP leader and former Bihar minister Parveen Amanullah campaigning in Delhi Assembly elections.
New Delhi: With its only prominent Muslim woman face Shazia Ilmi having quit, the Aam Aadmi Party (AAP) is banking on Parveen Amanullah, former minister in Nitish Kumar government in Bihar, to garner the crucial Muslim votes for Delhi Assembly elections.
But Amanullah does not like to be compared herself with Ilmi, who joined the Bharatiya Janata Party (BJP) recently. She even does not believe that she is filling any kind of void left by Ilmi's exit from AAP. Talking to IBNLive, she said, "Ilmi is a resident of Delhi and, therefore, has an advantage. She appears on TV quite often and has a different kind of an appeal."
Amanullah, who quit as Bihar Social Welfare Minister exactly a year ago on February 4, 2014 to join AAP, said she works hard, is honest and has been a performer after having got an opportunity to prove herself as a minister.
The AAP leader from Bihar has been camping in Delhi since January 16 and has campaigned in about 15 Assembly constituencies so far. Most of the constituencies have decisive number of Muslim voters. She campaigns wherever the party asks her to, she said.
"I have got a tremendous response from the Muslim voters in all the constituencies I have campaigned so far," she said, claiming that AAP will win about 40 of the 70 Assembly seats.
The areas Amanullah has visited so far include Babarpur, Seemapur, Sadar Bazar, Okhla, Kirari, Burari, Seelampur and Gandhinagar. She has also campaigned in BJP chief ministerial candidate Kiran Bedi's constituency Krishna Nagar.
"In my view, 80 per cent of the Muslim voters, who had voted for the Congress in the 2013 elections, have now shifted to AAP," she claimed.
In the 2013 Delhi elections, Congress candidates Chaudhary Mateen Ahmad had won from Seelampur, Asif Mohd Khan from Okhla, Hasan Ahmed from Mustafabad and Haroon Yusuf from Ballimaran while JDU candidate Shoib Iqbal won from Matia Mahal in Old Delhi.
The AAP leader said the voters she met with are impressed with party's chief Arvind Kejriwal's 49-day rule as chief minister. "The voters say Kejriwal gave a clean, honest and efficient government," she said.
Asked whether the BJP would get advantage of getting women votes by projecting Kiran Bedi, Amanullah alleged that its leaders talk about banning mobile phones and jeans for the women and they exhort Hindu women to have four children. She further said despite being wanted in a rape case, Prime Minister Narendra Modi has retained Union Minister of state for Panchayati Raj Nihalchand in his government.
"The Modi government installed 15,000 CCTV cameras for US President Barack Obama's visit to Delhi but has not promised to do the same for the common women of the national capital," she said, and claimed that that marshals will travel in buses when AAP comes to power.
In her view, Bedi has got exposed due to her utterances. "Moreover, Bedi is just a façade. The BJP does not have any concrete plan for Delhi. If at all they had any, they could have implemented it in the last eight months after they came to power at the Centre as the national capital has been under President's rule," she said.
But Amanullah does not have any plans to shift base to Delhi despite the fact that her husband Parliamentary Affairs Secretary Afzal Amanullah and her two children are based here. "I will go back to Bihar which is in a mess. I have to work for the country," she said.
Get the best of News18 delivered to your inbox - subscribe to News18 Daybreak. Follow News18.com on Twitter, Instagram, Facebook, Telegram, TikTok and on YouTube, and stay in the know with what's happening in the world around you – in real time.
Read full article