Advocate Opposing Maratha Reservation Attacked Outside Bombay High Court
The assaulter before attacking Sadavarte shouted 'ek Maratha Lakh Maratha'. He has been taken into custody.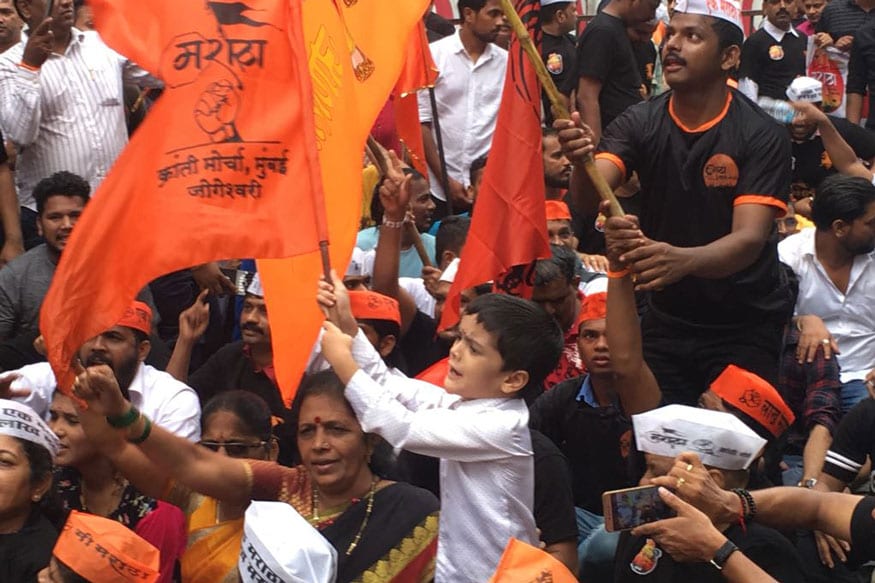 File photo of Maratha community protesters demanding reservation gathered outside the city collector's office in Bandra. Image for representation. (Image: News18/Rajesh saple)
Mumbai: The advocate appearing for petitioners opposing Maratha reservation was assaulted outside the Bombay High Court along with his junior by an unknown person on Monday. The incident took place after the advocate, Gunratan Sadavarte, had finished arguing for his petitioner against reservation.
The assaulter before attacking Sadavarte shouted 'ek Maratha Lakh Maratha'. He has been taken into custody.
During his submission, he had informed the court that he had been receiving threat calls warning him against going ahead with the petition challenging Maratha reservation. The state government has now assured him police protection.
The court, earlier in the day, was hearing a PIL filed before the court last week which sought a stay on the reservation provided to Maratha community. It stated that the reservation is "bad in law and that the 16% reservation granted to the community exceeds the 52% bar set by the Supreme Court."
The division bench headed by Chief Justice Naresh Patil, on Monday expressed its discontent over the state government undertaking massive recruitment drives to fill up Maharashtra Public Service Commission (MPSC) posts under the new quota rules.
Sadavarte, during arguments, questioned the state government for announcing mega recruitment drive through advertisements to fill up MPSC positions when the matter is still pending in court. "Lakhs of aspirants apply for this. Besides, there is so much unemployment. The advertisements should have been put up after seeing what happens in court," Sadavarte said.
The court has taken serious note of this and has sought an explanation from the state on this.
Meanwhile, senior advocate Shreehari Aney appearing for petitioners opposing the quota said the state cannot have a separate category called Socially and Educationally Backward Classes (SEBC) when there already exists SC, ST and OBC in the constitution.
The court has asked the counsel for the state to take instructions on whether State backward class commission report can be made public. The court has also asked state to file a reply on the mass recruitment drive issue raised by the petitioners on December 19.
Last month, the state government had passed the Maratha reservation bill in the winter session of the Maharashtra Assembly. The Assembly had passed a legislation giving 16% reservation in jobs and educational institutions for the Maratha community. Since the State already has 52% quota, the Maratha quota has taken the reservation to 68%.
| Edited by: Sana Fazili
Read full article