Aerospace Engineer Arrested in Hyderabad for Peddling Drugs
The arrests by the Excise Department recently exposed the harsh reality about school and college going students being addicted to high-end narcotics like LSD.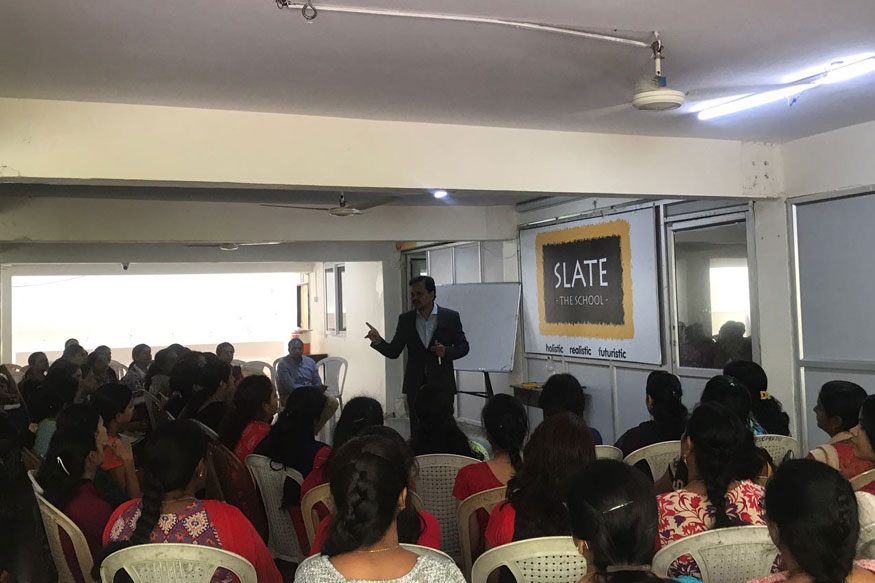 A anti-drug counselling session in Hyderabad's Slate school. Image: Sakshi Khanna
Hyderabad: An aerospace engineer was one among two people arrested, along with 16 units of LSD seized, following a police crackdown against drug abuse in the city.
Dundu Anish, a 29-year-old aerospace engineer from United States, had worked with NASA earlier.
The arrest came as Hyderabad police are conducting raids and shutting down all illegal hookah parlours in the city.
Mahender Reddy, Commissioner of Police, Hyderabad, said, "Youngsters are found smoking in these hookah centres and then getting addicted to other bad habits. To ensure our children remain healthy, we aim to make Hyderabad a 'hookah-free city'. We have asked all zonal police officers to crackdown on illegal hookah centres which are operating in the city."
The arrests by the Excise Department recently exposed the harsh reality about school and college going students being addicted to high-end narcotics like LSD.
Taking a serious note, the police, schools and the government are taking all steps to curb the menace.
Vasireddy Amarnath, Educationist & Director of Slate school chains in Hyderabad, said, "Teenagers going to pubs, hookah centres and even consuming drugs has been going on for last five years. It's very easy for young minds to get induced into wrong acts. These days drinking and smoking has become acceptable and if you are not part of the group, you are considered outdated. This is a very dangerous trend."
"Couple of years back, an incident was reported in an international school where students were getting vodka to school, mixing with water and drinking during breaks. Last year, even we got to know an instance where our student was visiting hookah parlour. We immediately took corrective measures and counselled our students. We reported the problem of Hookah centres to city police also," he added.
Experts say it's peer pressure that drives youngsters into smoking or drinking activities. It starts with one person and then multiplies. The drug rackets have been operating on the principle of multi-level marketing. When one person gets addicted, they are asked to bring more people by offering discounts or commission.
Concerned over the issue, the schools have issued advisories to parents to watch out for erratic behaviour in children. Schools are also appealing parents to track the expenditures of their children and their social media activities. Many schools have taken up counselling sessions to sensitise students, parents and teachers about the issue.
Stressing on the need of sustained campaign and action against drug abuse, Amarnath said, "Schools should not just promote elitism but also impart good education and moral values. Regular counselling must be conducted in schools to ensure our kids don't fall prey. The prime responsibility lies with the schools but equal support of parents is also needed. Parents should behave like friends and share every emotion of their child. Parents have to be alert about their kids' activity."
Notices have been sent to various people in the Telugu film industry, after names from the industry came forward during investigation. Leading Telugu film producer, Suresh Babu, said, "We do not want negative image for our industry. We will create awareness and do whatever is needed. Because of few people, industry is getting a bad name. It's our responsibility to save the future generation."
| Edited by: Ashish Yechury
Read full article
Countdown To
Elections Results
To Assembly Elections 2018 Results