INX Media Case: After 13 Days in Tihar Jail, Karti Chidambaram Out on Bail
Karti was arrested from Chennai on February 28 by the CBI on his return from the UK over alleged irregularities in a Foreign Investment Promotion Board clearance given to INX Media.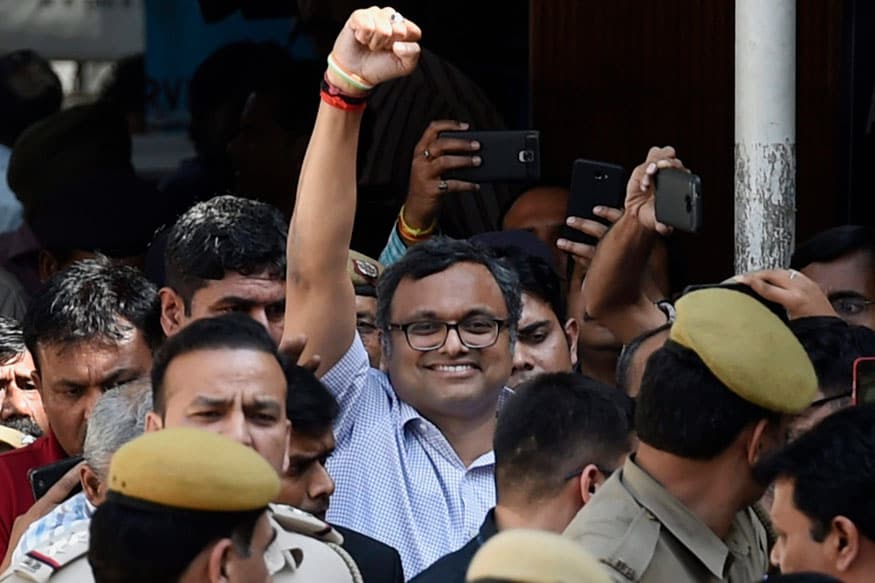 Karti Chidambaram, son of Former Finance Minister P Chidambaram at Patiala House Court in connection with the INX Media money laundering case, in New Delhi. (PTI Photo)
New Delhi: The Delhi High Court on Friday granted bail to of Karti Chidambaram, son of senior Congress leader P Chidambaram, in the INX Media corruption case.
The court of Justice S P Garg provided bail to Karti on a surety of Rs 10 lakh. The court said Karti can't travel outside country and close bank accounts. The HC also ordered him to cooperate with CBI and not influence the witness or tamper with evidence.
Earlier, the order has delivered by Justice S P Garg who had reserved his verdict on March 16 after hearing arguments on behalf of Karti and the CBI which had opposed grant of the relief to him.
The agency had contended that he should not be granted bail as he has already destroyed evidence in the case and was an "influential" person.
Karti's counsel had argued that no case under the Prevention of Corruption Act was made out against him since the Central Bureau of Investigation (CBI) had neither questioned any public servant, nor made them an accused in the matter.
Karti's lawyers had denied allegations of tampering with evidence and added that when the CBI had not sought his further custodial interrogation, why should he be kept in judicial custody.
They had also said that no one else has been arrested in the case and what the CBI has done is to put Karti behind bars.
Karti's lawyers had further claimed that CBI was trying to connect him with a private company, Advantage Strategic Consulting Pvt Ltd, which had received an alleged bribe amount of Rs 10 lakh, when he was in no way related to it.
Karti was arrested from Chennai on February 28 by the CBI on his return from the United Kingdom in connection with an FIR lodged on May 15 last year, alleging irregularities in a Foreign Investment Promotion Board clearance given to INX Media for receiving funds of about Rs 305 crore from overseas in 2007 when his father was the Union finance minister.
The CBI had initially alleged that Karti received Rs 10 lakh as a bribe for facilitating the FIPB clearance to INX Media. It had later revised the figure to USD 1 million (about Rs 6.50 crore at the current exchange rate and Rs 4.5 crore in 2007).
The fresh evidence in the case, which triggered Karti's arrest, was based on a statement of Indrani Mukerjea, former director of INX Media (P) Ltd, who recorded it under Section 164 of the CrPC before a magistrate on February 17. Indrani is currently lodged in a Mumbai prison in connection with the case of murder of her daughter Sheena Bora.
The high court had on March 9 directed the Enforcement Directorate not to arrest or take any coercive action against Karti in the money laundering case lodged by the agency. The protection was later extended by the court till March 22. Subsequently, the Supreme Court had transferred the ED case to it.
(with PTI inputs)
Get the best of News18 delivered to your inbox - subscribe to News18 Daybreak. Follow News18.com on Twitter, Instagram, Facebook, Telegram, TikTok and on YouTube, and stay in the know with what's happening in the world around you – in real time.
| Edited by: Nitya Thirumalai
Read full article