GET Stock

Quotes


After BRICS, India Corners Pakistan on Terrorism in Joint Statement With Japan
The joint statement by India and Japan mentioned Pakistan-based terror outfits Lashkar-e-Taiba and Jaish-e-Mohammad as the two nations called for a "zero-tolerance approach" towards terrorism.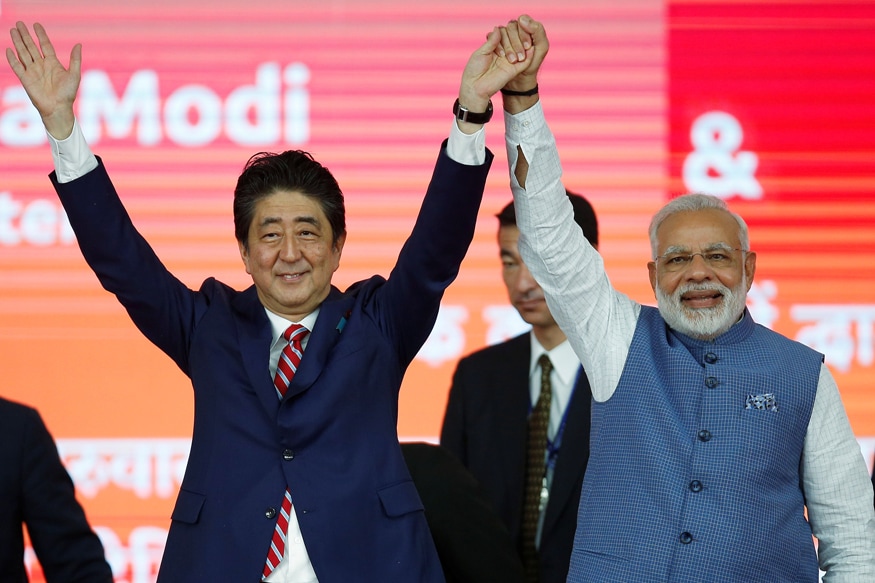 Japanese PM Shinzo Abe (L) and Prime Minister Narendra Modi raise hands after the groundbreaking ceremony for a high-speed rail project in Ahmedabad. (Photo: Reuters)
Ahmedabad:
Pakistan may deny it but its global isolation over terrorism is certainly underway. After the United States and China, it was Japan's turn on Thursday to condemn Pakistan-sponsored terrorism.
For India, it was another win after the BRICS Xiamen declaration as it got Japan to exert pressure on Pakistan to bring to justice the perpetrators of terrorist attacks, including those of the November 2008 terrorist attack in Mumbai and the 2016 terrorist attack in Pathankot.
The joint statement by India and Japan also mentioned Pakistan-based terror outfits Lashkar-e-Taiba and Jaish-e-Mohammad as they called for a "zero-tolerance approach" towards terrorism.
In the statement, which was issued after the bilateral meeting between visiting Japenese Prime Minister Shinzo Abe and Prime Minister Narendra Modi in Gandhinagar, the two nations "underlined the need for all countries to ensure that their territory is not used to launch terrorist attacks on other countries" while hinting towards Pakistan.
"All countries must work towards rooting out terrorist safe havens and infrastructure, disrupting terrorist networks and financing channels and halting cross-border movement of terrorists," added the statement.
Pakistan was also cornered over the issue of nuclear proliferation as the statement condemned North Korea's continued development of nuclear weapons and ballistic missile programmes. Modi and Abe "stressed the importance of holding accountable all parties that have supported North Korea's nuclear and missile programmes." This was clearly aimed at both Pakistan and China.
In the backdrop of the Doklam standoff and the backing India received from Japan, it was expected that the two leaders would take on China. Although Doklam was discussed at the meeting, it did not find a specific mention in the press statements.
The Director General of Press and Public diplomacy of Japan, Norio Maruyama, said that "important strategic issue concerning India were discussed but I will not name them."
The joint statement, however, did mention the need for freedom of navigation, overflight and "unimpeded lawful commerce in accordance with international laws" without specifically naming the South China Sea. "The two Prime Ministers also reiterated their desire and determination to work together to maintain and promote peace, stability, and development in the Indo-Pacific region," the statement added.
While Japan's stand on China could be on expected lines due to its own problems over the Senkaku islands, but its stand against Pakistan is more significant. Japan is the third largest contributor to the aid provided to Pakistan globally.
In February this year, reports from Pakistan said that Japanese government had agreed to extend a grant aid of $4.43 million. This was largely to support the promotion of economic and social development in the field of security improvement and counter-terrorism.
Also Watch
| Edited by: Aakarshuk Sarna
Read full article