After Dera Sacha Sauda Chief Gurmeet Ram Rahim Singh's Conviction, All Eyes on Asaram Bapu's Trial
Asaram Bapu at his prime was perhaps a much bigger spiritual guru than Ram Rahim, and is accused of more serious offenses like raping a school going girl, who was put in his charge, in 2013 and of raping two sisters in Surat, along with his son.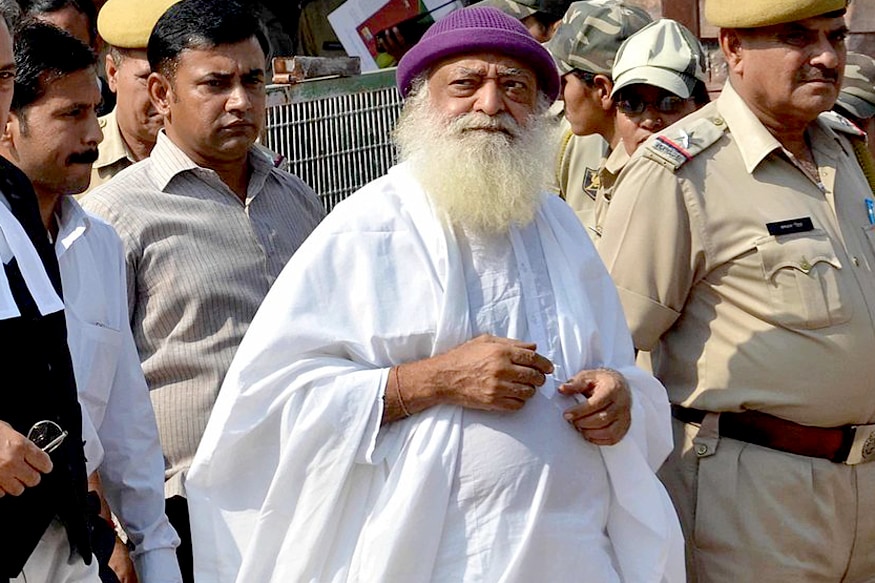 File photo of Asaram. (Getty Images)
New Delhi: Now that Gurmeet Ram Rahim Singh has been sentenced to 20 years of rigorous punishment, all eyes would now be on the Asaram Bapu trial.
76-year-old Asaram was, at his prime, perhaps a much bigger spiritual guru than Ram Rahim, and is also facing much more serious charges than the Dera Sacha Sauda chief.
Asaram is accused of raping a school going girl, who was put in his charge, in 2013. He is also accused of raping two sisters in Surat, along with his son.
The assault is alleged to have continued raping his victims at various periods, often warning them of dire consequences, if they talked. Asaram's threats seemed very real when one considers that several eye-witnesses, who've come forward to testify against the godman were murdered one-by-one.
The self-styled godman is booked under various charges of rape, unnatural sex, illegal confinement and criminal conspiracy. He's been in Jodhpur jail since August 2013.
As Gurmeet Ram Rahim Singh's crimes were committed well before the laws relating to rape were amended, he was charged under pre-2013 IPCs. In Asaram's case, the complaints were lodged after the amendment was passed, thus making it more likely that the 76-year-old will be given a life term.
The Shree Yog Vedanta Sewa Samiti founder has been in jail for more than four years and has requested for bail several times, citing his alleged failing health, but has been refused every single time. On Monday, the Supreme Court, while hearing yet another bail application, reprimanded the state for causing delays in the trial.
According to special public prosecutor RC Kodekar, in the case involving the two sisters, the delays were being caused by Asaram and his team. "As far as I know, the Gandhinagar rape case (of the two sisters) is in the midst of trial. Meanwhile, in the Jodhpur case (rape of a minor), the evidence has been completed but we still have to examine the main prosecutrix (victim)."
Kodekar added that the Ram Rahim verdict may not affect Asaram's case since the circumstances were different "and the court looks only at the evidence placed on its record", but he added that they were hopeful of securing the maximum punishment i.e. life imprisonment for the guru.
Asaram's defence lawyer in the two sister rape case, BM Gupta said that "just as in Ram Rahim's case, Asaram has also got many followers", and that the Dera Sacha Sauda chief judgment will not affect his client's trial.
"It's the police who are playing a mischievous role in the cases. They have booked my client for absconding in the murder (of eye-witnesses) cases, while he was in their custody all along. Every case is different. Ram Rahim ka conviction hua to zaruri nahi hai ki Asaram Bapu ka bhi conviction hoga. (Ram Rahim was convicted doesn't mean that Asaram Bapu will also be convicted)," said Gupta.
When asked about the status of his other cases, Gupta said that Asaram had many well-wishers "just like Ram Rahim" and that his well-wishers were fighting his cases in other places and levels, like the Jodhpur POCSO court and Supreme Court.
The cases against Asaram Bapu are intriguing because of the frequency with which key witnesses were attacked. At least 11 witnesses in cases against Asaram Bapu have been shot at, attacked with acid or knifed. Of them, three have died.
Among those killed were Asaram's close aide and prosecution witness Amrut Prajapati, who was killed in Rajasthan's Rajkot. Another close aide, Dinesh Gupta, and his cook Akhil Gupta were killed in UP's Muzaffarnagar.
Get the best of News18 delivered to your inbox - subscribe to News18 Daybreak. Follow News18.com on Twitter, Instagram, Facebook, Telegram, TikTok and on YouTube, and stay in the know with what's happening in the world around you – in real time.
| Edited by: Aditya Nair
Read full article