Assembly Elections 2019
Exit Poll Results
After Dharma Sabha, VHP to Celebrate Gita Jayanti to Raise Pitch for Temple Construction
The right-wing group will hold prayers and meetings across the country between December 12 and 18.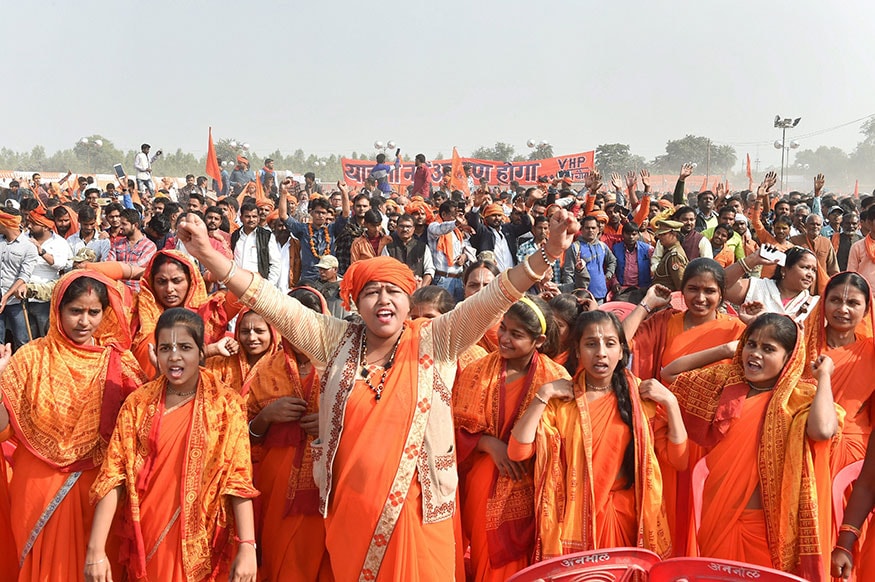 Sadhvis participate in 'Dharam Sabha' organised by the Vishwa Hindu Parishad in Ayodhya on Sunday (Image: PTI)
Lucknow:
In another big push for the construction of Ram temple in Ayodhya, the Vishwa Hindu Parishad (VHP) has announced celebrations for 'Gita Jayanti' on December 18. On Saturday, the VHP had put up a massive show of strength by organising 'Dharma Sabha' to ramp up the issue of temple construction at the disputed site in Ayodhya.
This time, the right-wing group will hold prayers and meetings across the country from December 12 to 18.
Gita Jayanti is believed to be the day when Lord Krishna imparted teachings of Bhagwat Gita to Arjun during the battle of Mahabharata. As per the Hindu calendar, it was on Gita Jayanti on December 5, 1992, when the Babri Mosque was razed down in Ayodhya.
The move comes days after a senior BJP minister hinted that the central government may make an important announcement on December 11, the day when results of several state assembly elections will also be announced.
According to Champat Rai, International Vice-President of VHP, the right-wing group will observe December 6 as Shaurya Diwas and hold 'Anushthans' at around 500 places in the country for the construction of the temple. "The Dharma Sabha was a show of sentiments for construction of Ram temple. Many more such events will be organised in the coming days," Rai was quoted as saying.
On December 9, the VHP is also set to hold another Dharma Sabha, this time in New Delhi, in which seers and saints have been invited from all over to demand a legislation for the temple construction.
| Edited by: Divya Kapoor
Read full article
Countdown To
Elections Results
To Assembly Elections 2018 Results