After Losing Sight to Pellet Guns in J&K, These Girls Now Miss School
As thousands of students returned to schools after an eight-month-long unrest in Jammu and Kashmir, teenagers Insha, Ifrah, Sabrosha were not that lucky. Instead, they were busy trying to make a sense of their dark and dreary surroundings.
Insha's mother holds her hand as she walks out. (Picture Courtesy: Qayoom Khan)
Srinagar: As thousands of students returned to schools after an eight-month-long unrest in Jammu and Kashmir, teenagers Insha, Ifrah, and Sabrosha were not that lucky. Instead, they were busy trying to make a sense of their dark and dreary surroundings.
Hit in one or both eyes by pellets fired by security forces during the summer uprising that claimed close to 100 lives in the valley, the trio gave a miss to their schools, unsure if they could make it without the support of a friend or a family member.
The three, who live in neighbouring South Kashmir villages have lost vision, fully or partially in one or both eyes; a tragic scenario which gets repeated village after village in Kashmir, where cyclic violence snuffed out life and hope last summer.
"I didn't go to school. I can't see and would have slipped in the snow. I need support all the time," Insha told News 18 from her snow-bound Sedow village, near Shopian district headquarters.
Her eyes covered by a bandage, Insha had come to represent the summer tragedy and the irreparable damage done by the pellet guns.
The 14-year-old lost her left eye and could only see blurry images with the right, that too when the surroundings are well-lit. "Walking alone without a help is difficult now," she said, sounding disappointed.
Before the tragedy, Insha would walk for 10 minutes from her home to the bus stop, from where she would board the school bus. A student of Greenland Public School, Shopian, Insha is preparing for crucial class 10 exams this year.
"I want to rejoin my school. Maybe, I will in a day or two," she said, "I miss my friends and teachers."
Insha was hit by pellets last July when security forces and protesters clashed near her house. Her family had told News 18 that she was sitting in the kitchen when she started screaming after being hit in the eyes.
Over the last eight months, Insha has been operated upon on more than six occasions, including a few times at AIIMS - All India Institute of Medical Sciences - in New Delhi. Jammu and Kashmir Chief Minister Mehbooba Mufti visited her in Delhi and assured help, but somehow could not keep the promise.
"No one seems to remember children like us," she regrets.
Her left eye, damaged by pellets, 16-year-old Shabrosa Mir, too, skipped her school on purpose. She said that she would struggle to cover the distance to her higher secondary school at Rohmu in Pulwama.
The class 10 student recalled she suffered injuries in her eye when she was caught in clashes, just outside her home on October 31.
She recalled how pellets "shattered" her left eye. "Our family had gone to make purchases for my sister's wedding. I was alone at home. In the meantime, security forces were chasing protesters and firing smoke shells. I was scared and ran out of my home. The forces fired pellets and I was hit in my eye. I was in pain for days."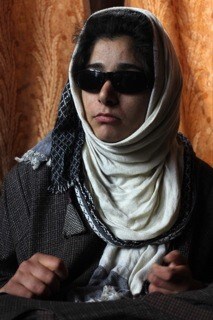 16-year-old Shabrosa. (Photo: Qayoom Khan)
She said that she misses her school friends - her namesake Shabrosa, and Nafeesa and wished to catch up with them soon. "I have to see doctors every fortnight in Srinagar. The medication is not over yet," she said.
Shabrosa realises that she gets agitated over small things after the damage to her eyes. "I lose my cool easily, get irritated if relatives walk in. Sometimes I don't feel like talking to family members."
"I had set goals for myself to achieve but I have no desire to follow them," she said, "but I want to return to my school. When? I can't say."
Shabrosa's neighbour Ifrah, too, was injured in the left eye, but she can see partially with her right. "I packed my school bag, but then I realised I was not the same. I am handicapped. I can't see clearly. So I held back... doctors will advise me when to join classes."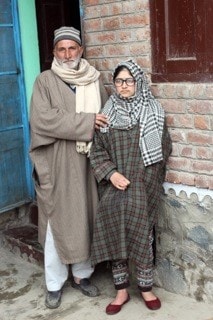 Ifrah and her grandfather. (picture courtesy: Qayoom Khan)
"I could hear kids happily off to school, but not me. I miss Mehak, my friend, Maths, and the walk to the school compound."
Abdul Aziz, Ifrah's grandfather, said that she was feeling "low" today. He said: "She gets angry now. There is a huge change in her attitude. She has become reclusive also."
Altaf Bukhari, who was inducted recently as State Education Minister in Mehbooba Mufti cabinet, told News18 that his department was alive to the problems of these "special" kids.
"Although nothing will compensate the loss of vision of these kids, we have made special provisions for them. We have ordered Braille system of education for these kids. They won't be lagging behind."
"I owe responsibility to these children. If some of them come from a financially poor background, I assure we will take care," he said.
@media only screen and (max-width:740px) {
.quote-box{font-size:18px; line-height:30px; color:#505050; margin-top:30px; padding:22px 20px 20px 70px; position:relative; font-style:italic; font-weight:bold}
.special-text{font-size:24px; line-height:32px; color:#505050; margin:20px 40px 20px 20px; border-left:8px solid #ee1b24; padding:10px 10px 10px 15px; font-style:italic; font-weight:bold}
.quote-box img{width:60px; left:6px}
.quote-box .quote-nam{font-size:16px; color:#5f5f5f; padding-top:30px; text-align:right; font-weight:normal}
.quote-box .quote-nam span{font-weight:bold; color:#ee1b24}
}
| Edited by: Mirza Arif Beg
Read full article
Countdown To
Elections Results
To Assembly Elections 2018 Results