Bhopal:
The Mandsaur administration has brought its 19-point condition list for Rahul Gandhi's public meeting down to six after receiving flak from the Congress party. Earlier, ahead of Rahul's arrival to commemorate the anniversary of Mandsaur firing on farmers, the administration had come up with the long list of conditions to be met ahead and during the public meeting.
The state Congress had been given conditional permission to hold a public meeting at Mandsaur on June 6 but the most prominent of the riders was that only a 15x15 feet tent would be allowed for the event. The condition has since been changed.
Other conditions talked about stringent sound regulation, managing traffic, adherence to traffic rules, self-management of safety, parking, power, water and fire brigade, a ban on DJ and so on. In all, the SDM who assigned the permission had tagged 19 conditions.
The administration had also left the responsibility of counter-measures during natural calamities, if any, on the organisers.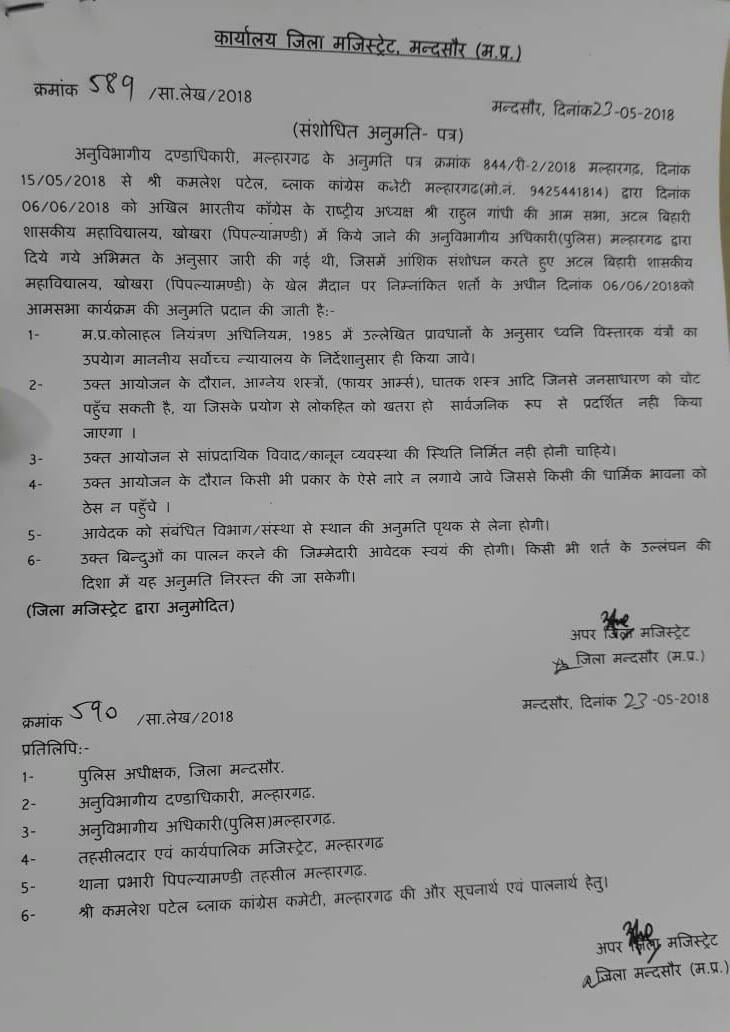 The revised condition list issued by the Mandsaur district administration.
The Congress, naturally, was fuming at the guidelines. "If the letter assigning permission to Rahul Gandhi's rally is true, then it's amply clear that the said officer has lost his/her discretion completely," tweeted an apparently anguished P Chidambaram on Wednesday.
"The one who wrote the letter and his patrons should immediately study the article 19(1) of the constitution," a second tweet from the former Union Minister read.
MPCC president Kamal Nath too voiced his thoughts by tweeting, "The Shivraj Singh-led government, which denied Rahul Gandhi the permission to enter Mandsaur after firing on farmers, is now planning to disrupt Gandhi's public meeting and suppress farmers' voice on the pretext of conditions. Would the same set of conditions apply for PM Modi and other BJP leaders' public meetings?"
BJP spokesperson Rajnish Agrawal responded to these allegations claiming that the police and district administration decides the arrangements according to the rules. "Rahul Gandhi is not above the law and no one makes rules specially meant for him."