Against 'National Interest', Says BJP Rejecting Mufti's Ceasefire Proposal During Ramzaan
Earlier, all mainstream political parties in Jammu and Kashmir decided to urge New Delhi to announce a unilateral ceasefire during the holy month of Ramzaan and the upcoming annual Amarnath pilgrimage.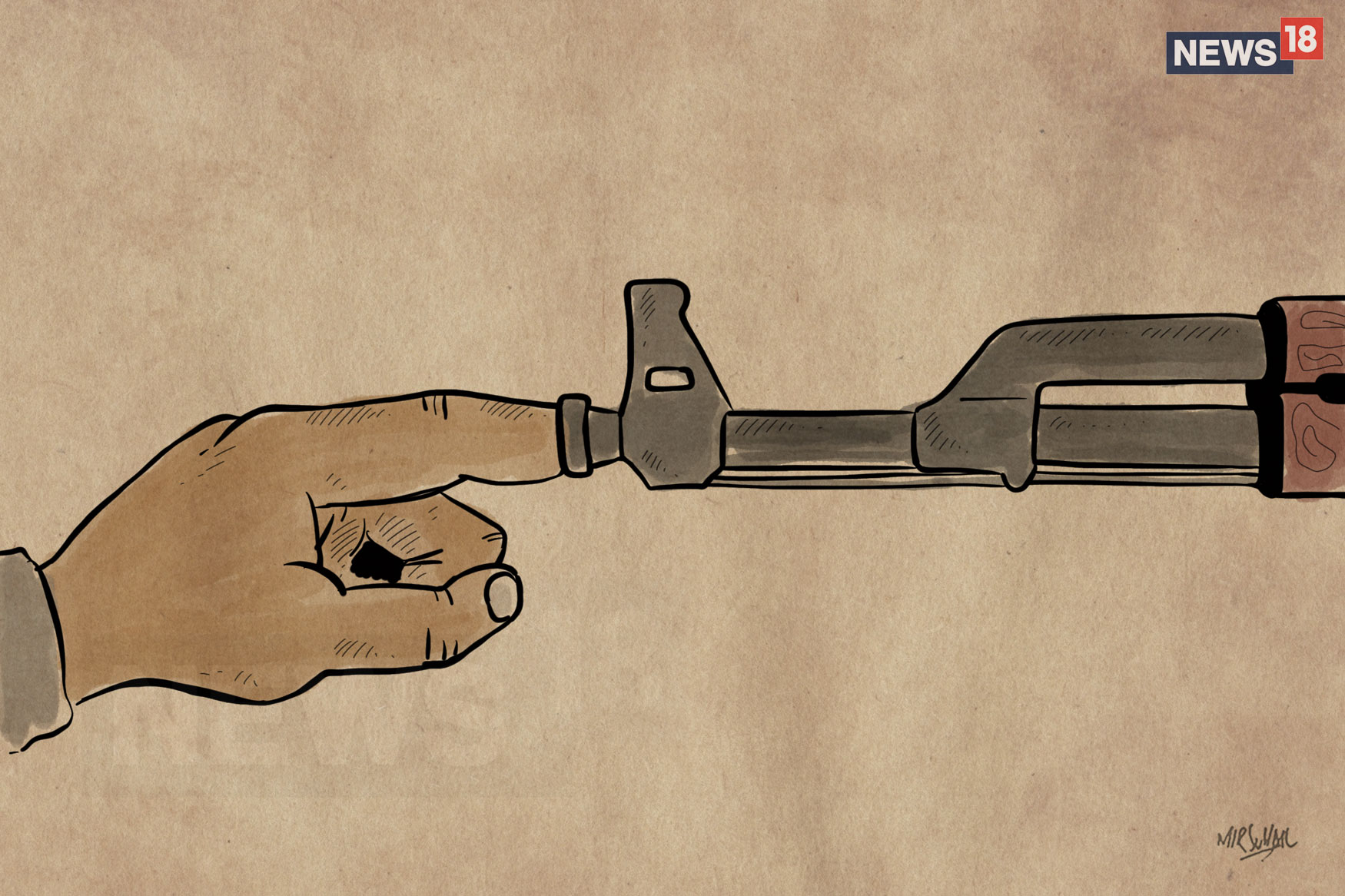 A Network18 Creative by Mir Suhail.
New Delhi:
The ruling Peoples Democratic Party (PDP) alliance partner Bharatiya Janata Party (BJP) has refused to support calls for a unilateral ceasefire in Kashmir during Ramzaan.
The refusal from the BJP has come a day after Jammu & Kashmir Chief Minister Mehbooba Mufti said all the mainstream political parties in the state agreed to the move.
The BJP said such a ceasefire would go against the "national interest" and "could wash away the Army's efforts" in the valley, which has been witnessing large scale civilian and militants killings this year.
"We are in complete disagreement and the Chief Minister cannot pressure us on this," Jammu & Kashmir BJP spokesperson Sunil Sethi said.
The union government too seem to be at variance with the stand espoused by the PDP. A top officer of ministry of home affairs said, "No such proposal was received," when asked if government is agreeable to the proposal.
On Wednesday, all mainstream political parties in Jammu and Kashmir decided to urge New Delhi to announce a unilateral ceasefire during the holy month of Ramzaan and the upcoming annual Amarnath pilgrimage.
"Everyone [all mainstream parties] agreed that we must appeal Government of India that they should consider a unilateral ceasefire like Vajpayee ji did in 2000. The government of India should think about it so that common man can heave a sigh of relief," Mehbooba Mufti had told reporters on Wednesday.
Ramzaan begins next week and the Amarnath pilgrimage is scheduled between June 28 and August 26.
"Now, Ramzan is starting, then (Amarnath) yatra is taking place, so we should try to take such steps which restore the confidence of the people and a better atmosphere is created in which Eid is celebrated in a good way and yatra also takes place well," the Chief Minister said.
Sources said that the comparison being made with the Vajpayee era cessation of operation is incorrect.
"Nothing has come to us. Our mandate from government is very clear, maintain law and order. If asked by government we will share our view," said CRPF DG RR Bhatnagar.
"No unilateral ceasefire was announced by the then PM Atal Bihari Vajpayee in 2000. Only the Non initiation of combat operation or NICO by the army and security forces was enforced in the year December 1999 and extended till March 2000," a source said.
Indian army had announced cessation of hostilities in 2000 and then Union Home secretary Kamal Pandey had initiated talks. Killing of Hizbul Commander Masood had lead to failure of that initiative.
MHA officials say that there is no clarity as to what Mehbooba Mufti is actually proposing when she says there should be unilateral ceasefire.
"There are various ways of limiting operations in a disturbed state. COO or cessation of operation; SOO or suspension of operations as in North Eastern states and NICO-Non initiation of combat operations. It is not clear as to what is being proposed," MHA official dealing with Kashmir told CNN-News18.
However officials agreed that if a formal proposal is sent it will have to be discussed threadbare.
"This is definitely something that will get serious consideration. It will be discussed threadbare. All stakeholders will have to be taken on board," an official said.
Officials said that such decisions can't be taken without consulting the army and paramilitary forces, the intelligence agencies and the political constituency in both Jammu and Kashmir.
Army Chief Bipin Rawat in an interview to Indian express had said that any ceasefire can happen only if guarantee can be given that security forces will not be attacked. Home ministry officials also agreed with that assessment.
"If a second attack happens on Amarnath it will be politically suicidal. Plus who will guarantee that stone pelters will not be used as a front to target the forces?"a source said.
Security forces have expressed their apprehension that ceasefire could be used as a veil to help terrorists regroup. Defence expert Brigadier (R) V Mahalingam said, "Right now forces have the upper hand in Valley. The leadership of Hizbul is over. Any cessation of operation at this stage will take the momentum away from security forces and only help terrorists regroup."
| Edited by: Ashutosh Tripathi
Read full article
Countdown To
Elections Results
To Assembly Elections 2018 Results