Ahead of Supreme Court Ruling in Aadhaar Privacy Case, Centre Finds Ally in Bill Gates
The Microsoft founder, in an exclusive interview to CNBC TV18's Shereen Bhan, said that Aadhaar only prevents one from accessing things he or she is not meant to have access to.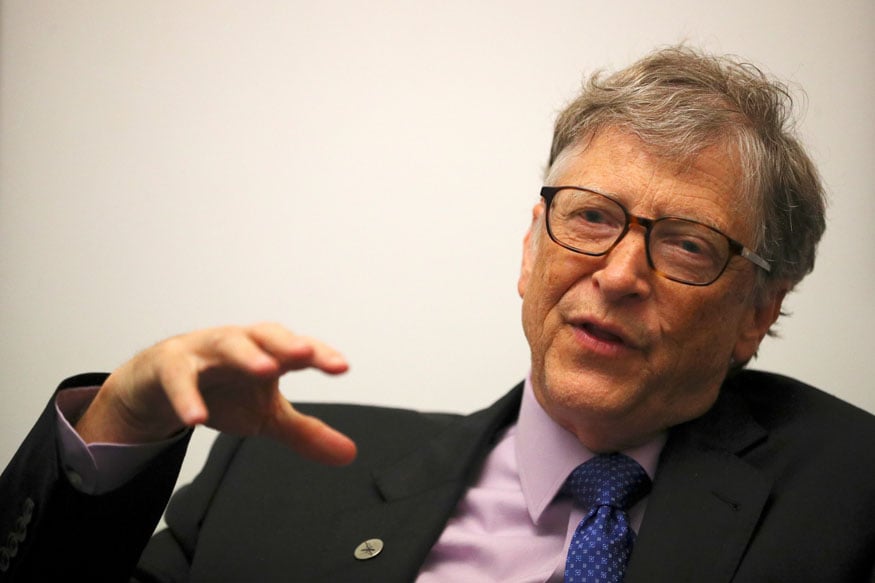 Bill Gates said Aadhaar technology does not pose any privacy issue. (Image: Reuters)
New Delhi: As the Supreme Court is yet to deliver its constitutional bench verdict on Aadhaar, American business magnet and principal founder of Microsoft, Bill Gates, has allayed all privacy related doubts on Aadhaar and has said that it only prevents "somebody else to be a fake someone on government payroll."
The verdict on a clutch of 27 petitions that challenged the constitutional validity of Aadhaar was reserved by the Supreme Court on May 4 this year, after a marathon hearing that stretched over nearly 4 months.
The government had made Aadhaar compulsory for a host of services and welfare measures, including bank accounts, PAN cards, cellphone services, passport and even driving licenses. It was made the over-arching proof of identity and residence, over-riding all other prior identity proofs.
The petitioners argued that Aadhaar - built on a mammoth biometric database comprising fingerprints and iris scans - cannot be made mandatory. They also contended that this huge database was open to compromise, citing a number of instances of data breach that had triggered a huge debate.
Arguing that the Aadhaar law impacts human life, the petitioners demanded that it be scrapped.
However, Bill Gates, in an exclusive interview to CNBC TV18's Shereen Bhan, said that Aadhaar only prevents one from accessing things he or she is not meant to have access to.
"Aadhaar is just something that avoids you pretending to be somebody else so that you don't have fake people on government payroll. Aadhaar prevents you being on that payroll as a ghost worker. It prevents you from collecting things that you shouldn't collect or accessing a health record you shouldn't have access to. So the basic Aadhaar mechanism is an identity mechanism and so it is too bad if somebody thinks that Aadhaar creates a privacy problem," said Gates.
This privacy issue had formed the crux of the case of the petitioners too in the Supreme Court where the government defended Aadhaar on multiple grounds - the biggest being that it ensured proper distribution of benefits to millions and prevented siphoning of funds. Aadhaar data, government and Aadhaar authority UIADI contended, is safe and cannot be breached.
Reports of regular leaks either by foreign hackers or by government agencies displaying Aadhaar numbers are not to miss, butGates maintained that "privacy issue is about the application" here.
"The privacy issue is about the application. If you are using the Aadhaar for your taxes and your benefits, then who has access to that information. The idea that you have an identity – that is only in some philosophical thing – it is an arbitrary 12 digit number. It is the policies for the application, who can see the land registry, certainly things like voting privacy or medical record privacy, all of which is super important," said Gates.
Questions have also been raised about how a number of people have been excluded from Aadhaar, whether it be mid-day meal schemes or the public distribution system, but Gates said that Aadhaar would help in furthering the government's "quality" of such projects.
"It is strange to see what a legitimate privacy issue is being termed and that there would still be ghost workers on the payroll and a right to have duplicates, which has cost so much money and so much credibility. The inefficiency is so unjust that a lot of fraud in the programme isn't here. So Aadhaar is a huge upside if people care about government quality," said Gates.
Earlier, in his lecture on 'Technology for Transformation' organised by NITI Aayog on November 2016, Gates had said that Aadhaar is something that had never been done by any government before, not even in a rich country.
Get the best of News18 delivered to your inbox - subscribe to News18 Daybreak. Follow News18.com on Twitter, Instagram, Facebook, TikTok and on YouTube, and stay in the know with what's happening in the world around you – in real time.
Subscribe to Moneycontrol Pro and gain access to curated markets data, trading recommendations, equity analysis, investment ideas, insights from market gurus and much more. Get Moneycontrol PRO for 1 year at price of 3 months. Use code FREEDOM.
| Edited by: Aakarshuk Sarna
Read full article