AIIMS Cancels Surgeries, Restricts OPD as Resident Doctors Go on Indefinite Strike
The resident doctors have said they would not return to work till the head of the Rajender Prasad Center (RPC) for Ophthalmology, Atul Kumar, resigns.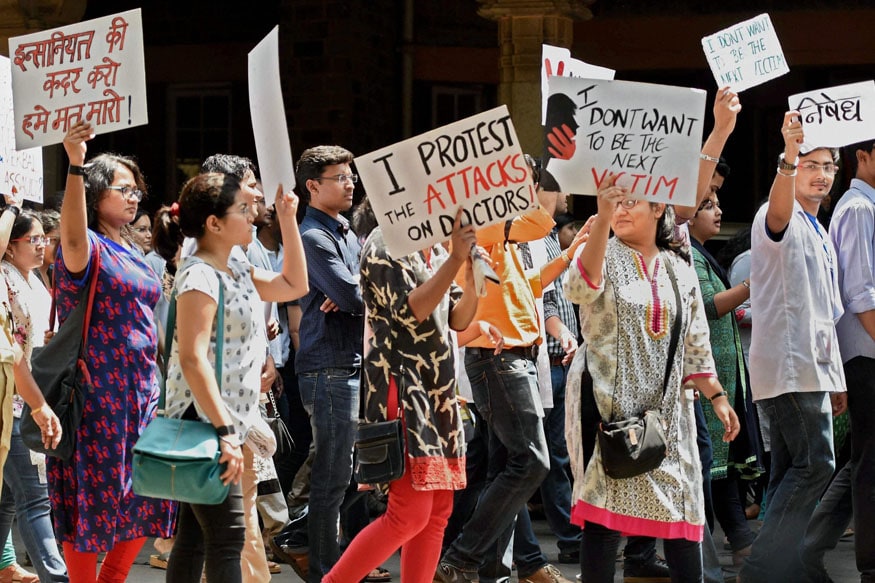 In this file photo, resident doctors take out a protest rally demanding security. (Representative image/PTI)
New Delhi: Resident doctors at the All India Institute of Medical Sciences went on an indefinite strike on Thursday evening, alleging that no action was taken against a senior doctor after he slapped a resident doctor in front of patients and other staff.
The AIIMS administration said that as a consequence of the strike, all routine surgeries have been cancelled, out-patient clinics will run in a restricted manner and all academic activity has been postponed. "Contingency measures have been put in place for admitted patients in ICUs and wards," the hospital said.
The resident doctors have said they would not return to work till the head of the Rajender Prasad Center (RPC) for Ophthalmology, Atul Kumar, resigns. "Due to the casual dealing by authorities of Prof Dr Atul Kumar, who has seriously assaulted a physical doctor, we have no option but to preserve our self-respect and stop working," a public notice issued by them said.
The hospital administration, however, said it had already formed a five-member committee to probe the allegations against Kumar. It also said that Kumar had apologized for the incident and the apology was acknowledged by the resident.
Dr. Harjit Singh Bhatti, president of AIIMS Resident Doctors Association, told News18 that almost 2,000 resident doctors at AIIMS have gone on strike to protest the "violent and abusive behaviour" of Dr Atul Kumar.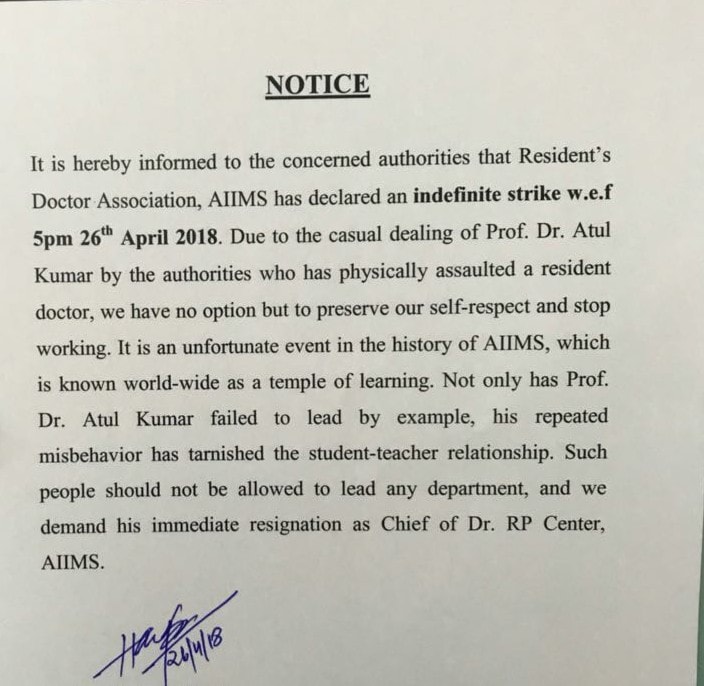 The notice of strike issued by the resident doctors at AIIMS.
On Wednesday, around 10 in the morning, Kumar had allegedly assaulted a senior resident doctor during the morning rounds.
Bhatti, a senior resident in the geriatrics department, recounted the incident. He said that the resident was being berated by Kumar over a patient's case, when the former's phone rang. Though the resident tried to turn it off as quickly as possible, Kumar lost his temper and tried to snatch the phone away. When the resident, instinctively raised his hands to protect himself and his phone, said Bhatti, Kumar slapped him.
He was humiliated in front of all other doctors and all his patients," said Bhatti, "and he went back to the hostel for the entire day not wanting to talk to anybody."
Bhatti said all residents are scared because Kumar has always been abusive. "He threatens to fail people who don't listen to him," he alleged.
He further claimed that Kumar had also been making "inappropriate statements" to women doctors, commenting on their physical appearance. "However, physically hitting someone was the last straw for the RPC residents," he said, adding that residents told him they can't work for Kumar any longer.
"We demand he immediately step down from the post and a fair inquiry be conducted by the administration so that residents can work in a safe and secure environment," the resident doctors said.
(With inputs from Aradhna Wal)
Get the best of News18 delivered to your inbox - subscribe to News18 Daybreak. Follow News18.com on Twitter, Instagram, Facebook, Telegram, TikTok and on YouTube, and stay in the know with what's happening in the world around you – in real time.
| Edited by: Huma Tabassum
Read full article