Air Pollution Killed Over 1 Lakh Children Below Age of 5 in India in 2016, Says WHO Report
Of the countries that the report surveys, India had the highest premature deaths among children under the age of five due to outdoor air pollution in 2016.
New Delhi: India topped the list of air pollution-induced deaths in children below the age of five, with over over 1.25 lakh children dying in 2016 in the country due to polluted air — nearly a fifth of the total such deaths globally.
This is as per a new report released by the World Health Organisation (WHO) titled, 'Air pollution and child health: Prescribing clean air' that sought to examine the impact of both ambient (outside) and household air pollution on the health of children, particularly in low and middle-income countries. The report was launched on the eve of WHO's first ever Global Conference on Air Pollution and Health.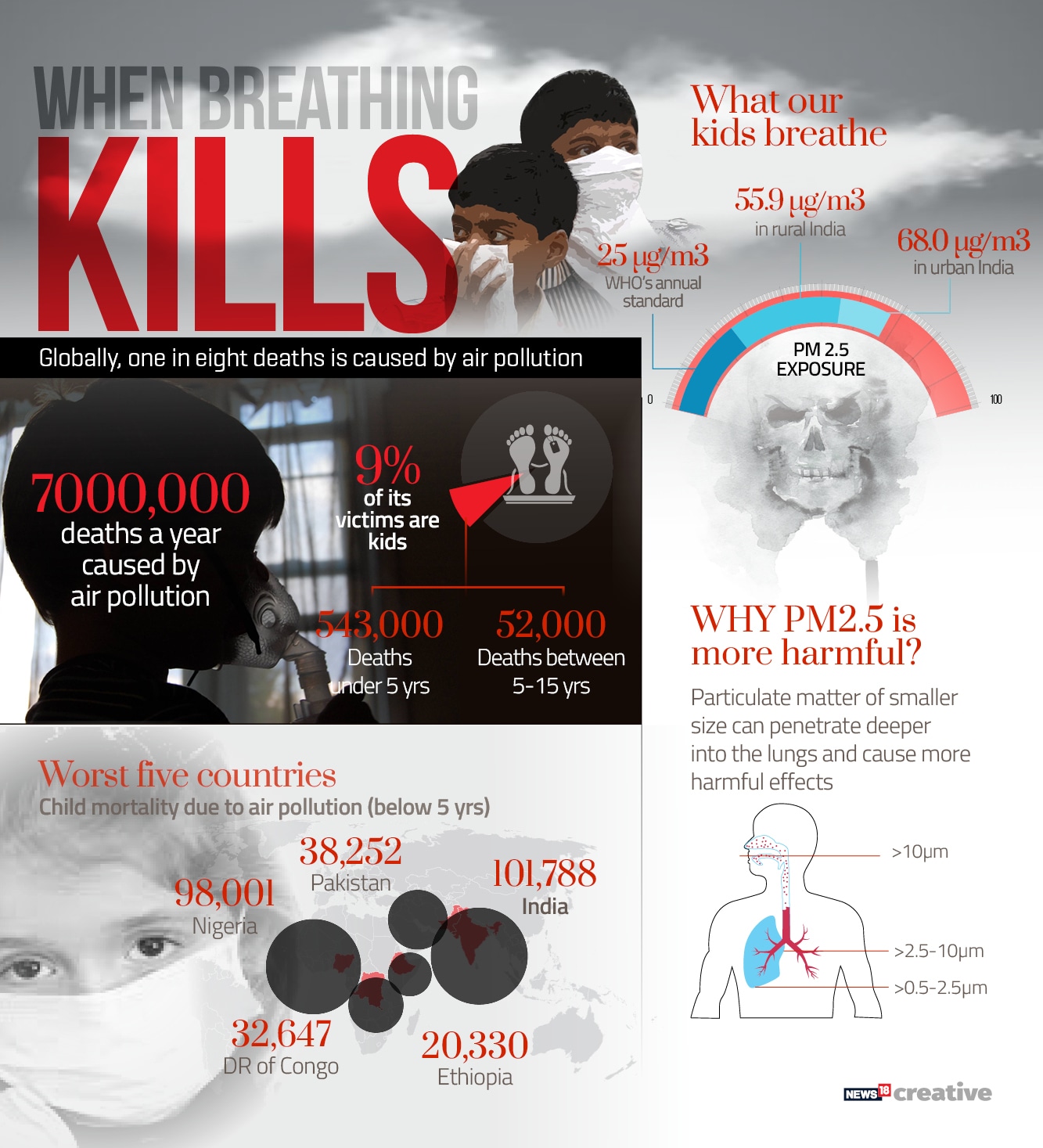 Household air pollution, the result of burning fossil fuels like coal indoors, led to the death of 67,000 children below the age of five in India, while outdoor air pollution such as that caused by vehicular pollution led to nearly 61,000 deaths among children below the age of five in 2016 in India, said the study.
Of the countries that the report surveys, India had the highest premature deaths among children under the age of five due to outdoor air pollution in 2016 and the second highest due to exposure to household air pollution, followed by Nigeria.
"Children are uniquely vulnerable and susceptible to air pollution, especially during fetal development and in their earliest years. Their lungs, organs and brains are still maturing. They breathe faster than adults, taking in more air and, with it, more pollutants. Children live closer to the ground, where some pollutants reach peak concentrations," said the report.
"They may spend much time outside, playing and engaging in physical activity in potentially polluted air. Newborns and infants, meanwhile, spend most of their time indoors, where they are more susceptible to household air pollution. Children spend much time near their mothers while the latter cook with polluting fuels and devices... Their bodies, and especially their lungs, are rapidly developing and therefore more vulnerable to inflammation and other damage caused by pollutants," it said.
"Polluted air is poisoning millions of children and ruining their lives," says Dr Tedros Adhanom Ghebreyesus, WHO Director-General. "This is inexcusable. Every child should be able to breathe clean air so they can grow and fulfil their full potential."
"Air Pollution is stunting our children's brains, affecting their health in more ways than we suspected. But there are many straight-forward ways to reduce emissions of dangerous pollutants," says Dr Maria Neira, Director, Department of Public Health, Environmental and Social Determinants of Health at WHO.
"WHO is supporting implementation of health-wise policy measures like accelerating the switch to clean cooking and heating fuels and technologies, promoting the use of cleaner transport, energy-efficient housing and urban planning. We are preparing the ground for low emission power generation, cleaner, safer industrial technologies and better municipal waste management," she added.
Get the best of News18 delivered to your inbox - subscribe to News18 Daybreak. Follow News18.com on Twitter, Instagram, Facebook, Telegram, TikTok and on YouTube, and stay in the know with what's happening in the world around you – in real time.
| Edited by: Sumedha Kirti
Read full article