Ajmer Dargah Chief Gives up Beef, Calls for Nation-wide Cow Slaughter Ban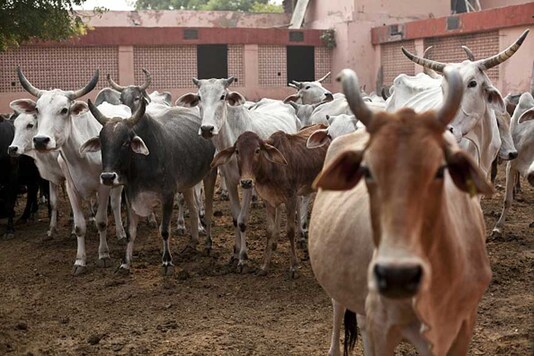 Image for representation only. (Getty Images)
Syed Zainul Abedin, the spiritual head of Ajmer shrine, has announced he and his family were voluntarily giving up beef and exhorted Muslim leaders to support a nationwide ban on cow slaughter.
Last Updated: April 03, 2017, 18:41 IST
Edited by: Bijaya Das
FOLLOW US ON:
New Delhi: One of the most revered Sunni Muslim leaders in India, the spiritual head of Ajmer shrine, has announced he and his family were voluntarily giving up beef and exhorted Muslim leaders to support a nationwide ban on cow slaughter so as to put an end to this issue that he said was at the "root of all hatred" between Hindus and Muslims.
"Any act of killing bovine species for its flesh should attract life imprisonment. In fact, cow should be declared India's national animal. It is a matter of respecting the feeling of our Hindu brethren and that cannot be compromised. To safeguard the teachings of Khwaja Moinuddin Chishti, I declare that from today, me and my family members will not consume beef," said Dewan Syed Zainul Abedin​.
Hereditary Sajjadanashin (Spiritual Head) of Ajmer Dargah, Dewan Syed Zainul Abedin – the direct descendant in the 22nd generation of acclaimed Sufi mystic Khwaja Moinuddin Chishti – also called for an end to the practice of Triple Talaq, which he said was a violation of Islamic jurisprudence.
ALSO READ: Gujarat Brings in Stricter Law, Makes Cow Slaughter Punishable by Life Term
Abedin was addressing a congregation of other spiritual heads, Sufi saints and religious heads to mark the 805th annual Urs of Khwaja Chisti.
"The root of all the hatred between the two communities in India should be given up and the government should ban the slaughter of all bovine species in India," he said.
"Since time immemorial, we have been living in harmony with our fellow brothers and sisters. The fact that we eat beef has hurt the religious sentiments of our brothers and sisters. Hence, it is our duty that we stop eating the meat of any bovine species. Khwaja Moinuddin Chishti strived for communal harmony in the country and we must respect that," he said.
Abedin praised the recently passed animal preservation bill by Gujarat assembly which penalizes anyone who is found in possession of beef. He said governments should introduce such legislations in all the states of the country.
According to the Gujarat Animal Preservation (Amendment) Bill, people found in possession of beef would face up to a maximum of a 10-year jail term and be fined up to Rs 5 lakh.
Abedin's statements come close on the heels of the recent crackdown on slaughter houses in Uttar Pradesh after the BJP victory in the assembly polls. In Chhattisgarh, Chief Minister Raman Singh had triggered controversy by saying that those who kill cows would be "hanged" in his state.
Abedin also dwelled on the Triple Talaq row, which is now sub-judice.
ALSO READ: Raman Singh Says Will Hang Cow Killers; Owaisi Slams BJP's Hypocrisy
"Shariat does not mention the practice of Triple Talaq. When Muslims divorce their spouses by this method, then there is a strict disobedience of the Islamic law. When there is a Muslim marriage, the terms and conditions must be explicitly mentioned in the contract of marriage. I also wonder that when in a marriage, there is consent of both the parties then even divorce must have mutual consent. When families are present for marriages, then why are divorces given in seclusion?" said the head of Ajmer Dargah.
He said divorce, as it is practiced among Muslims, is nothing close to what the Holy Quran prescribes.
"When there is a dispute in marriage, the parties must resort to conciliation and mediation to solve the issues. If the problem persists then one member from each of the two families must be appointed to conduct a mutual discussion to resolve the cracks in wedlock. These attempts must persist for at least 90 days, and between each utterance of Talaq, there should be a gap of 30 days," said the spiritual leader who also highlighted the status accorded to women in Islam.
Next Story