Akbar's Reputation Destroyed Due to Ramani's Allegation, Former Colleague Tells Delhi Court
Joyeeta Basu, the editor of Sunday Guardian, who appeared as a witness to support Akbar's case, told Additional Chief Metropolitan Magistrate Samar Vishal that Ramani posted all her tweets "intentionally with a purpose to harm" Akbar's "reputation".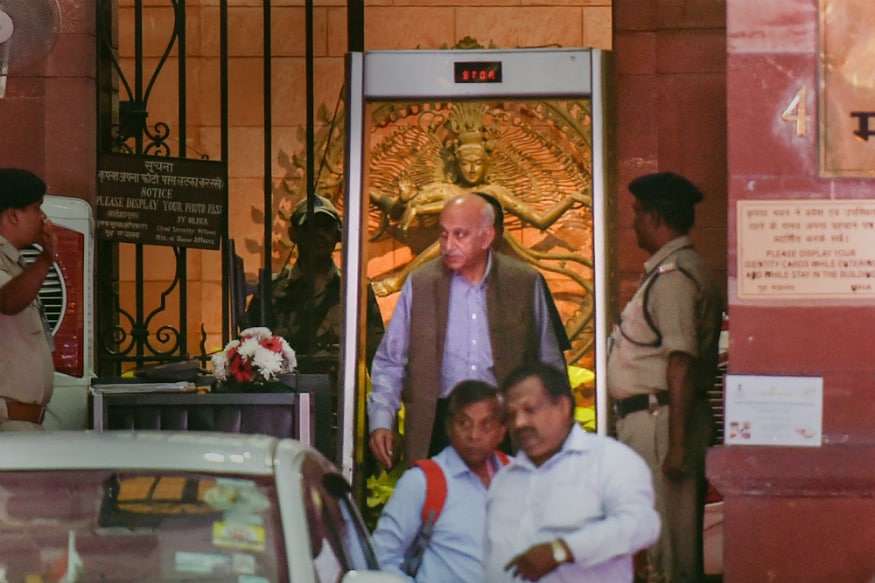 File photo of MJ Akbar.(PTI)
New Delhi: A former woman colleague of ex-Union Minister MJ Akbar, who has filed a criminal defamation case against journalist Priya Ramani, told a Delhi court on Monday that his reputation has been "destroyed" and "damaged irreparably" due to allegations of sexual misconduct.
Joyeeta Basu, the editor of Sunday Guardian, supported the ex-Union Minister in the court and stated that tweets by Ramani were "intentional" and was a "vilification conducted to destroy the reputation of Akbar".
During the early hearing, Akbar had recorded his statement before a Delhi court in a criminal defamation case filed by him against Ramani, who has accused the ex-minister of sexual misconduct.
Appearing before Additional Chief Metropolitan Magistrate Samar Vishal, Akbar had said that he had stepped down as Minister of State for External Affairs to "seek justice in his personal capacity" without any "appurtenance of office".
Basu said that she has worked with Akbar for 20 years and had not heard anything "untoward" from the staff of the organisation where they worked together. He was a public figure who was held in high esteem.
The Sunday Guardian editor termed Akbar a "thorough gentleman" and a professional while dealing with co workers. "He was a very tough taskmaster," added Basu in her statement. However, she added that after reading the tweets by Priya Ramani, she had believed her temporarily only to realise later that she was mistaken.
"I reasoned with myself and thought whether it was reasonable given my experience that I should believe the aspersion cast on him, which i had believed momentarily on 8th October. After introspection I realized that allegations were misplaced and unfounded as my experience over the past two decades had shown him to be perfect gentleman," said Basu.
Ramani was the first in a long list of female journalists to have accused Akbar of sexual harassment. She revealed that an article she wrote for Vogue India in October 2017 was about Akbar though she had not named him in it.
In the piece, she recounted what she called her first experience of workplace harassment, describing Akbar as a "predator".
Akbar said the allegations had "lowered" his reputation. "When I came back to my residence on October 14, friends came over deeply upset. My colleagues were understandably affected. I also received many calls and questions about the allegations," said Akbar, adding that, "The allegations have lowered my reputation in the eyes of right-thinking members of the public, my friends, my colleagues, my peers and my professional and political fraternity thereby causing irreparable loss to my reputation and goodwill."
Basu even added that reputation and good will of Akbar took "sever beating after the tweet."
"I may have overcome my doubts but I know that number of question raised by people I know personally, that his reputation is damaged and destroyed irreparable. After reading the tweets of Ramani, I think they were made intentionally to hurt Akbar's reputation and goodwill," recorded Joyeeta Basu.
Get the best of News18 delivered to your inbox - subscribe to News18 Daybreak. Follow News18.com on Twitter, Instagram, Facebook, Telegram, TikTok and on YouTube, and stay in the know with what's happening in the world around you – in real time.
Read full article