Al-Qaeda vows to hit China over Uighur unrest: report
The call for anti-China reprisals comes from Algerian-based Al-Qaeda.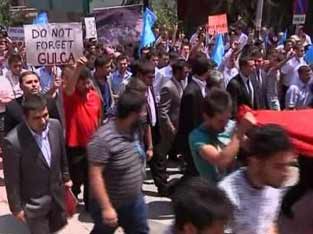 The call for anti-China reprisals comes from Algerian-based Al-Qaeda.
Hong Kong: Al-Qaeda is threatening for the first time to attack Chinese interests overseas in retaliation for the deaths of Muslims in the restive region of Xinjiang, according to a risk analysis group.
The call for reprisals against China comes from the Algerian-based offshoot Al-Qaeda in the Islamic Maghreb (AQIM), according to a summary of its report sent to AFP by the international consultancy Stirling Assynt.
"Although AQIM appear to be the first arm of Al-Qaeda to officially state they will target Chinese interests, others are likely to follow," said the report, which was first divulged by the South China Morning Post on Tuesday.
Osama bin Laden's network has not previously threatened China, but the Stirling report said a thirst for vengeance over Beijing's clampdown in Xinjiang was spreading over the global jihadist community.
Hundreds of thousands of Chinese work in the Middle East and North Africa, including 50,000 in Algeria, estimated the group, which has offices in London and Hong Kong providing risk advice to corporate and official clients.
"This threat should be taken seriously," Stirling said, basing its information on people who it said had seen the AQIM instruction.
"There is an increasing amount of chatter ... among jihadists who claim they want to see action against China.
PAGE_BREAK
"Some of these individuals have been actively seeking information on China's interests in the Muslim world, which they could use for targeting purposes."
Stirling said the extremist group could well target Chinese projects in Yemen in a bid to topple the Beijing-friendly government of President Ali Abdullah Saleh.
The intelligence firm also noted al-Qaeda's killing of 24 Algerian security officers who were meant to be protection for Chinese engineers three weeks ago.
"On that occasion they did not attack the Chinese engineers because the target was the project on which they were working.
"Now, future attacks of this kind are likely to target security forces and Chinese engineers alike," the report said.
The most likely scenario would be that Al-Qaeda's central leadership would encourage their affiliates in North Africa and the Arabian peninsula to attack Chinese targets near at hand, it said.
Chinese authorities have said that riots in the Xinjiang city of Urumqi by Muslim Uighurs on July 5 left 184 people dead -- most of whom were Han, China's dominant ethnic group -- and more than 1,600 injured.
Read full article
Countdown To
Elections Results
To Assembly Elections 2018 Results