Alarming Rise in Atrocities against Scheduled Tribes, Reveals Data Filed in Parliament
The number in 2015 was 283, while in 2014 it was 258. There was an increase in the number of atrocities by 9.68% from 2014 to 2015, and 10.95% from 2015 to 2016.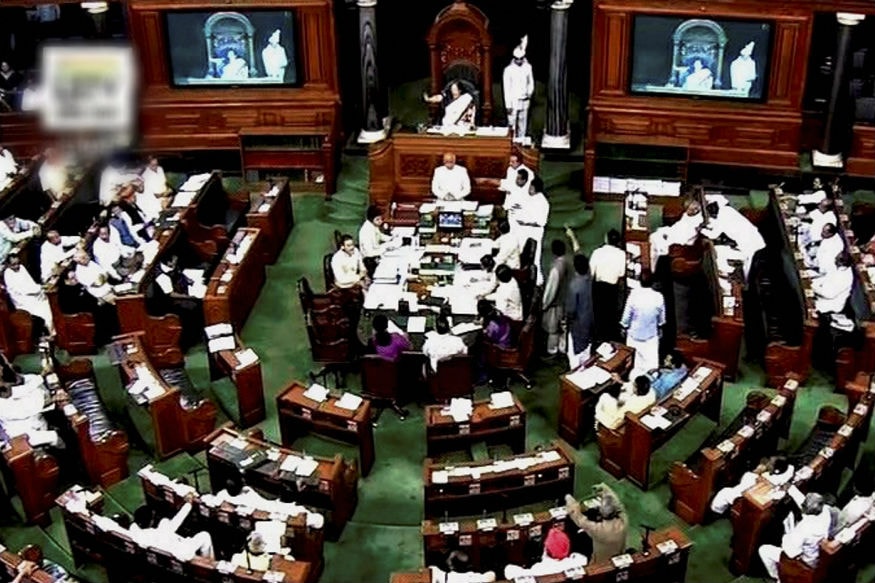 File photo of the Parliament. (PTI)
New Delhi: In what could paint a dismal picture of India's fight for safeguarding the rights of all its citizens, atrocities recorded against scheduled tribes (ST) have been on the rise in the past three years.
Data put forth by the minister of state for tribal affairs, Jasvantsinh Sumanbhai Bhabhor, in the Parliament shows that the country recorded 314 cases of atrocities against those belonging to the scheduled tribes in 2016. The number in 2015 was 283, while in 2014 it was 258. There was an increase in the number of atrocities by 9.68% from 2014 to 2015, and 10.95% from 2015 to 2016.
The Article 342 of Constitution says "the criterion followed for specification of a community as scheduled tribes are indications of primitive traits, distinctive culture, geographical isolation, shyness of contact with the community at large and backwardness." STs consist less than 10 per cent of the country's population.
Ironically, a lot of these atrocity cases are against state agencies. In 2015, the National Human Rights Commission had said that at least 16 tribal women were allegedly raped and physically abused by policemen in Bastar. Last year, in Ranchi, one person was killed and a dozen injured after police opened fire to rescue their colleagues who were allegedly being assaulted by almost 1,000 tribals who had gathered for an Adivasi Akrosh rally.
In April this year, a group of 13 persons allegedly thrashed three youth belonging to Koraga community, a scheduled tribe, in Trasi village of Karnataka, accusing them of slaughtering two oxen. A month later in May, a Chhattisgarh official posted on Facebook where she accused the state government of violating human rights of adivasis.
Experts have pointed to various reasons for the rise in the number of cases against atrocities, one of them being the alleged infiltration of ideologies, leading to a battle of cultures.
Rajasthan, MP, UP And Jharkhand Among Worst Affected
Rajasthan recorded 43 such cases in 2014, which rose to 49 the year after. In 2016, the state recorded 40 cases of atrocities.
Following close was Madhya Pradesh, which recorded 36 cases in 2014. The number rose to 28 in 2015 and to 47 in 2016. Uttar Pradesh recorded 25 cases in 2014, which fell to 13 in 2015, but further went up to 34 in 2016.
Maharashtra recorded 10 cases in 2014 and 2015, which rose to 15 in 2016. There were 30 such cases of atrocities recorded in Jharkhand in 2014, which fell to 25 in 2015. In 2016, the state saw 35 cases being recorded. The national capital recorded 13 cases in 2014, 12 in 2015 and 14 in 2016. The state of Chhattisgarh recorded 12 cases of atrocities in 2014, which went up to 16 in 2015 and further rose to 22 in 2016.
Places like Telangana, Mizoram, Daman & Diu, Jammu & Kashmir, Puducherry, Punjab, Manipur and Meghalaya saw very few or no such cases in the past three years.
Cobweb of Ideologies, Social Backwardness And Ignorance
Activist and political analyst Debashish Jarariya said infiltration of a certain kind of ideology into popular space was leading to a clash, which in many cases has turned out to be violent. "With the current ruling party, there is a certain RSS-backed Hindutva ideology that has creeped into our lives. Now for someone to come from the forest and the adivasis that we talk about, it's difficult for them to make peace with it," he said.
Additionally, he said globalization and privatization have led to an increase in the social strength of the scheduled tribes. "They are getting into the mainstream, even if it's with very menial jobs. But this is often considered as an 'encroachment' by the so-called manuwadis and upper caste people. That also leads to a clash," Jarariya added.
Speaking to News18, CS Dwarakanath, former chairman of the Karnataka State Commission for Backward Classes, said, "When these scheduled tribes come into the urban or rural space, they live in tents of little huts around bus stands, railway stations, etc. The police and administration come without notice and destroy everything they have in the most inhumane way possible. Nobody is spared; not even women and children," he said.
He mentioned the case of the Handijogi tribe, who, he added, rear pigs. "The police and administration come and take away their pigs, without monetarily compensating them. The tribe is accused of spreading brain fever by rearing pigs. There is no scientific reason behind that, and it's the tribe that ends up suffering," Dwarakanath said.
Better Reporting of Cases
A BJP MLA from Rajasthan said the numbers did not necessarily mean there was an increase in the atrocities against scheduled tribes. "These numbers just show that the reporting of cases has been strong, which is good because necessary action can be taken. This means that people are increasingly getting aware of their rights. Also, let's not forget there are many who misuse the SC/ST Act under which atrocities are reported," said the MLA, on condition of anonymity.
Former director general of police (DGP) of UP, Vikram Singh said the increasing use of technology and various amendments made to the SC/ST Act had ensured that those on in administration could not shy away from filing cases of atrocities. "Officers can no longer kick people out of police stations or refuse to file their complaints just because they are from the scheduled tribes or castes. While there is still room for improvement, but there have been certain changes in the bureaucratic set up also because of amendments to the SC/ST Act," Singh explained.
The retired IPS officer, however, added that the poverty level of many belonging to scheduled tribes was such that many of them turn to cooking rats. "I have seen it happening in eastern UP. Now, if they are abused or their rights are violated, stringent action should be taken," Singh said.
Get the best of News18 delivered to your inbox - subscribe to News18 Daybreak. Follow News18.com on Twitter, Instagram, Facebook, Telegram, TikTok and on YouTube, and stay in the know with what's happening in the world around you – in real time.
| Edited by: Aditya Nair
Read full article