INDIA
All India Bakchod: Meet stand-up's newest talents
'Bakchod' is India's first comedy podcast and the platform for Khamba and Bhat's sarcastic take on diverse subjects.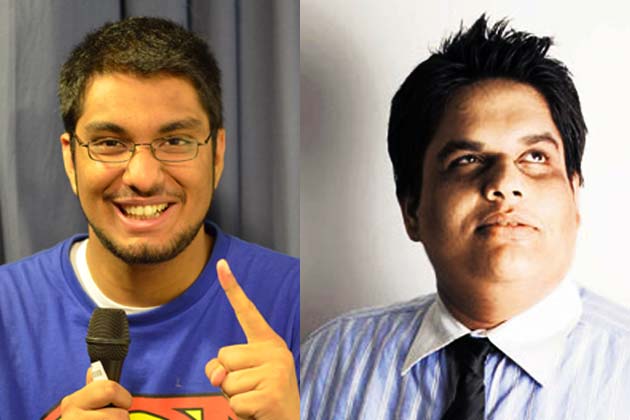 'Bakchod' is India's first comedy podcast and the platform for Khamba and Bhat's sarcastic take on diverse subjects.
New Delhi: They constantly interrupted each other to get in an urgent quip and often finished each other's sentences with perfectly timed guffaws. More than once they threatened to take over the interview as I tried to get in a word. They ignored me, of course.
Note to self. When you are talking to two of India's most promising stand-up comics, Gursimran Khamba and Tanmay Bhat, you run the risk of facing a barrage of questions yourself. But essentially the laidback banter is the underlining style of their new comedy podcast All India Bakchod, the first of its kind in India, and the launch pad for their biting sarcasm on diverse subjects.
For a host of young stand-up comics such as Bhat and Khamba, widely known on Twitter by their handles @thetanmay and @gkhamba, venturing into the relatively unchartered territory of live comedy was not without its risk. There have been parody writers and blend artists, but cringe or burlesque are genres mostly overlooked in India. The podcast is an untested platform for Indian living room banter.
"Nobody has done the comedy podcast show in the India before. We are the first ones to be doing it. You can call it a new medium in India for comedy but if you want to go back, podcasting in itself is not a new medium," Khamba said.
The healthy dose of tongue-in-cheek humour in All India Bakchod episodes took a certain getting used to as Bhat and Khamba dissected events that made headlines to orgasmic background sounds. As part of celebrity roasts, they thought aloud sexual escapades for politicians, especially the stoic ones above 65 years of age.
It's easy to see why Bakchod triggered diverse reactions from two extremes segments of society. There were the ones who absolutely hated the gags and held their 'neta', 'abhineta' and 'bhagwan' (politician, actor and god) sacrosanct. And, then there were those who started to accept the irreverent and eccentric duo's brand of humour, heavily endorsing it on social networking websites.
"Want to see how far we can push the audience"
Most of all, in Khamba's words, they tried to see how far they could push their audience into accepting something new while having fun with divisive subjects that were otherwise taboo on primetime television.
In an April, 2011 blog post Khamba wrote: "I'm pissed off that we don't have an original voice in India - anywhere. We don't have anyone who speaks truth to power. All we delve in is safe stereotypes about things we know the audience we like. We know saying b***c*** will make people laugh. We know every comic in Bombay will diss Delhi and make a rape reference and everyone will lap it up."
With the tall order of changing the tested routine that comics repeatedly fell back on, Khamba, 25, and Bhat, 24, tackled ticklish subjects such as the Karnataka MLAs watching porn in the Assembly and Shah Rukh Khan b**** slapping a drunk Shirish Kunder. "Don't say drunk ya, say alcohol aficionado," Bhat quipped in one of the episodes.
"To sound completely immodest, most people have loved it. They've loved it to a point that when we don't come out with a podcast in nine-ten days we literally start getting hate mails," Bhat said. The episodes are between 14 and 35 minutes long. "Last time we came out with a two part episode where part one was almost 30 minutes long and part two was twelve and half- thirteen minutes long. People actually turned around and said 'you guys made us wait for eight days just to give a 13-minute podcast?'"
Khamba said the podcasts were ideal for unwinding after a day's work or during a long commute. They are downloadable and impromptu with a distinct style of banter. The awkward pauses were not edited out in the final cut to give it the feel of two friends chatting over a drink about everyday stuff that would get a chuckle out of you if you were eavesdropping on the conversation.
For humorists its content, content and content
"If the content is good enough, people will make time for it. That is how a TV show or movies work. Right now people are willing to take out half an hour to listen to it. The very idea of a podcast is that two people are sitting and having a conversation," Khamba said. "We get messages saying it's like hanging out with you guys," said Bhat.
Do people pay to watch live comedy?
Bhat and Khamba have used their sizeable follower count on Twitter to drum up a loyal audience base. They said they were constantly surprised by people who took to live comedy after watching stand-up shows. Some gathered the nerve to try stand-up comedy themselves.
Khamba said: "Most people watching live comedy for the first time say 'wow we didn't even know you could say what you say on stage in India. It's the kind of things that you can never put on mainstream television in India. Sex is a great example, you have words like p**** and c*** which are banned on television. It's not illegal to say it. When you say it on a show people think thank god somebody is saying it."
Is it possible to make money in a career in comedy?
Bhat: "Oh ya! There is a s***load of money to be made, we are not making it. (laughs)
Khamba: "Yeah, we can see it but we can't touch it. "
Monetizing gags on the internet
Comedians the world over have been directly taking their content to their audiences on the Internet, sidestepping the intervention of third parties such as YouTube, Amazon or Netflix and restrictive corporate endorsements or broadcast rules. The trend was started by comedian Louis CK who released his stand-up act 'Live at the Beacon Theater' on his website as a USD 5 download without electronic copy protection. Since then several comedians in the US have taken the same route to reach out to a wider audience on the Internet.
But Bhat and Khamba said they still have miles to go before they could think of an exclusive direct-to-internet production model for Bakchod. "I don't think anybody is ready to pay yet, not in India (for a podcast). But I genuinely feel, if something becomes a habit you will be willing to pay for it," Khamba said.
"Right now if you go to any of Vir Das' shows, you will see these big SUVs parked just outside. These people (Vir Das and other comedians) have built their audience primarily on the Internet," Bhat said.
Khamba: "But at some some point we have break out of the Internet."
Role of Twitter
Both Khamba and Bhat have acquired celebrity status on Twitter and have gathered a fairly large following of people who diligently spread the word of mouth about their show timings and locations. But the duo said that social networking sites are not the end all for their shows.
"Twitter does not play a massive role. It doesn't help us fill out venues. If you announce on Twitter on the day of the show, someone in the area will always pop by. But if you pimp a show properly say for at least a week, you will get at least 100 people to show up," Bhat said.
"When I started out in Delhi, most of my audience was from Twitter, I would fill out at least 50 to 100 seats from Twitter. But you can't survive just on that. It's not the be all and end all," Khamba said.
What do Indians laugh at?
Internet's three main divisive subjects - politics, religion and sex - form the backbone of their live routine. Media bashing is the duo's favourite gag.
All said and done, live comedy is in a great place right now. Talented comedians such as Anu Menon, Kavi Shastri, Aditi Mittal, Rohan Joshi, Ashwin Mushran, Ashish Shakya, Vir Das, Kunal Roy Kapoor, Anubhav Pal, Utsav Chakraborty, Radhika Vaz and Saurabh Pant have ensured that the script is fresh and liberated from cultural cliches.
The Mumbai branch of the Comedy Store, the club which have provided the platform to renowned comedians in London and Manchester for over three decades, ensured young comedians a place to perform. The duo was confident that favourable word of mouth would gradually increase a following and bring in money to the profession. Not just for them, but also for the scores of others like them trying to break into the seriously competitive field of comedy.####
Support the daily wage earners who have been hit the hardest by the COVID-19 crisis. Click here to contribute to the cause. #IndiaGives
The daily News18 Coronavirus COVID-19 newsletter - Get your copy here.
Subscribe to News18 Daybreak. Follow us on Twitter, Instagram, Facebook, Telegram, TikTok and on YouTube
Read full article