Amaravati Continues to be a Story of Neglect Even as Clamour For Special Status Gains Momentum
The hotel industry also had high hopes and people in the city also expected employment generation with the industry boom. But with the capital construction making no headway, the hotel industry is forced to "wait and watch".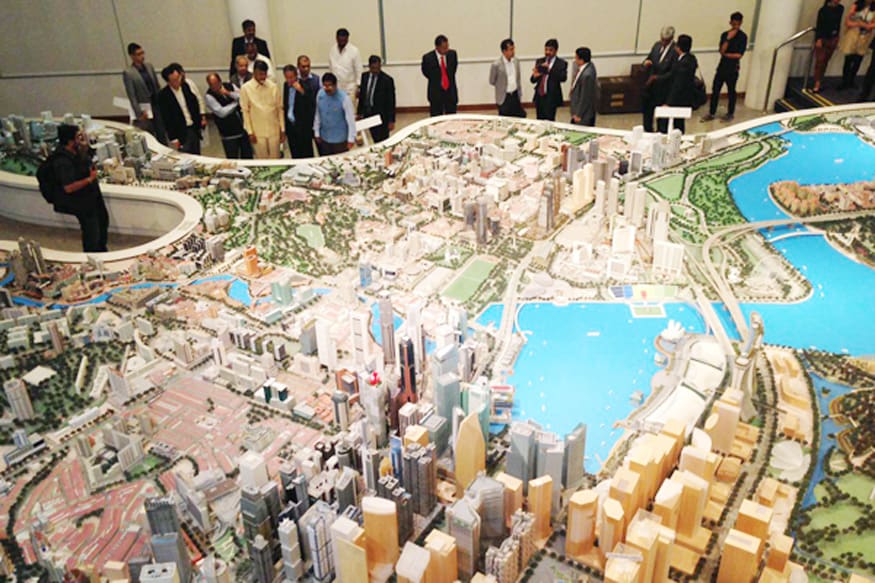 A model of Andhra Pradesh's new capital Amaravati.
Hyderabad: The fight to get Special Status for Andhra Pradesh is intensifying with each passing day. All parties in the state --TDP, YSRCP, Congress and Left -- are up in arms against the BJP-led government at the Centre for failing to fulfill promises and cheating the people of Andhra Pradesh. For every political party, the issue is most crucial ahead of 2019 elections, but for common man, it is the fight for their right and justice.

Amidst the political deadlock over the issue of Special Category Status to Andhra Pradesh, CNN-News18 travelled to Amaravati, to find out the concerns of the common man in the state.

After bifurcation of the state in full fanfare in 2014, Prime Minister Narendra Modi and Andhra Pradesh Chief Minister Chandrababu Naidu laid the foundation stone for a world-class new capital Amaravati, estimated to be built at whopping cost of over Rs 50,000 crore. But, since then, the political equations have changed in the state.

The neighboring city of Vijayawada, had the highest expectations with announcement of world class capital Amaravati next door. But today their hopes and aspirations have fallen flat.

Efftronics, is a company in Vijayawada, working in the area of providing smart and innovative solutions for Smart Cities and buildings. With proposal of a world class, smart capital and promises made at the time of bifurcation, every industry expected to grow. However, industry insiders say, with lack of incentives and an ecosystem, high cost employment generation companies have failed to come.

Speaking to CNN-News18, D Rama Krishna, Managing Director of Efftronics, said, "In 2014, when the new government had come, there was a lot of aspirations from both Centre and state. Everyone thought a new era has begun. That's why people came out and voted. But in today's political situation, people feel things are going wrong and their aspirations are not fulfilled. The type of funds Centre is talking about is peanuts for capital construction. There is disappointment; anger is growing. If there are no incentives, why would any company shift its base in our state?"

The Centre had sanctioned Rs 2,500 crore for capital development, out of which only Rs 1,500 crore was released.

The only striking change is the power centre of Andhra Pradesh, which has shifted its base from Hyderabad. The government for past many months has been functioning from Amaravati. A huge complex comprising of secretariat and legislative buildings, assembly & council, has been constructed, which is buzzing with activity.

The hotel industry also had high hopes and people in the city also expected employment generation with the industry boom. But with capital construction making no headway, the hotel industry is "waiting and watching".

C Sujith, general manager at popular Fortune Murali Park hotel told CNN-News18, "We are seeing upgradation of the city, but the process not happening as expected; it's slow. When hoteliers want to invest, they see the returns should be favorable. We had expected many hotels will come, but capital region work is not going at fast pace. It will take a lot of time to compete with other big cities."

With Hyderabad going to Telangana after bifurcation, Andhra Pradesh was left with no capital of their own. The critical concern for Andhra Pradesh is that it has to compete with developed cities like Bengaluru, Chennai and Hyderabad in southern India.

The youth in Andhra Pradesh are most agitated. CNN-News 18 met some students from Siddhartha College of Arts and Science, and they tell us why the issue has irked them.

"Every Telugu person was affected with the bifurcation. I wanted to study in Hyderabad, but I was unable to since I was a non-local. As an MBA student, I wish to live in a good city where I can have opportunities. But if you see today, we have no opportunity here. What is the support from Centre is unclear. Everyone who wants to work in hometown, stay is disturbed. The situation is, we all are ready to come out on streets and protest to demand what was promised to us," said a student.

"Employment is a concern for us. There is no IIT and IIM in our state. There are no good MNCs. So all the jobs are going to other cities. Capital is heart of any city. Be it Bengaluru or Chennai or Hyderabad, their states are doing well, because of the capital. But in Andhra, where is the capital. All political parties are only doing drama and not sincerely fighting," said another student.

"Many national institutions were promised, but four budgets have passed, still no allocations have been made. In many colleges, due to lack of funds, students are studying in under-construction buildings. Ultimately, the students are suffering. Parties should stop blaming each other and fulfill promises made to Andhra Pradesh, else people will give their decision with their power of vote," Prof Sridhar said.

The people in Andhra Pradesh feel that they have been "cheated" in the past. They say that they cannot be deceived yet again. They are hoping that all political parties will keep aside their political motives and take forward the concerns of the people of Andhra Pradesh. The people are demanding all the assurances made on floor of Parliament and provisions of the AP Re-organisation Act must be fulfilled.
Read full article
Countdown To
Elections Results
To Assembly Elections 2018 Results