INDIA
Amid water crisis ADB wants India to increase tariff
ADB is involved in improving municipal water supply situation in India.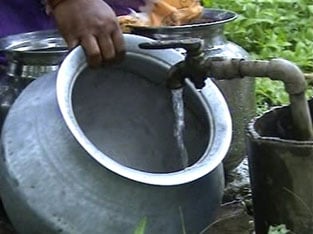 ADB is involved in improving municipal water supply situation in India.
Singapore: Even as India reels under chronic water shortages in its cities, the Asian Development Bank (ADB) on Thursday urged it to increase existing water tariff, which it said was "too low", and invite foreign investment to improve the country's water infrastructure.
"Water tariff in India is too low. People there pay 20 times more for tobacco and 40 times more on alcohol," director of urban development of ADB, Hun Kin said in Singapore at the India Business Forum on water, held as part of the ongoing Singapore International Water Week.
"When you don't want to pay for the water that you use, then it's difficult to improve the water infrastructure to the desired level. Unless people pay more, they won't be responsible to conserve water," Kin added.
Echoing the same view, an Indian official, who was here to attend the event, told IANS that a metropolitan city like Chennai charges less than Rs 55 as monthly water charge per household.
Kin said ADB was doubling its investment on water from $1.2 billion in 1999 to $2 billion in 2010 in the South and Southeast Asia region.
Over 800 million people in the region face problems in accessing portable water of which nearly 50 per cent are Indians.
"ADB is involved in (providing finance) to improve municipal water supply situation in India. It's a fact that municipalities have a performance issue," Kin said.
The director called on the Central and state governments in India to make the system more responsible to attract foreign investment.
"They (foreign investors) will go to get returns and unless stakeholders pay for consuming water, it will be difficult to convince companies to enter there."
Officials at the business forum agreed with Kin and asked India to raise its water tariff.
"Recycling of one cubic metre of water costs between Rs.25-50 in India but it costs Rs 10-20 for availing fresh water. Here is the problem," said managing director of pump manufacturing company Grundfos Pumps, NK Ranganath.
Vice-chairman of the Asia Pacific Water Forum Governing Council, Ravi Narayanan said: "Though there is some investment bottleneck in India, opportunity for foreign players is still huge. The government is set to invest Rs 300 billion in next five years (in water sector)."
Support the daily wage earners who have been hit the hardest by the COVID-19 crisis. Click here to contribute to the cause. #IndiaGives
The daily News18 Coronavirus COVID-19 newsletter - Get your copy here.
Subscribe to News18 Daybreak. Follow us on Twitter, Instagram, Facebook, Telegram, TikTok and on YouTube
Read full article