GET Stock

Quotes


An Auto Rickshaw Driver in Tripura Making Life Easier for Cancer Patients
Meet Haradhan – the rickshaw driver in Agartala who has been reaching out to cancer patients, offering them free rides to the hospital, travelling together in their journey.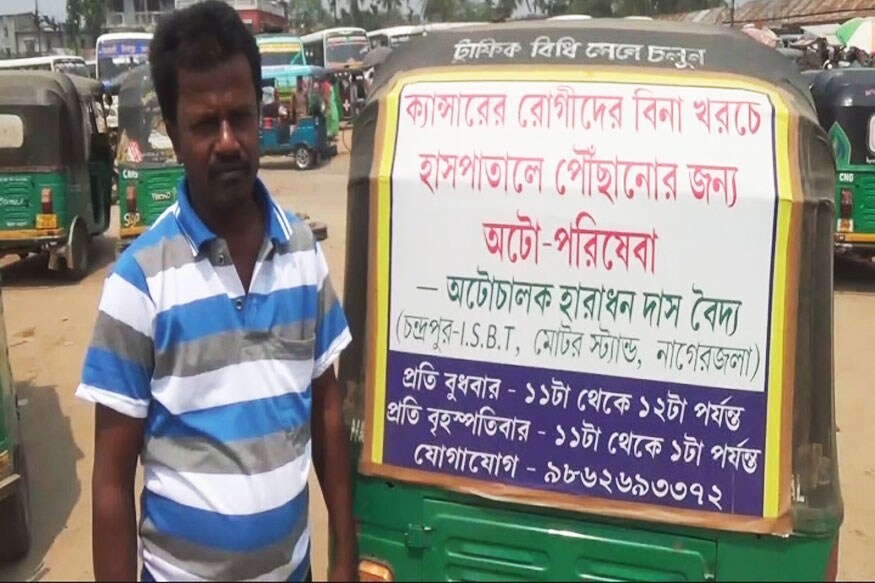 Haradhan Das Baidya offers free rides to cancer patients from the Nagarjala motor stand to GB Pant Hospital in Agartala.
Agartala:
Serving a plate of steaming hot rice and mashed potatoes for breakfast, Sushmita tells her husband Haradhan that they should never eat anything cooked in oil because it harms the liver. It is a concern the couple has for everyone else too. Having lost his mother and brother to liver cancer, Haradhan Das Baidya, who lives with his small family at Nagarjala area in Agartala under West Tripura district, has nurtured a zeal to serve humanity despite his own struggles.
The 44-year-old auto rickshaw driver has been reaching out to cancer patients in town, offering them free rides from the Nagarjala motor stand to GB Pant Hospital in Agartala.
"My mother died just 26 days after my wedding. In 2004, a year before her death, I started campaigning to create awareness on cancer. And now my elder brother who was suffering from liver cancer also passed away three months ago," said Haradhan.
​At the start, Haradhan would offer free rides for an hour every Wednesday but after his brother's death, Haradhan decided to enhance his mission with an add-on hour on Thursdays as well.
Among hundreds of patients he meets, Haradhan recalled the memories of a cancer patient who used to work at the GB Pant hospital.
"We became friends. He used to work at the hospital and was suffering from cancer. We would talk about life and work. There was a time when I couldn't run my auto for a week and we were out of touch. The next week when I went looking for him, I got to know that he had passed away," recalled Haradhan.
He has been offering free rides to cancer patients for the past five years.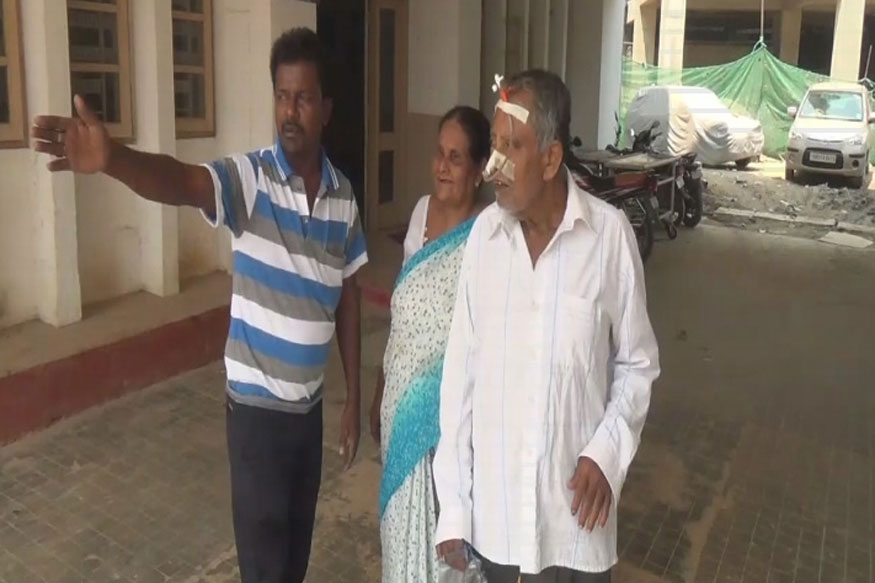 Haradhan Das Baidya with a patient.
"I had the urge to do something for the society at the age of 15. I used to be a carpenter and in 1995 I bought an auto rickshaw by availing a loan under a government scheme. I would go about town painting messages on my vehicle, asking people to quit bad habits and that is how it started," said Haradhan.
Haradhan would take part in awareness rallies organised during the birth anniversaries of Netaji Subhas Bose every year. He now teams up with his son and other children of the neighbourhood in taking out similar rallies in Agartala town. Haradhan proudly remembers his son daubing wall paint on his chest to write the slogan 'Dhoom Paan Korben Na' (Say No to Smoking) during a parade on January 23.
Haradhan's son Debojit, a Class 7 student at Netaji Subhash Vidya Niketan in Agartala is deeply motivated by his father's endeavour. The father-son duo makes an effort to talk to school children and their parents on the harmful effects of tobacco, alcohol and drugs.
While he continues to serve others, Haradhan sometimes needs to remind himself of being the sole bread earner for his family. He scarcely earns Rs 10-12,000 a month and earnestly believes that boiled food is good for health. His wife has joined sewing classes while his son has managed to convince his grandmother to give up chewing zarda paan. Haradhan, on the other hand, plans to stretch the number of free rides to three days a week.
"When they bless me, I feel like God has blessed me. Some even pray that I may live for a hundred years," he said.

(With inputs from Tanmoy Chakraborty)
| Edited by: Huma Tabassum
Read full article
Countdown To
Elections Results
To Assembly Elections 2018 Results