How BJP's Unclear Stand on Article 35A is Adding to Mehbooba Mufti's Woes
These days Jammu and Kashmir CM Mehbooba Mufti is trying to rally support over Kashmir's special status that is facing what many here believe is a "judicial onslaught on its exclusive rights."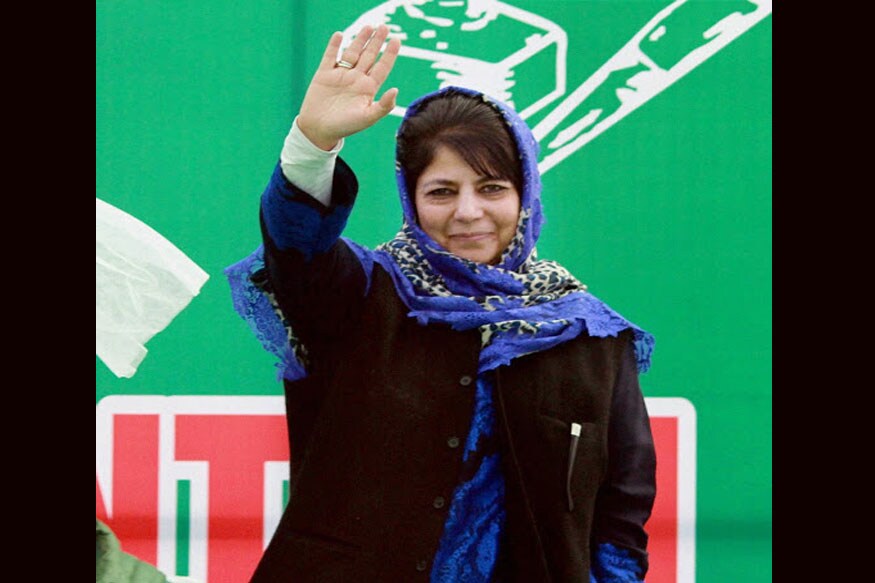 File photo of jammu and Kashmir CM Mehbooba Mufti. (PTI photo)
Srinagar: Mehbooba Mufti has the toughest job in the country, firefighting all the while she has been in the saddle. Be it the violence after the Burhan Wani killing that killed more than a 100 people and blinded and maimed thousands or the Kashmir flag controversy the NIT fiasco, the Handwara killings over allegations that a college girl was molested, or the recent GST row - she just hasn't had the time to relax.
And now she is up against the biggest challenge of her political life. If she loses this one, she risks the chance of her party either getting wiped out or becoming irrelevant for a long time.
These days Mufti is trying to rally support over Kashmir's special status that is facing what many here believe is a "judicial onslaught on its exclusive rights." She has realised she needs to convince BJP - her alliance partner in J&K - and its right wing affiliates, more so, if she has to stay afloat as a regional satrap.
Mufti is exploring every bit of support to safeguard Article 35A that bars non locals from buying property or getting government jobs in the state. Article 35A gives the people of J&K exclusive rights and privileges in owning property and in getting jobs and scholarships.
The J&K chief minister apprised Prime Minister Narendra Modi of the "dangerous" consequences the state may face if the article is written off. At the end of the meeting Mehbooba claimed PM Modi was supportive. She is also seeking the support of Sonia Gandhi and other opposition leaders on the delicate issue.
Mufti has also met her main political rival and former chief minister Dr Farooq Abdullah and state opposition leaders to build a consensus that Article 35A needs to stay.
Her People's Democratic Party (PDP) and Abdullah's National Conference (NC) have strode to power advocating self rule and greater autonomy for the state. And Articles 35A and 370 lie at the core of their political philosophy.
Both the Kashmir-centric parties have committed to do whatever it takes to ensure the 35A is protected. Mufti warned Centre that "there will be no one to carry the tricolour in state if the act was tinkered with." Abdullah said its abrogation would provoke a bigger agitation than 2008 Amarnath unrest.
The separatists, rocked by the recent arrests by NIA, have not taken centrestage yet except for calling a strike on Saturday. The Kashmir traders, Kashmir chamber and transporters bodies have allayed fears and held protests.
But it is PDP and NC which will face existential crisis if 35A is shot down. They know for sure that for common Kashmiris, these are articles of faith on which their future hinges too. Especially at a time when space for mainstream is shrinking due to the unabated violence following the killing of militant commander Burhan Wani.
Options before Mehbooba Mufti
Unfortunately, Mufti's options are limited and she relies heavily on Centre to bail her out from a precarious position. On ground, she is exploring both the legal and political options.
Her government has filed a counter affidavit arguing similar pleas had been rejected by the apex court previously. Her legal team is contending and hoping the petition filed by the NGO, We the Citizens, is dismissed even though Supreme Court has said the issue needs be disposed off after six weeks. The case is likely to come up for hearing in the last week of this month.
Mufti's worries are only growing as the Centre has remained non committal on the issue and not filed a counter affidavit. In fact, the BJP-led government feels that it needs to be examined whether the special status enshrined by Article 370 benefited or hurt Jammu and Kashmir.
Meanwhile, her government has begun preparing to contest the case. In the brief counter affidavit that was filed before the apex court, the J&K Law department will quote two judgments: Puranlal Lakhanpal Vs President of India & Others, (1962) and Sampat Prakash v. State of Jammu and Kashmir and Another, (1969). Both the Judgements endorse the state government's views on the matter and benefit all state subjects of the state. The Mufti government has hired constitutional expert Fali Nariman to head the team to contest the case.
But it's Narendra Modi-led NDA government's unclear stand on the issue that is giving her sleepless nights.
So far, Delhi has decided not to file a counter-affidavit in the matter.
By abstaining from filing a counter-affidavit, Delhi has apparently toed the line of the petitioner, which is a "dangerous" approach, the opposition NC warned, and could lead to an "irreparable damage" to the state's special status.
Politically too, Mufti's options are few. She cannot do much except hope her conversations with opposition leaders ensure some pressure is built on Union government. And that her government gets some support to either delay or find some middle way to the crisis that otherwise has the potential to stoke more passions in an already simmering Kashmir valley.
Many are suggesting snapping ties with BJP would help her avert the crisis. But that won't do. Her walking away from the alliance may or may not cause the government to fall, but will certainly have no bearing on whether the act stays or goes.
Observers believe she can do better by working within the system to make people at the helm realise the repercussions if the crucial act is taken down.
Moreover her quitting means Centre faces no resistance from the state parties and can actually go ahead with its business, if at all it intends to. And since governance and absolute governance will lie with the Governor - and he being essentially a Centre representative - the article can become a history without much fuss and ado. It is another story that there would be widespread violence, but what is done cannot be undone.
So the option of moving out of government would indeed be a bad idea and will have no bearing on what stand the union government takes on the article, although the issue is technical and will be dealt with by the courts.
Issue surrounding Article 35A
An NGO named 'We the Citizens' has petitioned the apex court seeking removal of Article 35A on the ground that the restriction imposed through its addition to the Constitution was beyond the President's powers under Article 370(1)d.
The petitioner has contended that "The Constitution can be amended only by the Parliament as per procedure clearly laid out in Article 368,"
Similar prayers, however, were quashed almost instantly by the apex court in 1956, 1961 and 1970 - while upholding the powers of the President to pass constitutional orders.
In a major departure, the Centre this time around did not challenge the petition though the Mufti government has filed a counter affidavit seeking its dismissal. And the BJP at Centre is unwilling to commit either way.
The article was enforced in J&K through the Constitution (Application to Jammu & Kashmir) Order, May 1954 issued by India's first president Rajendra Prasad. It was devised to protect state subject laws that had already been defined during the Maharaja's rule and notified in 1927 and 1932.
Apprehensions in Kashmir
The Valley, which has a largely Muslim population, fears that by striking down this president's order, BJP and its affiliates want to resolve the Kashmir issue through sweeping demographic changes. And that, they think, will tell badly on the final resolution of the Kashmir issue, if ever there is one.
The separatists have alleged in the past that New Delhi has sinister plans to settle non locals in areas of Jammu and Ladakh - to start with, before they concentrate on Kashmir - essentially to change the Muslim majority character of the state.
They have accused the Centre of planning to build a "Hindu Vatican" at major base camps of Amarnath Yatra or "Israel type settlements" for non state subjects to alter the demography of the state.
Given the current public mood, the separatists can quickly mobilise a 2016-type agitation that can be detrimental to Mufti government which is already battling a serious rebellion of sorts.
The people in valley of Kashmir, Chenab comprising Doda, Kishtwar, Baderwah and Ramban and Pir Panjal (Poonch and Rajouri) - predominantly Muslim population - are extremely emotional about their identity which they feel can be guarded through article 35A and 370. So they will hit the streets if there is a threat to their existence as they don't apparently see Muslims outside Kashmir doing well at this point of time.
Mufti has warned Delhi of the huge consequences in the wake of any fiddling with Article 35A. She is already on the back foot, given that there are daily reports of encounters, clashes and civilian killings. In fact, in the first seven months,134 militants, 44 security men and 21 civilians have been killed in Kashmir.
If push comes to shove and Centre does not budge on 35A, Mufti will have no way but to quit. In fact, no Kashmir-based party can expect to stay relevant if this crucial act is taken away. Neither PDP nor NC nor even smaller parties can afford to relax on this matter. There is already a feverish race to outdo each other on espousing this cause.
If PDP and NC are extremely nervous, BJP, especially its state unit,is in catch 22. BJP is ruling the state for the first time, and if its central leadership is seen as against Article 35A, then it runs the risk of making itself a pariah in J&K. No party, least of all the NC or PDP, would ever be eager to form a government with it. And the dynamics is such that you'd need one Kashmir party to form a government. That perhaps explains why the state BJP is not that vocal.
Secondly, the Valley will protest even more forcefully than how it did in 2016. While the mainstream in Kashmir did not protest Burhan Wani's killing considering him an anti-national, they won't any such thing holding them back this time.
Marginalising the mainstream would not be good news for Delhi as well in the long run as that segment has been the sobering influence.
The fight for 35A is bigger for the mainstream than it's for the separatists who anyway "don't believe" in the Constitution. For the common folk it would be seen as a battle for survival.
Read full article