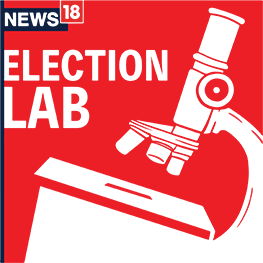 "Ek hawa failti hai ki Modi aayega toh sab theek ho jaayega" PM Modi said at a gathering at the Ramlila Maidan last month. "Modi aayega toh baazi palat denge. Sunne mein achchha lagta hai, lekin aaj main kahna chahta hoon, Modi bhi sangathan ki paidaayish hai." (The feeling is in the air… that if Modi comes everything will be alright. If Modi comes the game will change. It's nice to hear but let me tell you something today, Modi is also a product of the organization.)
Branding is a political tool in India, used across party lines for certain set purposes. But while advertising campaigns are not inherently wrong and welfare schemes are the need of the hour considering that India has 73 million people living in extreme poverty, what's gloomy is the notion that the electorate is looked at as the customer.
Candidates and parties are packaged as products and manifestoes are circulated as packaging labels—although without the mandatory disclaimers.
In Modi's India, or India's Modi if the former sounds a bit too real, 'Modi' is a political brand and so is his persona. Some of this brand has also been carried abroad. And in line with this perception, some of the major schemes launched under the NDA regime carry the name 'Pradhan Mantri'.
To be precise, 18 of them.
Out of these, the biggest schemes are the Jan Dhan scheme—34 crore accounts opened till date, the Awas Yojana where budgetary allocations since 2014 are over 80,000 crores and are expected to further cost 1 lakh in the next 3 years and the Mudra Yojana where lending has been proposed to be increased to 3 lakh crores for 2018-19 as per the latest budget. The reach, therefore, commands the 'Pradhan Mantri' tag and vice versa.
Additionally, Modi has also renamed and/ or repacked a few schemes that existed before 2014 with the tag 'Pradhan Mantri'.
But while branding under the NDA government focused on the PM, when the UPA was in power, they used the tactic to honour the familial legacy of the party.
Out of the 58 central schemes named after eminent persons under the 10-year UPA regime from 2004 to 2014, 16 of them (27%) were named after Rajiv Gandhi or Indira Gandhi. Also noteworthy is the fact that 10 schemes with budgetary allocations of over Rs 2 lakh crore were named after Rajiv Gandhi.
Regional parties too are no different. Freebies, branded with the tag 'Amma' are perhaps the most defining theme of Jayalalithaa's political legacy. The list includes programs like the Amma Unavagam [canteens], food and water supplies like Amma Salt and Amma Water and other products like Amma Laptops, Amma Baby Kits, etc. Amma Call Centers and Amma Pharmacies are a thing too. Also, in most cases, such branding specifically included Jayalalithaa's photographs.
Read all the Latest News, Breaking News and Coronavirus News here