As Delhi Gasps For Breath, Exempted Diesel Gensets Produce a Tonne of Particulate Matter Every 2 Hours
This is the best case scenario as it considers the situation when all DG generator sets in NCR are complying with emission norms.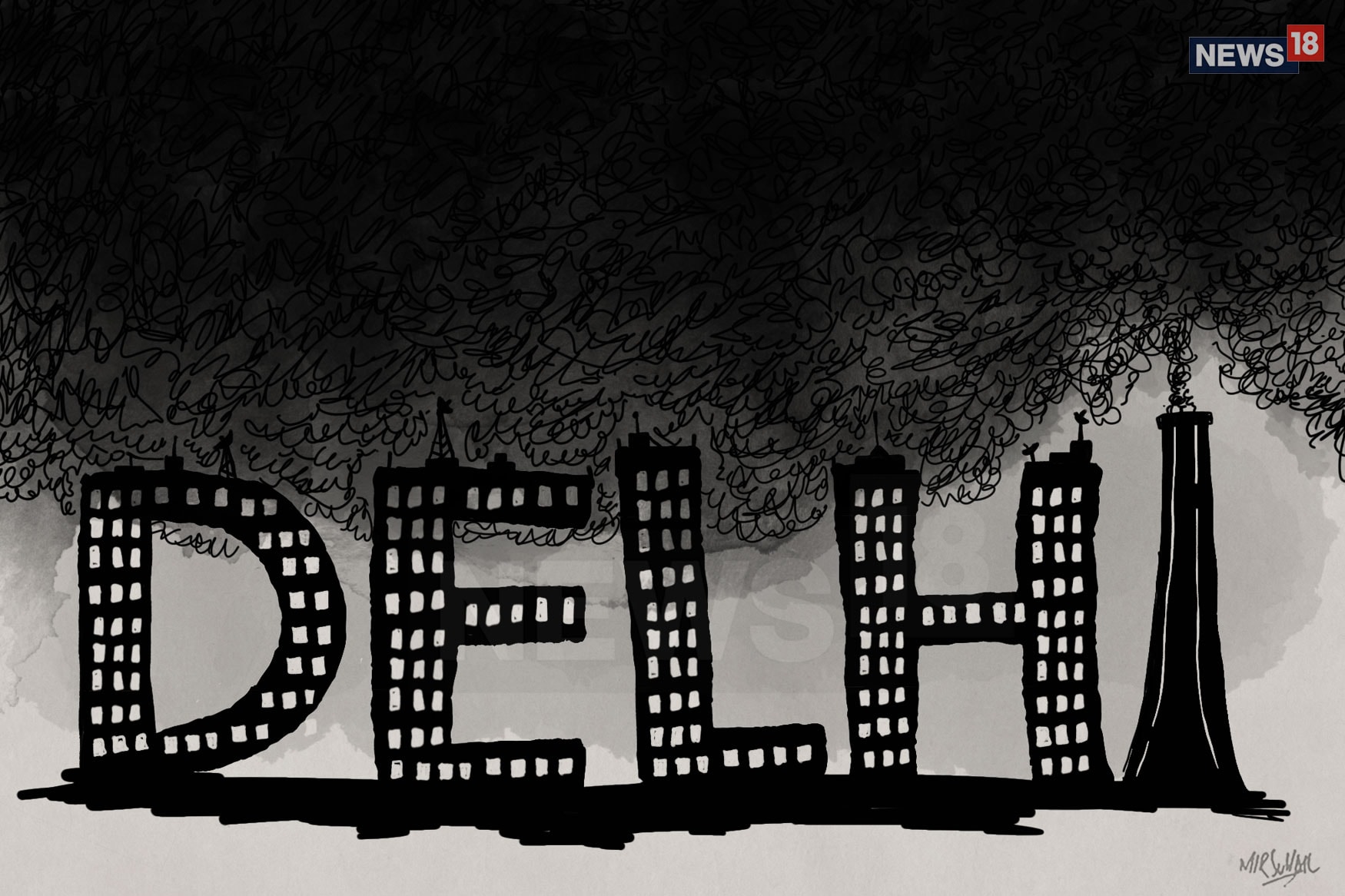 News18 Creative by Mir Suhail
New Delhi: If all the diesel generator (DG) sets, which have been allowed to operate in NCR towns due to "logistical reasons", run for just two hours together, then a total of 1,020 kilogram or a tonne of particulate matter will be generated - and that is the most optimistic scenario.
The analysis conducted by public policy consultancy Chase-India found the installed capacity of DG gen sets was 25.53 lakh KVA in NCR cities – Gurugram (20.91 lakh KVA), Faridabad (92,601 KVA), Noida (3.67 lakh KVA), Ghaziabad (62,080 KVA).
This is effectively the amount of power generation via DG gen sets that the Graded Response Action Plan (GRAP) will not curb. And even if all of these DG gen sets follow the norms set by the Central Pollution Control Board, which is not a certainty, then the total generated particulate matter for two hours would still be a ton.
But the scenario where all DG gen sets in NCR are complying with norms is an impossible one, admit officials.
Chase-India added, "However, it must be noted that these standards are only meant for the manufacturer (when DG is commissioned). There are studies that show that DGs, when in use, emit beyond these acceptable standards. It should be noted that majority of the DGs are not even covered by any standard beyond the point of manufacture."
It also found that a single hospital in Faridabad would produce 11.2 kg of emissions per month, 6.08 kg in Gurugram, 0.96 kg in Noida and Ghaziabad and that total emissions per month for 214 metro stations is likely to be 462.4 kg.
Why were lessons not learnt?
Last year, as Delhi grappled with its annual tradition of dealing with air pollution, the issue of banning DG sets was one of the most contentious ones. The ban stayed in the capital till March 15, 2018 - but by November, EPCA had received 'four' formal requests and several informal ones, including one from the tourism ministry, one from BCCI requesting lights in the Feroz Shah Kotla Stadium, another for the three-day World Food Festival.
On Tuesday, EPCA directed the state Pollution Control Board to ensure uninterrupted power supply across NCR to avoid the use of DG sets in a bid to bring down air pollution.
The problem though, remains that in spite of DG sets contributing significantly to air pollution last year, state governments have not been able to plug the gaps in the ailing power infrastructure. The result: all of Delhi-NCR suffers.
Take for instance, Gurugram, where virtually all of the new sectors in Gurugram (58-115) run on DG sets since the power lines have not been built into the societies yet.
A senior official of the Haryana district administration explained, "The discom claims that there is surplus power, but it is impossible to actually provide uninterrupted power since the power lines are not there. There about 16 developers who cumulatively account for an inadequacy of Rs 944 crore in terms of power infrastructure work."
An official of the Delhi government explained that this was simply not a priority for Haryana.
"We have been in talks with the state government. But for them, this is one city in a much larger state. The issues of power infrastructure are rampant throughout the state, but for Delhi - which rarely, if at all, has power cuts, it means that we suffer during the winters."
Why DG sets are harmful
A study by the Centre for Science and Environment (CSE) published in June 2018 found that PM 2.5 and PM 10 levels, in societies where DG sets operate for several hours a day, increased by 30 percent and 50-100 percent respectively when compared to levels prior to using them.
When DG sets exceeded 8 hours per day, PM levels were high throughout the year.
As per a 2015 study by IIT Kanpur, while diesel gensets alone caused 2% of the pollution - industrial and domestic sources, that often use diesel engines to power their activities, collective contributed to 23% of the pollution, more than that caused by vehicles at 20%.
The Ministry of Health and Family Welfare's 2015 report on air pollution and health issues found that diesel generators contribute to about 16% of total PM2.5 emissions.
It recognised that Particulate Matter (or PM) pollution is a major source of pulmonary diseases, cancer and respiratory disorders. Simply put, when an engine burns diesel - the exhaust has substances that can potentially cause cancer, among other disease.
A deadly cocktail of particulates and gases, many of which including benzene, nitrogen oxide and other particulate matters, are released that have severe risks.
Get the best of News18 delivered to your inbox - subscribe to News18 Daybreak. Follow News18.com on Twitter, Instagram, Facebook, Telegram, TikTok and on YouTube, and stay in the know with what's happening in the world around you – in real time.
| Edited by: Aakarshuk Sarna
Read full article