After Historic Section 377 Verdict, a Look at How People World Over Suffered Due To Anti-Gay Laws
Countless men and women in the past suffered due to the illegal status of homosexuality and prejudiced society.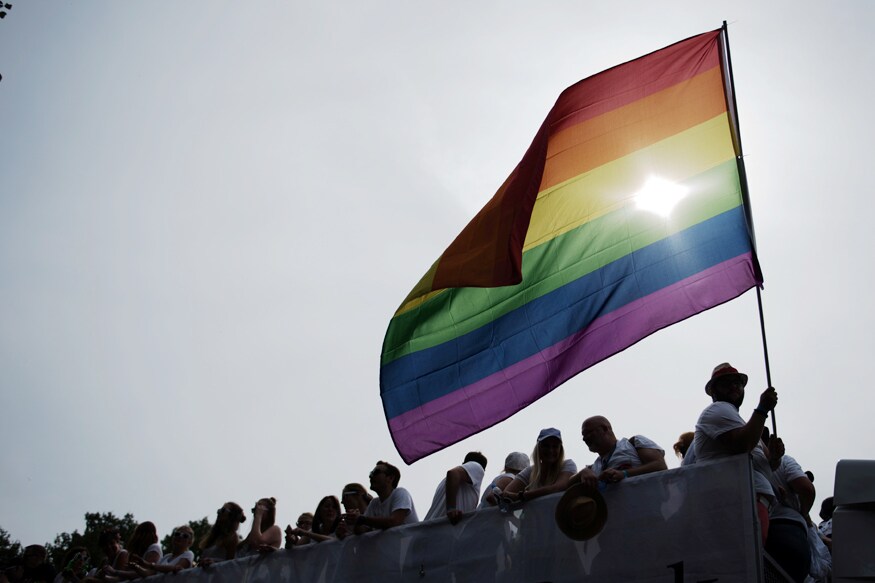 Picture for representation. (Reuters)
New Delhi: The Supreme Court in a historic judgment on Thursday struck down Section 377, a colonial era law that criminalised consensual gay sex, delivering a much-awaited victory to the LGBTQ community and human rights in India.
A British era law, Section 377 had long been a tool to punish homosexuality in India. In Britain itself, homosexuality was decriminalised in 1967. Up until then, gay and bisexual men could face a maximum sentence of life in prison. Countless men and women have suffered world over due to the illegal status of homosexuality and prejudiced society. Here are some who were ostracised for their sexual orientation and were later immortalised for their contributions.
Alan Turing
Alan Turing was a British mathematician, computer scientist, logician and code-beaker who helped turn the tide of the Second World War by deciphering the Enigma machine used for commercial, diplomatic and military communication in Nazi Germany. His algorithms and computation models from the Turing Machine became the basis of a modern day computer and he is considered as the father of theoretical computer science and artificial intelligence.
Turing, however, was prosecuted for homosexual acts in 1952, when homosexuality, which counted as "gross indecency", was a criminal offence in the United Kingdom. To avoid prison, Turing accepted chemical castration treatment. He suffered for three years before he died of cyanide poisoning in 1954, aged 41. An inquest later determined that his death was a suicide, however many have acknowledged the possibility of accidental poisoning.
In 2009, British Prime Minister Gordon Brown made an official public apology on behalf of the British government for "the appalling way he was treated." Queen Elizabeth II granted him a posthumous pardon in 2013 and the Alan Turing Law is now an informal term for a 2017 law in the UK that retroactively pardoned men convicted under historical legislation that criminalised homosexual acts.
Karl Heinrich Ulrichs
Karl Heinrich Ulrichs was a German civil servant who was forced to resign over his homosexuality way back in 1854. Ulrichs worked as a legal advisor for a district court when he was dismissed when his homosexuality came to light. Ulrich went on to declare his homosexuality to friends and family and wrote several essays over homosexuality and the nature of love under a pseudonym. However, he soon shed the pseudonym and started writing and publishing under his real name, an act that is considered the first ever public "coming out" in modern society.
Ulrichs is considered the first gay person to publicly speak out for homosexual rights. He wrote a statement of legal and moral support for men arrested for homosexual offences. In 1867, he pleaded the Congress of German Jurists to repeal anti-homosexuality laws. His pleas were dismissed. Two years later, however, Austrian writer Karl-Maria Kertbeny coined the word "homosexual", and the following years saw sexual orientation become a widely discussed subject. Ulrichs, forgotten for many years, became a cult figure in 1980s when the gay rights movement gathered pace. His efforts in his time have now established him as an enduring pioneer of the gay rights movement.
Harvey Milk
Harvey Milk, born in New York in 1930, was an American politician and the first openly gay elected official in the history of California. He became active in the gay rights movement after moving to San Francisco in 1972.
After two unsuccessful runs, he became the first openly gay person elected to public office when he won a on the San Francisco City Council Board in 1977. Milk spent eleven months in office before he was shot and killed by Dan White, a former City Council supervisor. In his short time at the City Council, Milk was responsible for passing a gay rights ordinance.
Bayard Rustin
Bayard Rustin was an advisor to Martin Luther King Jr. and an openly gay activist during the civil rights movement. He was one of the organisers of the 1963 march on Washington, where King delivered his famous "I have a dream" speech.
He was arrested several times for "open homosexuality" and civil disobedience. Rustin's sexuality and his criminal charge, was even criticized by some fellow civil-rights leaders. Political opponents called him a "pervert" and an "immoral influence".
To avoid such attacks, Rustin was relegated to being a behind-the-scenes advisor and strategist in the civil rights movement and he rarely sreved as a spokesperson. In 1980s, he became a public advocate of homosexual causes, upon being urged to do so by his partner Walter Naegle.
In 1982, the two took an unconventional step to enter legal union, since marriage equality did not exist at the time, and Rustin adopted Naegle, 30 years old at the time, to protect their partnership. In 2013, then US president Barack Obama posthumously awarded Rustin the Presidential Medal of Freedom, the highest civilian honour in the United States.
There are countless others who have faced enormous odds and fought gay and lesbian rights over the years. Some of them include Audrey Lorde, a black lesbian poet, and Barbara Gittings, prominent American LGBTQ rights activist.
Get the best of News18 delivered to your inbox - subscribe to News18 Daybreak. Follow News18.com on Twitter, Instagram, Facebook, TikTok and on YouTube, and stay in the know with what's happening in the world around you – in real time.
Subscribe to Moneycontrol Pro and gain access to curated markets data, trading recommendations, equity analysis, investment ideas, insights from market gurus and much more. Get Moneycontrol PRO for 1 year at price of 3 months. Use code FREEDOM.
Read full article