With 77 Cases So Far, Leptospirosis Threat Looms Over Kerala After Floods
With flood waters receding and Kerala slowly getting back up, tackling the threat of epidemic is the next task at hand.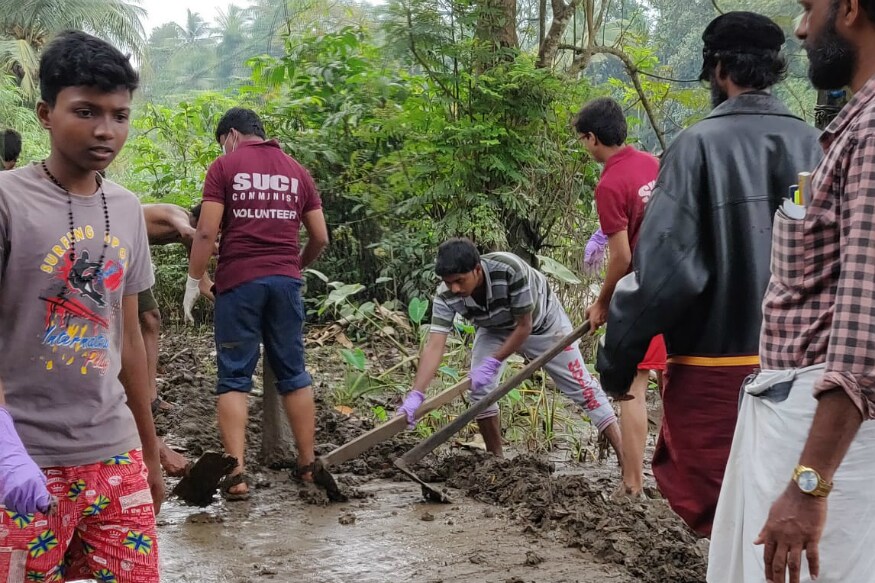 Clean-up operation underway in Kuttanad as Kerala focusses on eliminating the threat of epidemic.
Thiruvananthapuram: On August 28, a notice issued by the state health department said that any type of fever must be immediately checked for leptospirosis.
While there was quite a frenzy around the notice issued, health minister KK Shailaja, however, said it's all part of the government's plan to contain an outbreak of any sorts. "We always have this fear of Leptospirosis during monsoons every year. And every year, we take due notice of it except that this year there has to be a more intensified approach," she said.
A man who died in Malappuram on Sunday is suspected to have been suffering from the disease. On Tuesday alone, 35 suspected cases were admitted in various hospitals. The total number of people who have been admitted with suspected leptospirosis has touched 77. Most of those affected are in the Kozhikode district, which had witnessed the deadly Nipah outbreak a few months ago.
Leptospirosis is a bacterial infection which is spread through the urine of dogs, rodents and other animals. Symptoms include fever, headache, body pain and redness in the eyes.
Leptospirosis is the "only epidemic-prone infection which can be transmitted directly from contaminated water", as per the WHO and India has had an experience with the disease in 1999, when it spread in three districts of Odisha. "Leptospirosis is a vicious circle. The disease is difficult to diagnose on clinical grounds, a consequent misdiagnosis leads to under-reporting and lack of awareness, which in turn increases the chance on misdiagnosis," the WHO report had warned at that time.
After more than 400 deaths and destruction worth crores to livelihoods and properties, flood-ravaged Kerala is slowly and steadily getting back up on its feet, with water receding in most parts of the state. Shailaja, however, said that's where the problem starts with regards to the health department.
"We saw that in other countries that have dealt with floods, health problems start to crop up once the water recedes. And one of the major problems then is an epidemic. So, we charted out a 30-day micro plan," she told News18.
She met with other state government officials on August 14 and charted what would become the 30-day micro plan for Kerala to fight a health crisis, if it came to that. All types of diseases were considered, she added, be it vector-borne diseases or water-borne diseases.
The health director's office in the state capital was the epicentre for all communication and simultaneously a call centre, too, was set up to address distress calls and the department ensured that every district had one control room. "Every morning, discussions would take place and instructions would be given out. In the evening, there would be a follow-up and plan charted out for the next days," the minister said.
According to Shailaja, the Kerala Medical Services Corporation, a government-owned company for providing health services to various institutions, stocked up medicines worth Rs 50 lakh, which was eventually distributed to various flood-relief camps across the state. The next task, she added, was to ensure doctors everywhere. "We also set up health camps and asked people to help us with the same," she said. A relief camp in Chengannur, for instance, had a health camp set up by Ayurveda doctors.
"Doctors and nurses from other states also came to our help. We did get in touch with them and as soon the flood waters started receding, many state governments got in touch with us. Tamil Nadu health minister and Maharashtra health minister got in touch and told us that they are sending a team from their end too," she further said.
Now the biggest problem at hand, she added, was that people had started going back to their houses and the water was contaminated. "We knew this would happen. So, we gathered chlorine from wherever we could. We also collected tonnes of bleaching powder from other states and we have started giving it out to people in homes. We also have stock of chlorine tables and liquid chlorine. The cleaning process is going on simultaneously," the minister said.
Necessary instructions on stepping out in mud or into flooded areas have also been given out, lakhs of leaflets have been printed to educate the residents on how to use chlorine and how to take the medicines, she added.
But does she think there would be or is an existing shortage of medicines, despite the major efforts of procurement from everywhere? "We thought there would be a shortage of insulin but then we got in touch with all states and got insulin stocked up. There was also a chance of running out of oxygen (masks and cylinders). So, we got in touch with authorities in Hyderabad and got them procured. We are not leaving anything to chance or waiting for something to get over. If it's not there in a particular district, we'll get it there as soon as possible," she added.
That said, Kerala has seen cases of health-related deaths. There was one death reported from Thrissur because of Leptospirosis. Shailaja told News18 the death was investigated and it was found that the man had not taken the tablet given to him for preventing leptospirosis, doxycycline. "There is very little one can do in such a case. We handed the medicine and are telling people how to take it," she said.
Similarly, there have been six cases of chickenpox, but all in different areas. "As and when we find cases of communicable diseases, we move the patient to an isolation camp," she added.
This is the second biggest health challenge that the state has had to deal with in just a short span of four months. During the Nipah outbreak earlier this year, the state was on a war footing to contain the outbreak. The state went on to identify source of the virus.
Another lesson in health, according to Shailaja, was the Okhi cyclone. The department was not only dealing with physical injuries but also with mental stress. News18 had, last week, reported on how the government plans to get psychologists and counsellors to help the victims this time after the floods. That, Shailaja said, is taking shape now. Additionally, there have cases of suicides too.
"During Okhi, we had team of psychologists and doctors from National Health Mission and also from the social justice department. This time around too, we got in touch with other agencies and private individuals who would want to help us in this task. They will now start going to homes and talking to people to engage with them," she said.
| Edited by: Nitya Thirumalai
Read full article