As Parliament Readies to Discuss Anti-Trafficking Bill, Here's Why it Should be Passed at the Earliest
Human-trafficking is the worst violation of human rights and the third largest organised crime after drugs and the arms trade across the globe. The problem of trafficking is particularly prevalent in India since it is a source, destination and transit country for victims of trafficking.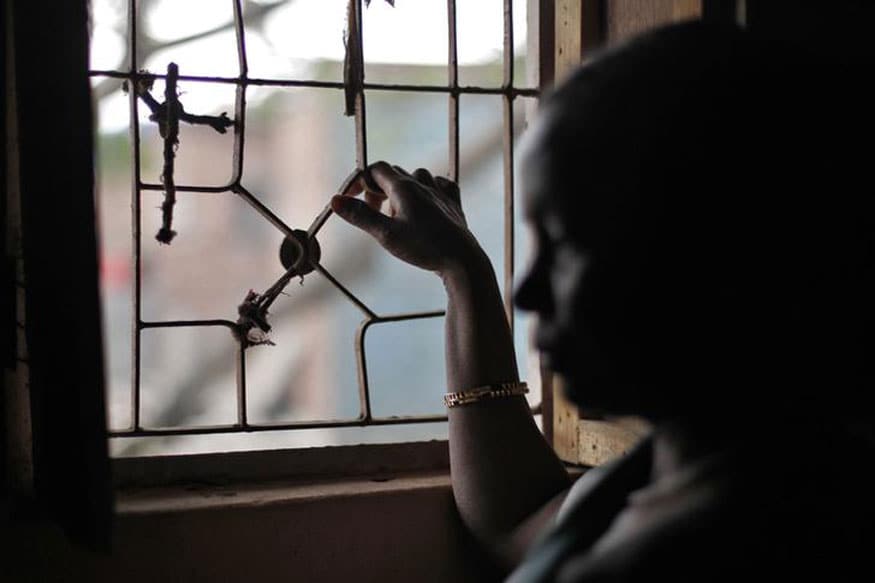 Representative image: Reuters
New Delhi: "I was burnt with cigarette butts when I refused to entertain customers," Raagini (name changed), a human trafficking survivor from Andhra Pradesh, recalls her haunting tale of sexual exploitation and appeals vehemently, along with nine other trafficked victims, to the nation's lawmakers for early passage of a robust anti-trafficking bill.
Raagini's was raped by her lover and sold to a brothel by her brother-in-law. "There is no escaping from it," she says. "You only get out from there when there is a police raid or you catch AIDS."
Even then, there is a mental draining of loss of self and dignity as "we sex workers are persecuted and the real criminals (human traffickers) enjoy their life."
Why the anti-trafficking Bill is an absolute essential
Human-trafficking is the worst violation of human rights and the third largest organised crime after drugs and the arms trade across the globe. Men and women, including children, continue to be vulnerable to human trafficking for domestic work, forced labour, forced marriage and sexual slavery. The problem of trafficking is particularly prevalent in India since it is a source, destination and transit country for victims of trafficking.
According to the National Crime Records Bureau (NCRB), the human trafficking cases reported across India increased by almost 20 per cent in 2016 against the previous year, to 8,132 cases. West Bengal accounts for the highest number of such cases - comprising 44 per cent of the national total - followed by Rajasthan, which adds up to 17.9 per cent cases in the country.
A total of 15,379 victims of human-trafficking were registered in 2016, out of which over 60 per cent were minors.
The report also mentions that a total of 2,90,439 people had gone missing in 2016 alone, which could be another indicator for human trafficking. Moreover, till 2016, over one lakh children (1,11,569) went missing, and an almost one-half (55,625) of them remain untraced.
Another victim from Tamil Nadu, Surya Prakash's story is a classic case of bonded labour: a family with low income and a man's promise for a better payment elsewhere. Prakash was trafficked to Nasil in Maharashtra into the textile industry where he slogged 18-long hours without any break. He wasn't even allowed to contact his father for four years, who thought he was in Madhya Pradesh working in a sweet shop.
Another big area of concern is the gender skewing of the trafficked people. A staggering 66 per cent of the victims of human trafficking were female of which 45 per cent of them were trafficked for labour and another 33 per cent for sexual exploitation.
However, experts estimate a much higher number, as it remains a grossly underreported crime, largely because they did not know the law or feared traffickers.
Aahana (name changed), a resident of West Bengal's North 24 Parganas district, who was first pushed into a dancing/orchestra and then sexually exploited, is one among 70 of the 121 survivors who have formed an anti-trafficking body called Utthan.
"One major problem is trafficking into a different state," she says. "I was trafficked to Mumbai where the police didn't register my case asking me to file one in my home state (Kolkata); in Kolkata, police wanted to know where did the incident take place. Moreover, it takes time for the rescued victims to reach home and even after that, they are forever stigmatised — my family refused to eat with me and I wasn't allowed to draw water from the village tubewell."
About the Bill
The Trafficking of Persons (Prevention, Protection and Rehabilitation) Bill was introduced in the monsoon session of the Lok Sabha on July 18, 2018 by Maneka Gandhi, the Minister for Women and Child Development, and is scheduled for discussion on July 23 in the Parliament.
The new proposed legislation covers all aspects of human trafficking—prevention, rescue, rehabilitation — including aggravated forms of trafficking like forced labour, begging, administering chemical substances and hormones for early sexual maturity, forced marriage, etc.
"The administration of chemical substance is often used to make very young girls reach early puberty and be pushed into prostitution. To ensure that penal provisions act as strong deterrents, punishment ranges from minimum rigorous imprisonment of 10 years to life and fine not less than Rs 1 lakh, depending on the aggressiveness of the offense," said PM Nair, Chair Professor, Tata Institute of Social Sciences (TISS).
It provides for prosecution of promoting or facilitating trafficking of a person which includes producing, printing, issuing or distributing unissued, tampered or fake certificates, registration or stickers as proof of compliance with government requirements; or commits fraud for procuring or facilitating the acquisition of clearances and necessary documents from government agencies.
The Bill provides for designated Courts for fast-tracking trials and timely repatriation of foreign victims within a period of one year from taking into cognisance. It also has a provision for seizing the property of the traffickers (even in international locations) considering the global nature of the crime.
The Opposing Force
A coalition of various stakeholders, including some social workers, sex workers, lawyers, child rights and trans rights activists, have, recently, spoken out against the anti-trafficking bill, and requested that the Bill be presented before a parliamentary standing committee instead of being passed in its current form.
They claimed that the Bill, which aspires to make India a leader in the fight against trafficking in South Asia — one of the world's fastest-growing regions for forced labour, begging and forced marriage — treat victims of human trafficking on par with adult persons in sex work, i.e. it takes away the autonomy and agency of consenting sex workers.
Moreover, under the proposed Bill, victims would be forced to return to their hometown to rehabilitation homes run by the government and other voluntary agencies. The victims incarcerated in homes would also be separated from minor children and the Bill doesn't address their right to be reunited with their family.
"The offence of human trafficking targets every person irrespective of their gender, age, economic status etc. The Trafficking Bill, 2018 addresses all genders, including transgenders," said Nair, who was a part of the committee that drafted the Bill. "However, if the victim or any person rescued is an adult, they can voluntarily make an application, supported by an affidavit for their release to the Magistrate within the local limits of whose jurisdiction they were trafficked or suspected to be trafficked."
Further, the Trafficking of Persons (Prevention, Protection and Rehabilitation) Bill has undergone approximately 12-13 iterations in the last 18-19 months of its inception where the opinion of all the stakeholders was heard when it was put out for public consultation. The activists advocating for the Bill question the timing of the protest.
Get the best of News18 delivered to your inbox - subscribe to News18 Daybreak. Follow News18.com on Twitter, Instagram, Facebook, Telegram, TikTok and on YouTube, and stay in the know with what's happening in the world around you – in real time.
Read full article