As Troubles in EPS-OPS Camps Come to the Fore Again, BJP Maintains its Distance
After returning from Delhi last night, O Panneerselvam said: "As leader Anna said, I have the strength to handle anything."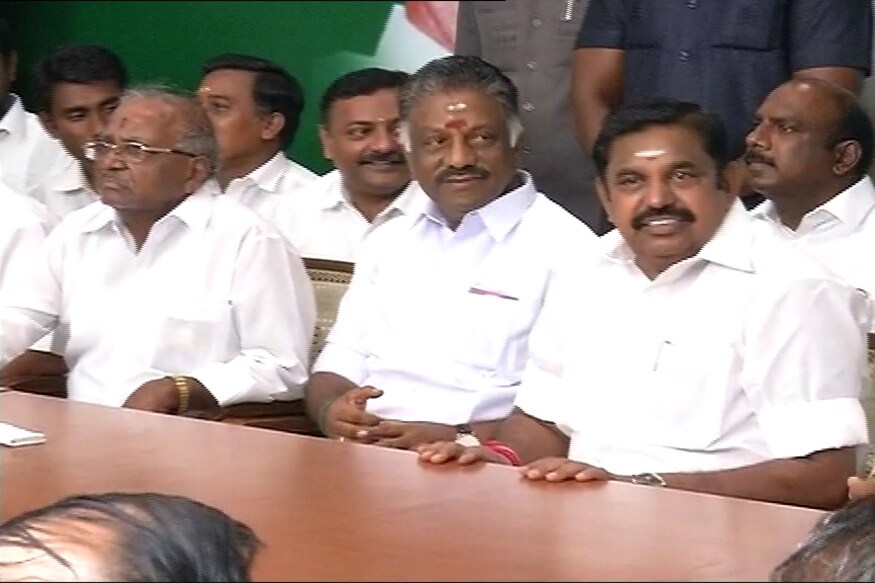 File photo of Tamil Nadu Chief Minister E Palaniswami and his deputy O Panneerselvam ( TV Grab).
New Delhi: O Panneerselvam, deputy chief minister of Tamil Nadu, was in Delhi on Tuesday to meet Nirmala Sitharaman. Before leaving for the South block, OPS addressed the media and said he is meeting the Defence Minister on a personal note and it is not a political visit. He added that he is meeting her to thank her for arranging an air ambulance for his brother to be flown form Madurai to Chennai.
Nirmala Sitharaman, who is increasingly being seen as the BJP's face handling the southern affairs after Venkaiah Naidu became the VP, was quick to take to Twitter to clarify. She tweeted: "Appointment was given to Shri V. Maitreyan, MP Rajya Sabha. Deputy CM of Tamil Nadu, Shri O. Panneerselvam has not met Smt @nsitharaman @OfficeOfOPS @maitreyan1955."
The message from the BJP leadership to camp OPS was clear that the party wouldn't want to be seen siding with either of the two factions. The BJP sources say that having burnt its fingers once when OPS made a statement in public that it was because of PM Narendra Modi he became the Deputy CM, they don't want to meddle with a deeply divided AIADMK.
Sources also say that the party knows how it has to do a tightrope walk and tread very carefully in a swing state such as Tamil Nadu, which sends 39 MPs to the Parliament. At a time when MK Stalin is trying to send a message that the UPA is intact, the party is waiting and watching the political developments.
After returning from Delhi last night, O Panneerselvam said: "As leader Anna said, I have the strength to handle anything."
Sources from the OPS camp say the deputy Chief Minister is hurt and angry. The camp added that they will never form an alliance with the BJP after what happened yesterday. They said that Panneerselvam press conference ahead of the meet turned against him.
Interestingly, two ministers from the EPS camp - SP velumani and Thangamani are in Delhi to meet central ministers. They however ruled out a rift between the EPS-OPS camp. But the rift between the two camps seem evident with OPS travelling to Delhi to meet a minister followed by two ministers from the EPS camp travelling to Delhi a day later. Many within the merged AIADMK claim that all is not well between the two factions.
Get the best of News18 delivered to your inbox - subscribe to News18 Daybreak. Follow News18.com on Twitter, Instagram, Facebook, Telegram, TikTok and on YouTube, and stay in the know with what's happening in the world around you – in real time.
| Edited by: Ashutosh Tripathi
Read full article