In the Name of Faith: Asaram's Riches and the Reign of Fear
Wealth received as donation, were multiplied many times by investing them in shady deals, giving loans at ungodly rate of interest and acquiring land by force.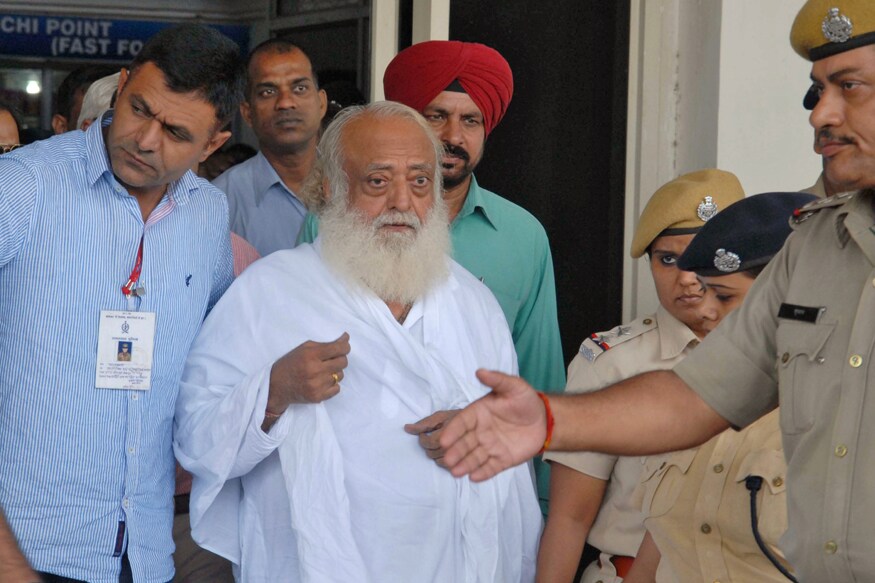 Police escort spiritual leader Asaram Bapu (C) outside an airport after his arrest in Jodhpur (File photo: Reuters)
"I saw her being brought in a car. She was taken inside Asaram's room. Later she came out yelling. It was almost dawn when her sobbing broke the morning peace in the Ashram. She was shouting at Asaram. She called him an animal, a sexual deviant. But soon Asaram and his henchmen came out. She was taken away in a car. The 'baba' soon told us that she was under a spell of black magic, a rival tantric had set her up."
This is the story that Mahinder Chawla tells us about the Ashram. An incident he was eyewitness to when he worked as the personal secretary to Asaram's son Narayan Sai. He worked for him between 2003 and 2005. But later quit in disgust, after seeing the murky world of the self-proclaimed godman.
Mahinder was in search of faith, when a friend recommended him to visit Asaram's
satsang
. Impressed by his words, Mahinder soon joined the cult. He rose through the rank to become a close aide of Asaram and his son.
But the proximity made him realise that his god was actually human. He says, "The driver of Narayan Sai would tell me how they would get women for him in the middle of the night. I too had seen him in objectionable position with women. When I tried to raise my voice, I was told this is how things always were."
This is what Asumal Sirumalani's (aka Asaram) is in real life. Those who broke out of the cult say the father-son duo preyed on the young female disciples.
The Jodhpur case is only one of the various cases of sexual assault that is against them. The head of the Rs 10,000 crore trust and his son Narayan Sai are facing charges of sexual assault in Surat as well.
This time the complainants were two sisters. The elder sister claims that she was raped by Asaram's son Narayan Sai and the younger sister pins the blame on the self-proclaimed godman himself.
Asaram's wife Lakshmi Devi and daughter Bharti Devi have been accused of being complicit in his alleged sexual predation. The young victims claim Asaram's wife and daughter played an active role in supplying young girls to him.
But ever wondered why there was not much of a noise against these crimes before this case?
The Fear Psychosis
The trial began in the Asaram case in December 2013. Since then there have been nine attacks on the witnesses. Three witnesses are dead, one is missing and one witness turned hostile.
Fate of Three Men
Jan 2015:
Thirty-six-year-old Akhil Gupta was shot dead by two men on a motorcycle while walking down to his home in Muzzaffarnagar.
Feb 2015:
Forty-one-year-old Rahul Sachan stabbed on the back that left him partially paralysed.
Nov 2015:
Sachan mysteriously goes missing, no trace till date.
July 2015:
Thirty-five-year-old Kripal Singh, a friend of the Jodhpur victim's family, shot dead in Shahjahanpur.
There was so much fear amongst those involved in the case that the routine life of them were completely thrown off guard.
The father of the Shahjahanpur braveheart told News18, "It appears as if we have been sent to jail and not Asaram. After my daughter complained about him, she cannot go out of her house, in fact, she can't even have her favourite vegetable"
Their friends and relatives have stopped visiting them out of fear. His three children have been forced to give up their normal life. They rarely ever leave home. The father of the girl has been receiving death threats, hate messages and his business has taken a huge hit. "I had four trucks, now I am down to one. I can't even venture out. How will I run my business?" asks the father.
Even the journalists are not spared. Narendra Yadav, a Saharanpur journalist, who wrote over 200 pieces exposing Asaram and his cronies, says, "They made threat calls and asked me to not write about his dark empire." And when he did not heed their words, they attacked him.
Narendra not only wrote about the sexual assault but also about the multi-crore empire of the self-styled godman.
On September 17, 2014, he was returning from his office a little late in the evening. As Narendra was opening his car door, there was a sharp attack on him. He realised his attacker had a sickle and the attacker missed his throat. In the end, it was his bag carrying his water bottle and tiffin which came in the way and he survived the attack.
Mahinder Chawla, who is a witness in all the cases, was attacked too. "They offered me money when I refused, they came with the sarpanch (village headman) and asked me not to depose." But after he testified, the retribution was swift. The former personal assistant to Narayan Sai was attacked by two armed assailants.
He survived the attack but had gunshot injuries. The attack happened on the day his personal security guard was on leave. Today he has round the clock security but still doesn't feel safe.
The Empire
How does Asaram and his cult manage to create such a fear psychosis? This is possible only because of the wealth they had managed to accumulate. According to the estimate of a former close aide of Asaram, who spoke on the condition of anonymity, before he went to jail, his empire was worth Rs 10,000 crore.
Wealth received as donation, were multiplied many times by investing them in shady deals, giving loans at ungodly rate of interest and acquiring land by force. According to Mahinder Chawla, who used to keep Narayan Sai's book at one point of time in 2002, they had floated over Rs 9,000 crore in the market.
He blows the lid on how Asaram was at one point of time one of the biggest moneylenders of the country. "The money was given as loan to the big business men. He also became partner in some of the companies. He took money from the devotees and instead of putting them into good social use, they were invested in shady deals," Mahinder says.
Apart from the money lending operation, the Asaram Trust is also accused of land grab and illegal encroachment.
After the arrests of Asaram and his son Narayan Sai in 2013, the Gujarat government went on a month-long drive to regain government land, which had been encroached upon by Asaram's trust in various cities and towns of Gujarat. While some of the Ashrams are now defunct, at the time of their arrest the trust had over 400 ashrams, gaushalas and schools across 20 states in the country.
Despite overwhelming claims and charges, his trust and followers maintain all these allegations are false.
Yogesh, an Ashram spokesperson, told News18, "People gave
bapuji
land out of their own wish and now their heirs are accusing us of land grabbing. Everything is on paper. How and why would we claim what is not ours."
However, trust and faith may be blind, but law is not. Thus, the father of the Saharanpur braveheart has faith in the law as he says, "
Gurmeet Ram Rahim bana, Asaram Bapu bhi Asumal banega
."
Catch the Biggest Newsmakers and the Biggest Newsbreaks on CNN-News18, your favourite English TV news channel. Keep watching CNN-News18 at just 50 Paise per Month. Contact your cable /DTH operator Now!
*Rental / capacity fee of Rs.130/- as charged by cable / DTH operator may apply. **GST extra.


| Edited by: Sumedha Kirti
Read full article
Countdown To
Elections Results
To Assembly Elections 2018 Results