Asian Games 2014, Day 13: Double delight with men's hockey and women's relay gold
India ended its 16-year wait for men's hockey gold by beating Pakistan in the final, while the women's 4x400 relay gold brought India back at No. 9 on the medals tally.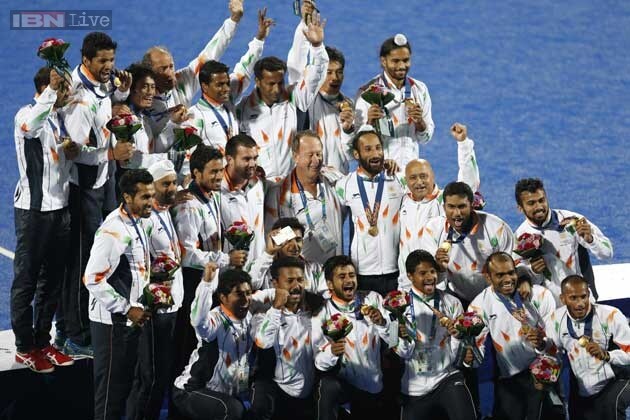 India ended its 16-year wait for men's hockey gold by beating Pakistan in the final, while the women's 4x400 relay gold brought India back at No. 9 on the medals tally.
Indian hockey gave the world a timely reminder on Thursday to not count them out yet as the men from the land of hockey beat Pakistan in nervy penalty shootout to win the Asian Games gold after 16 years. And minutes later the women's 4x400m relay team delivered the ninth gold that took India back into top 10 on the medals tally.
With a total of 55 medals, including 9 gold, 9 silver and 37 bronze, India now stand 9th in the overall medals tally.
It was a memorable day for Indian hockey, but the memories to cherish were delivered in an edge-of-the seat final against Pakistan, strictly not for the faint-hearted.
After the re-designed regulation period of 60 min ended in a 1-1 deadlock, India went on to score in four of their five attempts in penalty shootout, where Pakistan could score just twice against India's star goalkeeper PR Sreejesh.
Mohammad Rizwan Sr scored for Pakistan just three minutes into the game and it remained so at the end of first quarter of 15 minutes. India came back through Kothajit Singh who scored the equaliser in the 26th min, as the teams went into half-time locked at 1-1.
The remaining two quarters failed to decide the winner, forcing the game into a panelty shootout. With this win, India also earned a direct qualification for the 2016 Rio Olympics. India had last won Asian Games gold in 1998, where they beat South Korea on penalties.
Meanwhile, India successfully defended their women's 4X400 metres relay title by clinching the second gold on Thursday. Priyanka Panwar, Tintu Luka, Mandeep Kaur and M Poovamma set a Games Record with a timing of 3 minutes and 28.68 seconds at the Incheon Asiad Main Stadium.
The Japanese team of Aoyama Seika, Matsumoto Nanako, Ichikawa Kana and Chiba Asami set a season's best time of 3:30.8 to take home the silver while China's Li Manyuan, Wang Huan, Chen Jingwen and Cheng Chong clinched the bronze (3:32.02).
Indian boxers ended their campaign at the 17th Asian Games with five medals as Vikash Krishan and Satish Kumar settled for bronze medals after losing their semi-final bouts against respective opponents.
However, India's performance graph deteriorated from the last edition in Guangzhou, where they won nine medals including two gold, three silver and four bronze.
This time it was gold from the legendary MC Mary Kom and four bronze medals won by L Sarita Devi, Pooja Rani, Vikas and Satish.
Vikas, a gold medallist in the last edition in Guangzhou, lost against current World Champion Zhanibek Alimkhanuly of Kazakhstan by split verdict of 2-1 in the middleweight (75 kg) category. Satish, on the otherhand was no match for 6-feet-9-inch Kazakh giant Ivan Dychko, who won with a clear 3-0 verdict in all the rounds.
India clinched it's last medal of the day through Inderjeet Singh, who won a bronze in the men's shot put final. Saudi Arabia's Sultan Abdulmajeed Alhebshi won the gold with a best throw of 19.99 metres while Chinese Taipei's Chang Ming Huang took the silver with 19.97m. Inderjeet's best attempt of 19.63m came on his fifth try out of six.
Overwhelming Asian Games kabaddi champions India are just one match away from retaining the titles in both men's and women's draw.
The men defeated South Korea 36-25 in the semi-final of on Thursday and made it to their seventh consecutive final. India will now face the 2010 Asiad silver medallists Iran, who beat Pakistan 25-14 in the second semi-final.
In women's kabaddi, defending champion India stayed on course for their second consecutive Asiad gold medal as they marched into the final, beating Thailand 41-28 in the semi-final. India women will now be facing Iran, who thrashed Bangladesh 40-15 in the other semi-final.
Indian women paddlers Manika Batra and Ankita Das lost their respective matches and were knocked out of the women's singles table tennis event.
Manika was blanked 0-4 (9-11, 6-11, 7-11, 8-11) in the pre-quarterfinal by Japan's Kasumi Ishikawa while Ankita was shown the door 2-4 (8-11, 5-11, 11-4, 7-11, 11-9, 4-11) in the second round by Hong Kong's NG Wing Nam.
India's taekwondo players had another bad day in office as none among the men and women in fray could make it to the medal rounds.
Saurav lost in the men's 63kg quarter-final to Afghanistan's Abasi Ahmad Roman's 4-5. In the round of 16, Saurav had beaten Sujan Joshi 8-5 at Ganghwa Dolmens Gymnasium. In the men's 68 kg, Shiv Kumar lost to Alasmari Ghazi Mushabbab of Saudi Arabia 7-11.
In the women's 62 kg event, Assam girl Rekha Ranee Gogoi was thrashed by Chia Chia Chuang of Chinese Taipei 0-15 in a quarter-final bout. India's Shreya Singh gave a tough fight before being pipped 6-7 by host nation's Wonjin Lee in the women's 67 kg event.
It turned out to be a mixed day for India in volleyball as the men's team defeated Thailand 3-1 in the 5th-8th place classification match after the women suffered a 0-3 reverse to Hong Kong to finish 8th in the competition.
Read full article