GET Stock

Quotes


'Concern of Courts Genuine. But Assumption That Muslim Women are Denied Justice Not Correct'
News18's Eram Agha speaks to Mahmood Madani, general secretary of Jamiat-e-Ulema Hind, one of the largest Muslim organisations in India, about the polarising debate.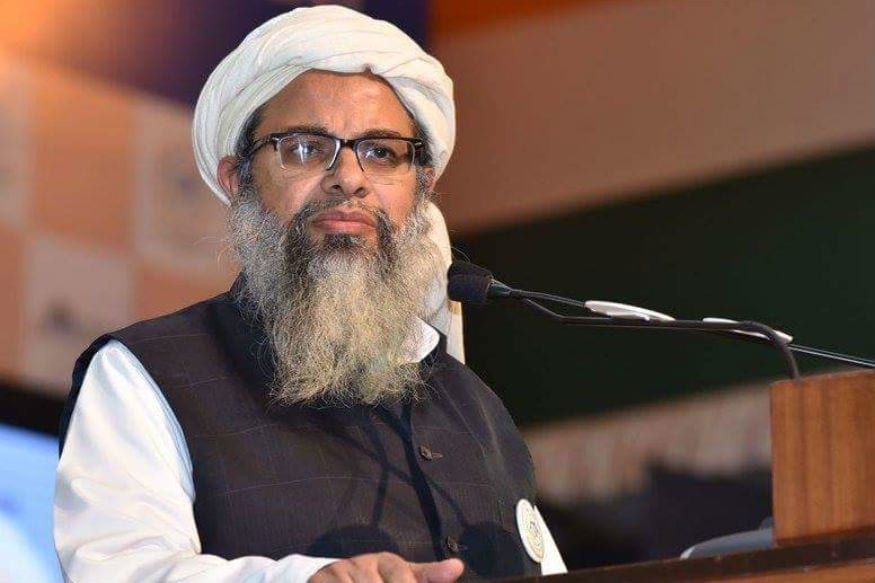 Mahmood Madani is the general secretary of Jamiat-e-Ulema Hind, one of the largest Muslim organisations in India.
Triple talaq and Uniform Civil Code are two contentious issues that the Sangh Parivar has been accused of taking political mileage of every now and then. Last week, Law Commission chairman Justice (Retd) Balbir Singh Chauhan told News18 in an exclusive interview that he was sending out a questionnaire to seek public comments on adopting a Uniform Civil Code. A few days later, the BJP-led central government filed an affidavit in the Supreme Court terming the practice of triple talaq unconstitutional. Predictably, both the steps have the Muslim clergy up in arms and the All India Muslim Personal Law Board has directly accused Prime Minister Narendra Modi of digging up these issues for electoral dividends.
News18's Eram Agha speaks to Mahmood Madani, general secretary of Jamiat-e-Ulema Hind, one of the largest Muslim organisations in India, about the polarising debate.
Do you feel the Narendra Modi government is politicising the issue?

There are political intentions behind the Law Commission questionnaire on Uniform Civil Code (UCC) and the affidavit on triple talaq. The intentions are wrong, which is why the Board and other Muslim outfits like us boycott it. We believe that the way in which the questionnaire has been prepared, the kind of questions that have been listed and the way they have been mentioned tells volumes about their intentions. The overall spirit of the document is not in adherence to the principles of understanding but it is about passing judgement.
What do you think? The issue is being raked up now with the Uttar Pradesh polls in mind or as part of a larger Hindutva agenda?
Both. It is being raked up so that the benefits can be reaped in Uttar Pradesh elections. The other motive is also there (yeh bhi ho jayega aur election me bhi fayda). Only time will tell the effect of the issue in polls, they have failed in real issues and are now taking an easy route by these things.
ALSO READ: Triple Talaq Not to be Linked to Uniform Civil Code: Venkaiah Naidu
The government has submitted an affidavit in Supreme Court saying triple talaq is unconstitutional. And in fact, if the court too agrees it violates basic principles of Constitution, there is very little any Muslim organisation or leader can do, no? Do you foresee such a situation?

It is too early to comment on this situation. But we are working on it. Time will tell if court agrees with us or not but when we go to court we will present our case on the grounds of diversity of India. There are many religions, cultures and traditions practised in India. The makers of modern India kept all of that in mind and not just kept Muslims but also the small minority of Nagas in mind (with regard to personal laws). Sentiments of all communities were kept in mind.
Many community leaders, including those of the AIMPLB, have said Sharia is beyond the purview of the Supreme Court. Do you think so? How can this dilemma be fixed?
I don't believe in this "Shariah over SC" debate. There is no competition between court and sharia. This competition is not needed, I understand what the court is thinking with regards to practices prevalent in the society. Their concern is genuine and I agree with it. But what is wrong is the treatment of the problem. The court has assumed that Muslim women are denied justice. This is not correct. Islam has given equal rights to women. It is in line with the concept of gender justice, but what is not happening is the implementation of that principle enshrined in Islam. To counter that problem we cannot leave Islam. What can be done is work towards it in the society.
Muslim women organisations have demanded ban on triple talaq as practised in India, and cited examples of other Muslim countries like Pakistan on how they could rein in the evil of this instant oral and unilateral divorce when India could not. Why?
We are not the followers of any country. Our faith is not imported from any other country. The interpretation of Islam done by ulemas (clergy) of India is the best for the pluralistic society. The others changed things in their political circumstances, we can't be their followers. I am not for any such change (tabdeeli) that shows the influence of Pakistan.
Also Watch
| Edited by: Nitya Thirumalai
Read full article