At This Polling Station Near Srinagar, Even Little Kids Turned up to Vote Despite Militant Threats
About 35 per cent of the voters cast their vote in Sumbal Municipality, the highest turnout in Kashmir. But the children were told that they can cast vote only after 4 pm, that is the closing time.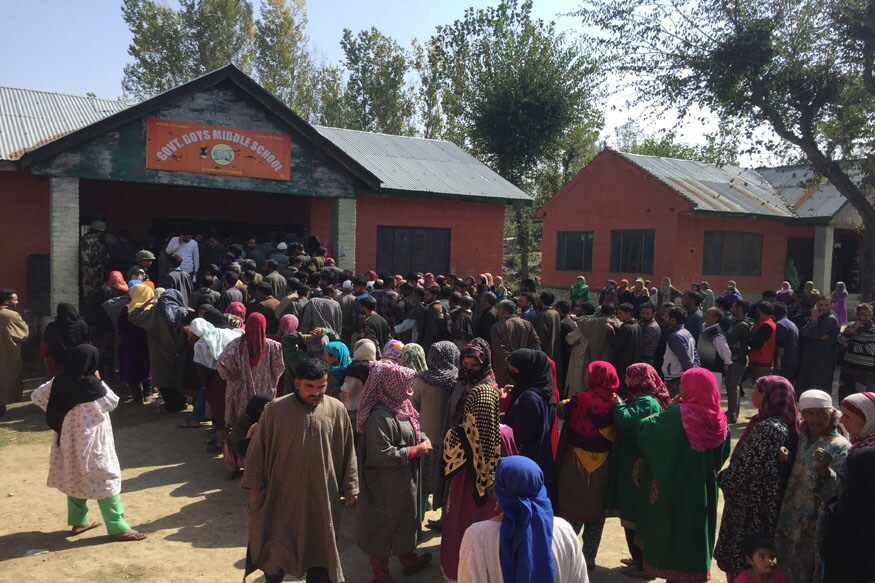 Voters form a queue in Kashmir's Inderkoot village. (Image: Aakash Hassan)
Sumbal:
After every few steps, Fazi stops to catch her breath. Aged 90, she needs the help of her 40-year-old grandson Ali Mohammad to walk towards the polling booth. She doesn't recall how many times she has voted in the past, but says she hardly ever missed an election.
Twenty-five kilometres north of Jammu and Kashmir's summer capital Srinagar, where most of the polling booths remained mostly empty, Fazi's village Inderkoot — like her — was an exception.
About 35 per cent of the voters cast their vote in Sumbal Municipality—the highest turnout in Kashmir—while the average voting percentage remained minimal at around 8 per cent.
The lowest turnout was reported from south Kashmir's Anantnag where 1.14 per cent votes were cast. In Srinagar, some polling stations had no voters, others had below 5% turnout.
The voting process began in Kashmir at 6 am, before sunrise. In Inderkoot, wearing Feran - the traditional woollen gown – and bearing cold, men flocked towards polling station, put in a government school.
By sunrise, women also joined and queues were formed. The scenes were in contrast with other parts of the Valley where polling booths were desolate.
In Jammu and Kashmir, the civic polls are being held under tight security after a gap of thirteen years. The government has rushed additional 400 companies of paramilitary troops.
Militants have threatened candidates. Two major political parties of the state—Peoples Democratic Party (PDP) and National Conference (NC)—are on boycott over the demand to safeguard articles 35A and 370.
When Fiza reached the polling booth she was given way through by the people standing in rows since hours.
She returned from polling booth excited but gasping.
"There are so many people and the document work is hectic," said Fiza, while settling down on a wooden log. She says: "I voted for the candidate who is also my relative but (Electronic Voting) Machine is confusing. I don't know if I pressed the right button."
She cups her loose-skinned, frail hands and murmurs prayers for her relative who is contesting elections.
"I wish our village remains peaceful and all the youth get jobs," she said adding, "That is possible by voting."
Everyone in her family—including her two sons, their wives and her four grandchildren—voted in the elections.
Ali Mohammad, her grandson believes that these elections have nothing to do with the politics. "We have to elect people who will look at the development. They will construct roads and drains and will provide us with electricity. So we must vote," said Ali.
Three polling booths—Ward 9, 10 and 11—were put in the school building of Inderkoot. People were jostling in the queues. They believe the reason behind the overwhelming participation in this election is the competition between local candidates.
"Competition has started between the villagers over the candidates," said Ghulam Nabi. "Everyone wants his relative or the candidate from their clan to win. That is one of the major reason people don't want to stay at home here."
Paramilitaries and local police including the Army had spread around the polling booth, circled by barbed wires. Even the children of the village had gathered around and were playing with the local policemen.
"Even these children are excited to vote. But I have told them that they can cast only after 4 pm, that is the closing time," said a senior police official who was taking pictures with around two dozen local kids.
Two candidates each are contesting from the three wards.
Shabir Ahmad Rather, 33, is the popular candidate in the village. Rather, who is contesting independently, says he was a social worker.
"I have been working for the welfare of people and have been organizing a number of blood donation camps and donated nearly 30pints of blood personally," he claims.
With no political background, he says, it was because of the previous works that his friends "compelled" him to contest the elections.
Another candidate, Mohammad Yaqoob of Congress, says his reason behind contesting election is the "increasing influence of BJP."
He alleged that some villagers have been bribed by the BJP candidate, the allegation which was refuted by the party.
Yaqoob says boycotting the polls is "bigger sin" and part of "BJP strategy". "They (BJP) are happy that other parties have boycotted. It will help them win unopposed," says Yaqoob.
However, some villages alleged that one of the candidates, Imtiyaz Ahmad, is actually associated with PDP. However, he refused the allegation saying he has nothing to with the party.
The enthusiasm in Inderkoot was so high that some women waiting in the long queues hadn't cooked lunch - like Fata, 50, waiting in the line since two hours.
"After having morning tea my entire family came to vote and I have not cooked the lunch. Staying at home would not have been the right decision," says Fata. "If I will not vote why will my family be helped? It is give and take," she believes.
Inderkoot village is part of Sumbal municipality. This area was a militancy hotbed in 90's which turned into the bastion of Ikhwan—a pro-government militia.
Villagers say they don't feel threatened by the warning of militants and say, they are not doing anything which will harm the "movement".
"These elections are for our local issues. The larger issues have to be solved between India and Pakistan," says Nisar Ahmad who works as a mechanic.
"The candidates will win even if few people vote. But to choose the best person people must come in large number and cast their vote," he says.
On Wednesday, the elections for 27 urban local bodies in the second phase in the areas of south Kashmir, Srinagar and north Kashmir.
The polling was held in Srinagar's 19 wards and 16 wards of south Kashmir's Anantnag municipal council. In north Kashmir, two wards of Langate, one ward in Watergam (Baramulla) and 11 wards of Sumbal (Bandipora) went for the polls.
In the Jammu province, elections were held in seventeen urban local bodies.
In Kashmir division, 270 polling stations were designated for voting and 274 were in Jammu division. 1029 candidates participated on 263 municipal wards, including 49 in Kashmir and 214 in Jammu.
| Edited by: Aakarshuk Sarna
Read full article
Countdown To
Elections Results
To Assembly Elections 2018 Results