'Na Tired, Na Retired' Atal Bihari Vajpayee Leaves Footprints in the Sands of Time
Atal Bihari Vajpayee was perhaps one of the last exponents to have displayed both ideological commitment and flexibility of "real politics" to wade through a complex federal democracy India is.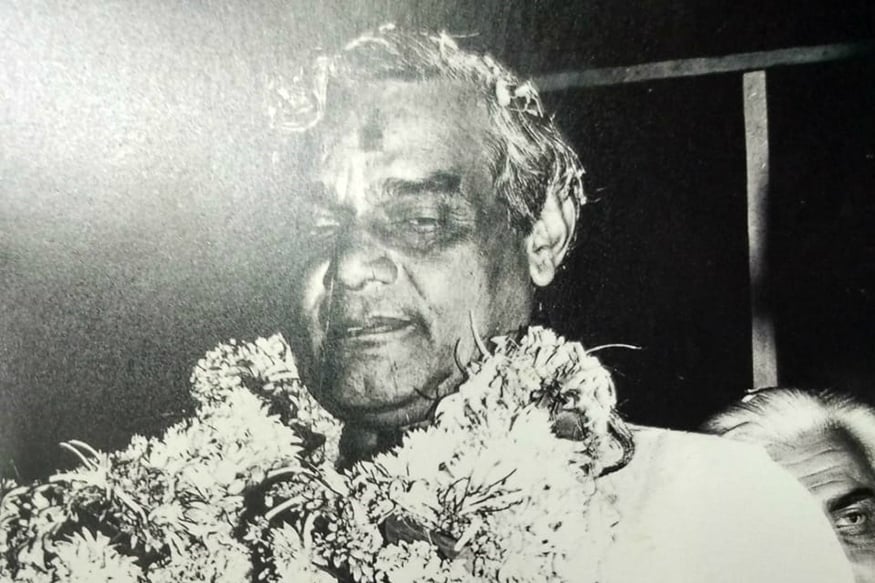 File photo of Atal Bihari Vajpayee. (Image: Special Arrangement)
New Delhi: History, both contemporary and otherwise, has this uncanny knack of rearing its head up in the most unexpected of places and hour. Of all other trappings, it returns to put things in a little perspective.
So one fine winter morning during this Budget Session of Parliament, Leader of Opposition in Rajya Sabha, Ghulam Nabi Azad, irked by repeated interventions, invoked one from the BJP stable to put the House in order. Atal Bihari Vajpayee, he told Parliamentary Affairs Minister Vijay Goel, when sworn in as PM asked veteran BJP leader and Delhi strongman Madan Lal Khurana to apprentice under Azad for three months to learn the tricks for the smooth functioning of the House!
As body politic turns highly polarised, Vajpayee was perhaps one of the last exponents to have displayed both ideological commitment and flexibility of "real politics" to wade through a complex federal democracy India is. That last lot of Parliamentarians who were equally at ease in the hallowed halls of the Parliament House and the rough and tumble of electoral politics—Indrajit Gupta, Chandrashekhar and a few others from that generation would make the cut.
But sustaining oneself for over five decades in national politics is by no means an easy task. You win some elections and you lose some. The challenge, however, is to remain relevant — to survive and fight another day.
The Ram Temple Movement led to the resurgence of the BJP with LK Advani riding the Rath from Somnath to Samastipur. The BJP under Vajpayee in 1984 won 2 Lok Sabha seats. In 1989, its tally swelled to 84. Two years later in mid-term polls, the BJP won 124 seats to emerge as the main opposition party.
Lal Krishna Advani, RSS's poster boy, became the Leader of Opposition. It was perhaps the most trying time for Vajpayee to seek relevance both within and outside the BJP.
The consummate politician in him understood the opportunity to underscore his larger acceptance at a time his own party was taking a hard strident position and he grabbed it with both hands. So while the BJP was an untouchable, Vajpayee from the opposition benches was being picked by PV Narasimha Rao to a lead a delegation to the UN to rebut Pakistan's belligerent position on Kashmir during Benazir Bhutto's first term in office. Then a junior minister for external affairs Salman Khurshid was part of the delegation.
And thus, slowly yet steadily, like a consummate politician, Vajpayee became the right man in the wrong party. A moniker which would do him a world of good as the BJP would search for allies to get the numbers in fragmented Lok Sabha in 1998 and 1999.
But despite developing a brand image for his own self, Vajpayee remained acutely conscious of the institutional bulwark and organisational strength of the ideological fount of the BJP. He had his differences with the RSS but never took them to the point of no return.
Prime Minister Vajpayee had a running battle with some Sangh affiliates like Dattopant Thengdi's Swadeshi Jagaran Manch and Ashok Singh led Vishwa Hindu Parishad (VHP). He conceded on some issues, but remained stoically unperturbed to others.
He would agree to appoint Yashwant Sinha as his Finance Minister instead of Jaswant Singh after that midnight call by RSS General Secretary Madan Das Devi to PM residence. And yet he would ensure the Cabinet Committee of Security and Economic Affairs (CCEA) was dominated by people of his own choice; and friend Brijesh Mishra remained his Principal Secretary and National Security Advisor (NSA) till the end of the term.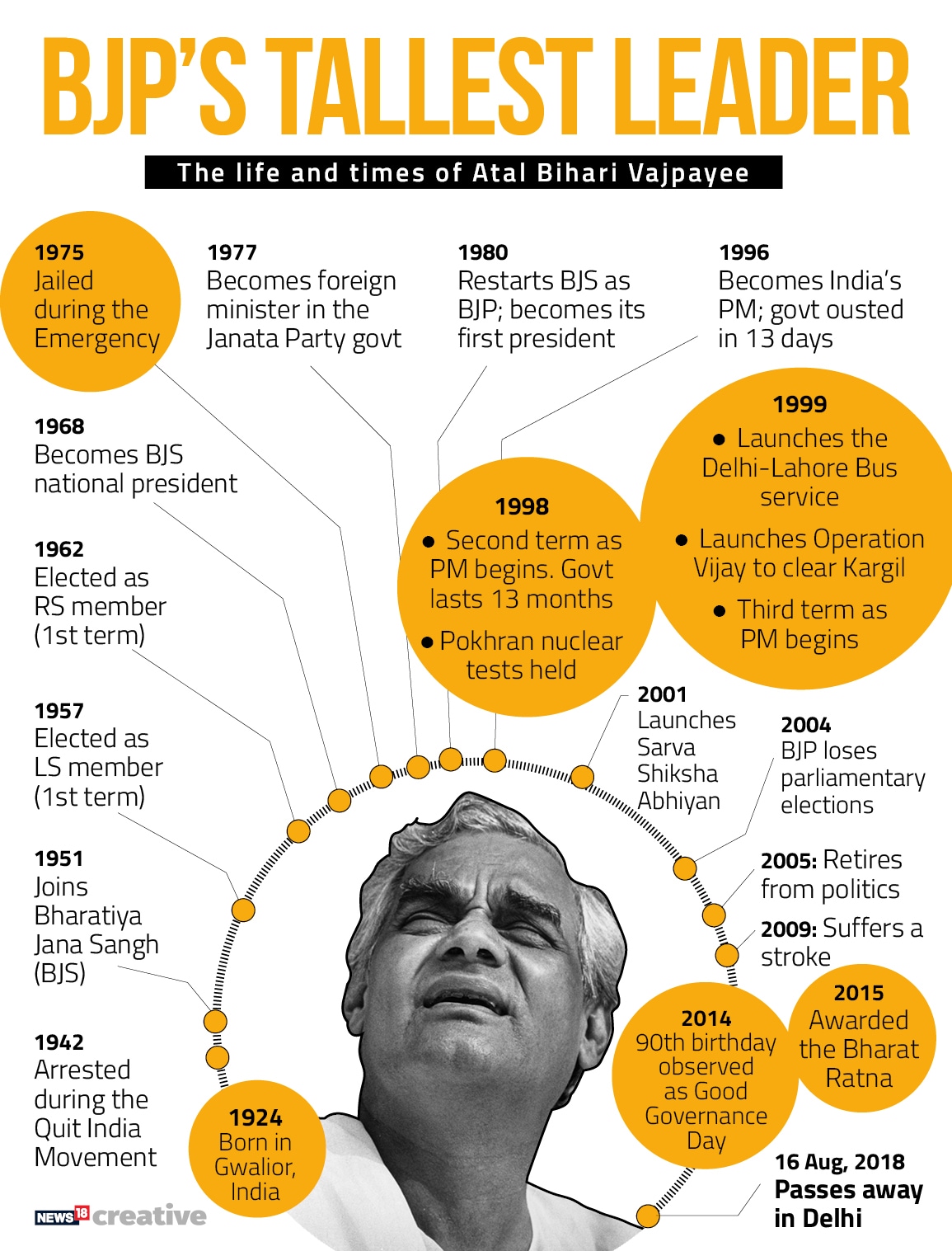 Atal Bihari Vajpayee's timeline. (News18 Creative)
Post Gujarat riots, Vajpayee, the Prime Minister, would concede to party's majority view against demands for the resignation of the then state CM Narendra Modi but would ensure Kalyan Singh's removal as UP CM after the latter challenged the national leadership.
Most importantly, Vajpayee never challenged the authority of the RSS per se in guiding the course of the BJP. "Of all other things, his relationship with Advani was unique," recalled a senior party leader who has worked closely with both.
"There was an unwritten understanding between the two that Vajpayee would give Advani a free hand in running the affairs of the party. But on critical issues if Vajpayee persisted with a demand, he would have his way," the party leader added.
When Advani introduced a Kamraj plan of sorts to refurbish the party ahead of 2004 General Elections and repatriated Venkaiah Naidu and Pramod Mahajan from government to party, he did not object. But at the same time, Vajpayee was quick to stem the tide just at the right moment with his 'na tired, na retired' jibe at detractors at a public function. The trigger was the then BJP president Venkaiah Naidu's speech beseeching party to prepare for 2004 polls under the joint leadership of "Loh and Vikas purush" — that is Advani and Vajpayee.
So as most of their contemporaries from Sunder Singh Bhandari, Kushabhau Thackeray, Balraj Madhok, Bhai Mahavir faded into oblivion, the duo emerged as the face of the BJP.
Of the two, only one would go on to become the Prime Minister of India. Because the politician in him knew to keep his feet dry and left footprints in the sands of time.
Get the best of News18 delivered to your inbox - subscribe to News18 Daybreak. Follow News18.com on Twitter, Instagram, Facebook, Telegram, TikTok and on YouTube, and stay in the know with what's happening in the world around you – in real time.
| Edited by: Ahona Sengupta
Read full article